First, Served
The Seaver College Office of Admission is responding to the growing population of first-generation students at Pepperdine with a dynamic pre-orientation program.
Many first-year college students enter the world of higher education nervously.
They struggle with a fear of the unknown and grapple with unfamiliar concepts of university life. This is particularly true for one group of incoming first-years: first- generation students.
Of this year's incoming Seaver College class, 21 percent listed themselves as first- generation students on their applications— a statistic that has seen steady growth in recent years. Pepperdine's experience is consistent with an increasing national trend, as more universities have seen an influx of first-generation candidates. In a record application year, with 10,443 applicants vying for a seat at Seaver College, this rising number is even more significant. In response to this growing population, the Office of Admission has developed a uniquely tailored program to ease the transition for a remarkable group of students taking their first leap into unknown territory.
Three years ago associate director of admission Sarah Carter received an unsettling e-mail from the guardian of an incoming first-year, just one day before New Student Orientation was set to begin. It simply stated that her grandchild would not be attending the event. "The only reason we can give for this terrible decision is that he is just afraid," the note read. "Neither one of his parents attended college and I think he is afraid of success."
Moved by that heartbreaking discovery, Carter and her colleagues, including now director of admission Laura Kalinkewicz, thought how the Office of Admission could facilitate a sense of belonging and literacy in incoming college students who lack a background in higher education. "This was only one student that we've heard of who didn't come," says Carter, "but how many other students didn't send me an e-mail? How many students didn't come? We knew there were ways that we could make students feel comfortable about coming to college and feel empowered about it."
The Pepperdine Summer Preview (PSP) answered that call with its three-day pre-orientation experience organized for a select group of admitted first-generation students. "These are fantastic students who are wonderful fits for Pepperdine, who have already shown leadership skills," Carter explains.
According to Kalinkewicz, first-generation students bring firsthand, experiential insight to areas within the University that could become more streamlined, accessible, and straightforward. "They are determined and resilient, and their adaptability is well suited to the college environment," she explains.
"Many of them feel empowered by all they have accomplished, and they use their experiences navigating challenges and new environments to become vocal champions for change.
Beyond acquainting them with the University's campus community prior to New Student Orientation, PSP creates a space for participating students to build relationships with their peers, as well as mentors who have gone through the program.
"We wanted students to feel comfortable on campus," explains Carter. "You can say it through an e-mail, you can say it over a phone call, but getting students on campus to experience that firsthand and know that we care about them succeeding at Pepperdine has been the most significant outcome."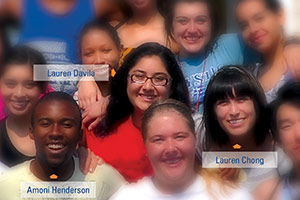 Seaver first-year student Lauren Chong admits to feeling like a fish out of water when she learned of her acceptance to Pepperdine. Although neither of her parents attended a four-year university, they instilled in her the value of higher education and encouraged her to build a strong academic foundation. Her father, a Cuban refugee who arrived to the U.S. as a child, grew up in a household that emphasized hard work and ensured his children applied that same work ethic to their education.
Though she had the support of her family, she encountered an extra hurdle when it came time to navigate the experience. "I didn't know how classes worked in college and couldn't turn to my parents for suggestions on the four-year plan," she says. "How it all works, internships, all these aspects that play into my future ... I had to go out on campus and find the answers to all my questions."
Carter explains that a lack of social capital—knowledge about norms and unspoken rules that is missing due to one's social environment, status, or upbringing— is one of the most significant challenges that first-generation students face when entering the university system. In comparison to their peers whose parents attended college, she says, "Those students come in and encounter an extra step in learning what the college experience should be."
One of the ways the PSP combats this is by introducing incoming first-generation students to current students who can give them insight into questions like, "What are some things I wish I knew when I first came to college?" With three cohorts having already proceeded through the PSP program, the new crop of first-generation students benefit from the support of the upperclassmen who have experienced the unique challenges and opportunities that this particular population faces.
Seaver first-year student Amoni Henderson is familiar with this phenomenon. "We felt like we established close bonds and had friends when we came in," he says. "It didn't feel like a completely new experience coming in without knowing anybody. We were comfortable when we got here as opposed to just coming and being thrown right into it, because we met some faculty members, students, and got to know the school and how to get around.
"Our parents can't help us. There's really nobody to relate to. Coming in and experiencing Pepperdine firsthand before school started was the best way to do it."
Henderson, a Church of Christ member who chose Pepperdine for its small class sizes and appealing student-to-teacher ratio, was not even aware of his first-generation status until he arrived at Pepperdine and was contacted by Seaver Admission. His father skipped college to join musician MC Hammer on tour and his mother was a stay- at-home mom who raised Henderson and his siblings. Though he was never pressured by his parents to be the first in his family to go to college, he knew his future was in his hands and that college was a natural next step towards a future in comedy, his ultimate pursuit.
Due to the financial demands of applying to and attending college, Henderson applied for the Gates Millennium Scholarship, a leadership-based grant given to minority students with financial need.
"I really had to decide what I wanted with my life as a whole," he explains. "One of the most important things to me about college is building relationships and building my convictions as a disciple. It never really became an option until I got my scholarship. There was no way."
For first-year Lauren Davila, the prospect of studying abroad was one that seemed exciting, yet daunting, before learning about Pepperdine's International Programs (IP) at a PSP presentation given by IP director of Admissions and Student Affairs Jeff Hamilton ('03), himself a first-generation student.
"College is already a huge step," Davila says. "I always thought it would be nice to travel out of the country, but I never knew if it would be possible for me." International study was also a new experience for her family, especially Davila's mother, who was enthusiastic about her daughter's opportunity to study abroad, but wary of the financial commitment.
"My whole life I was brought up with the idea that college was the next step in my academic journey and completely attainable if only I worked for it," she explains. "My mom said, 'I know this is what you want to do, so we'll figure out a way to do it.'"
According to Hamilton, studying abroad is one of the most intimidating aspects of college for first-generation students. "There is this extra hurdle to clear with their families who are nervous about sending their sons or daughters to locations they've never been before," he explains.
He insists, however, that first-generation students shouldn't feel scared or nervous to pursue international study. "All of these opportunities are available, and you may think you're not ready for them or that they're for somebody else, but the options are there for everyone.
"When you see the first-generation students doing something or even signing up for something they never would've considered, and suddenly see their eyes open up to the entire world around them; when you see them start to consider themselves in new ways and consider their capabilities in ways that they'd never even hoped for, it's one of the best feelings in the world."
For Lauren Chong, the college experience transcends personal and extends to her entire community. "As much as this is my own journey, both personally and academically, I feel like I'm doing it for my family, as well," she says.
"After going through the Pepperdine Summer Preview, I feel like I now have a chance to find a really strong sense of self and be surrounded by people who will encourage me to get to where I hope to aspire."