Incredible Range
Dr. Jennifer Bergeron blends her passions as a singer and laryngological surgeon.
Somewhere above your trachea and below your epiglottis lies a beautiful instrument that you probably play every day: your vocal cords.
"The correct term is actually vocal folds," notes Dr. Jennifer Bergeron ('04), while taking a break from her rounds at Stanford University Hospital. She is currently there completing a yearlong fellowship in laryngology, the branch of medicine that specializes in the voice and larynx. "Your vocal folds look like a glistening white V," she explains. "It's a dynamic organ system and it's really fascinating ... it covers physics, physiology, and neurobiology."
Vocal health is personal to Bergeron, who grew up singing in school and church in Houston, Texas. "I was always singing. My mom is a singer, and my family is very musical. In Texas, we're lucky ... music education is very strong."
While music is her passion, Bergeron was determined to follow the career path of her father, a physician. "My voice teacher and choir director encouraged me that I could still go into medicine if I majored in music, and maybe even get a music scholarship."
Unfortunately, Bergeron went through many successful auditions only to find that this was not a "pleasing arrangement" to most schools' music department faculty. It wasn't until she visited Pepperdine that she found the support she needed to pursue both. "The fact that they were willing to work with me and let me do what I wanted for my life, not just my four years there, was what really sold it for me."
While at Pepperdine, Bergeron sang in the choir under Milton Pullen, whom she calls a "second parent." "Choir practice was so much fun with him and I learned so much about musicianship." She also participated in the Our Lady of Malibu choir and performed in the Pepperdine operas, including a lead role as Laetitia in The Old Maid and the Thief in her senior year.
Her voice teacher, Melanie Emilio, also further developed Bergeron's understanding of vocal health. "As a singer, it's not like you can just put your violin away and go out and do whatever you want. Your body is your instrument, so you have to take care of it."
Her time at Pepperdine was not without its challenges, however. During her sophomore year, she and her best friend, Amy Ecker, suffered a tragic car accident. "The car rolled six times and Amy passed away in the accident," recalls Bergeron, who walked away with a broken shoulder and a broken spirit. "It was very hard, but I was lucky because I had such a great support network in Mr. and Mrs. Pullen, Dr. Emilio, and the whole choir and music ministry."
Bergeron immersed herself in school, church, and choir, and at the end of four years, she had not only fulfilled her music degree and all of her pre- med requirements, she still managed to maintain a 4.0 average and was named valedictorian. "The title wasn't so important," she says, "I just wanted to do well and be able to get into medical school."
Bergeron returned to Houston to attend Baylor College of Medicine, where she began to see vocal health as the perfect marriage of her musical and medical aspirations. She graduated with highest honors and chose a residency program in otolaryngology (head and neck surgery) at UCLA David Geffen School of Medicine, which is known for its training in laryngology.
"I think I came out as a really great surgeon from that program. You work hard and it pays off," she says.
At Stanford, Bergeron treats patients for everything from a hoarse voice to head and neck cancer, while overseeing residents and serving as clinical instructor, teaching medical students about laryngology and laryngeal pathology.
"Spending time and teaching the junior residents is really great because your knowledge base has to be really solid," Bergeron says.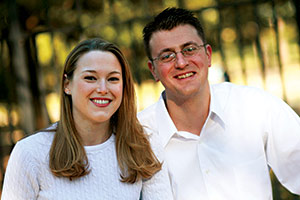 Now 13 years since her preparation began at Pepperdine, Bergeron says her passion for the field has transcended music. "At first I was interested in laryngology for the singing aspect, but now the more rewarding aspect is taking someone who couldn't speak and giving them a voice back," she says. "You definitely learn to appreciate little things, like being able to talk, being able to taste food, being able to swallow."
Bergeron is looking forward to finding a full-time position and spending more time with her husband Greg once the fellowship is complete. Despite the endless training and the incredible volume of vocal folds she's examined, she says she feels blessed to have found her calling. "In a lot of careers you don't get that emotional fulfillment and the financial fulfillment; I have both and I can still keep my foot in the door with music. It's the American dream."