Launch Stars
Five Graziadio School alumni are turning their passions into professions.
Finding the balance between risk and reward is an entrepreneur's ultimate pursuit when taking an idea from concept to product. Harnessing their spirit for enterprise with a desire to provide solutions, many students and graduates of the Graziadio School of Business and Management have mastered that struggle and are now at the helm of their respective entrepreneurial ventures.

Meet five innovative leaders who are on their personal journeys to business ownership.
---
The Philanthropist
Travis Brewer

If Travis Brewer (MBA '11) could be anywhere in the world at any given moment, it would be at the beach. So when his parents asked him what he wanted to do moments after he graduated from the Graziadio School, he directed them to a spot on the sand in Santa Monica, Calif., where the new MBA regularly practiced his calisthenics workouts—a longtime passion.

That fateful day, he met a calisthenics training group, Raw Movement, who were performing acrobatic-type stunts on the beach using only chin-up bars and their own body weight. "I can do some of those moves!" thought Brewer, who was a nationally ranked gymnast in his youth. After impressing the audience of seasoned pros with his strength and agility, Brewer began participating in calisthenics competitions and was featured in television specials and magazines focused on the fitness movement.

Brewer soon caught the attention of NBC staffers scouting talent for American Ninja Warrior, a competition show touted as "the ultimate obstacle course." He went far on the show and developed a following on social media, prompting him to think about how to apply his physical skills and talent in a way that expressed his two loves: fitness and philanthropy.

"I thought the best way to do that was to start a business around my lifestyle," explains Brewer, who began developing an activewear and gear line that impacted the nonprofit space. "I saw brands like lululemon, Under Armour, and Nike in the marketplace, but none of these brands were making a difference in the world," he says. "How come there isn't an activewear brand that gives back?"

Inspired by the philanthropic missions of companies like Patagonia and TOMS shoes, Brewer developed an eco- friendly activewear brand—aptly titled Pi Lifestyle—that donates 3.14 percent of each sale to a food, water, or shelter charity of their choosing.

The next evolution of Pi Lifestyle, explains Brewer, is a complete clothing line called Positive Impact, which also promotes a social component. "We want to build an online community of people who are making a difference and can come together in real life to impact society," he says.

"For me, the only thing that gets me excited is trying to make the world a better place. True success is having the ability to run a profitable company while making a difference. It's ingrained in my personal value system."
Travis Brewer ('11) photo: P.J. Russ
---
The Matchmaker
Tammy Billings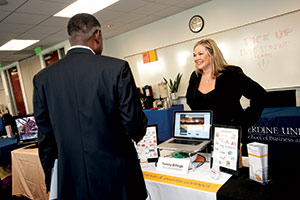 Last November, after being laid off from her job as vice president of marketing for a company that produces shows like Deadliest Catch andStorage Wars, Tammy Billings had had enough. It was her fourth layoff in six years, so she set out to earn her MBA. While in her first semester at the Graziadio School, she was looking for freelance opportunities that utilized the event-planning skills she had spent almost a lifetime honing.

As student body president and class president of her high school, Billings would plan all school events and, after graduating from California State University, Los Angeles in 2007, she secured a job in marketing at LA LIVE, the event epicenter of Los Angeles.

After her most recent career roadblock, Billings thought back to the successful events she had produced over the last 15 years for clients with complementary needs. "I recalled putting together an event outside of Coachella using sponsorship money," she says. "And here I was with a client that had sponsorship money and was looking for events to sponsor. They needed a way to connect."

Billings began aggressively researching to learn more about event sponsorships and saw a gap. "I saw a place where brands and events can connect for product donations and cash sponsorships, but I had yet to find a place where these two entities can be matched by their demographic and psychographic marketing data to meet their respective needs."

The Event Marketspace brings together two things close to Billings' heart: brands and events. "As brands get more content- oriented and television advertising ceases to be effective, I predict we will see far more integrations, product sampling, and live events," she explains. "These are the only effective ways left for people to interact with a brand before making a purchase decision."

While searching for seed money to build a functional website with a strong back-end database, Billings built the Event Marketspace website using the tools provided by a basic web- hosting company and a Google database. When the site is finished, it will function similar to a dating site or a job board—two entities searching for match.

"I'm finally starting to see that I may have been born to be an entrepreneur and probably should have made this choice years ago," says Billings. "How can I not do this is the real question."
---
The Spirit Salesman
Erik Paxman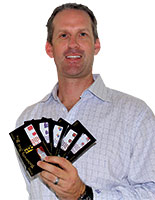 If you've attended a major collegiate sporting event in the last two years, you may have bumped into Erik Paxman (MBA '07), the enthusiastic sports fan/MBA with the curiously decorated fingernails. "I've gotten quite a few funny looks, but they've definitely been conversation starters," admits Paxman, the founder of University Nail Pax Designs, a line of custom designed nail wraps for collegiate fans.

"It's a way to keep a connection to the important places in your life, college being a large portion of a lot of people's lives," he says. "Why not help people access the passion they feel for their favorite school, whether they attended or not?"

The idea came to Paxman while talking to a former Graziadio School classmate. Paxman was working in financial services at the time, but, harnessing the entrepreneurial spirit that drove him to business school in the first place, saw the opportunity in an untapped venture. When his company folded in 2011, Paxman took his colleague's advice and the market research he had done over the course of two years and began to think seriously about a future in nail wraps.

The most encouraging, yet daunting discovery was that there wasn't a similar product on the market. Paxman saw the opportunity and worked with licensing companies to partner with 24 schools initially, just by presenting the idea and business plan. "That's when the Pepperdine experience came in," he says. "I was surprised by how much I remembered from my classwork about product diagrams and business plans."

Today, University Nail Pax Designs is licensed to produce nail wraps for 52 universities with hopes to evolve into professional leagues. The company also recently signed a contract with a U.S. company to produce the University Nail Pax line locally.

Paxman is proud to name his former Pepperdine colleagues as his greatest mentors and supporters—friends in finance who helped with financial modeling, colleagues on the retail side who aided with establishing contacts in the industry, and those on hand for advice, support, and invaluable recommendations along the way.

He says, "In addition to what I learned at Pepperdine, my experience gave me the foundation and confidence to finally go after the dream of starting and running my own business."
---
The Fighter
Turi Altavilla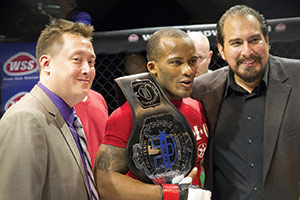 Turi Altavilla (MBA '13) has been in the fight industry since the early 2000s, when the new UCLA graduate joined King of the Cage, now one of the largest fight-promotion companies in the country. Back then it was a budding organization, where Altavilla admits to starting from the bottom of the mixed martial arts (MMA) totem pole, from doing manual labor to picking up fighters from the airport.
"I eventually wanted to be the guy who could not only run an MMA event, but also run a company," he says. "So the seeds were planted for me to get my MBA."

Shortly before starting classes at the Graziadio School, Altavilla established the "college football" to the UFC's (Ultimate Fighting Championship) NFL: the University of Mixed Martial Arts (U of MMA), harnessing the experience he gleaned from his time helping Tokyo-based PRIDE Fighting, the world's largest fight-promotion company at the time, expand into the U.S. market.

"MMA is not as mature as other sports yet, so it doesn't have the same infrastructure, including a strong amateur system," admits Altavilla. "Not only was there a need for an organization like the U of MMA in the fight community, but it fit my personality perfectly. I love mentoring young fighters and being an effective part of their development."

At the U of MMA, Altavilla and his staff apply their tremendous amount of experience to helping young, talented fighters succeed and become champions. "We tell them what it takes to be a professional outside of the cage, from marketing to making weight, as well as offering advice, opening doors, and providing a platform for them to pursue their dreams."

By the time Altavilla hit his entrepreneurship classes at Pepperdine, he had already started the U of MMA and encountered some of the hardships his courses could have helped him avoid. "My experience at Pepperdine helped me think bigger," he says. "It helped me step back and look at a bigger picture rather than always focusing on the here and now. There were some things I did right, but some things I did wrong and those classes would have helped."

Now, Altavilla hopes to see the U of MMA become established as an institution within the fight world. "Fifty years from now, I want this company to be guiding amateur MMA fighters properly as they pursue their fight dream."
---
The Facilitator
David Lederman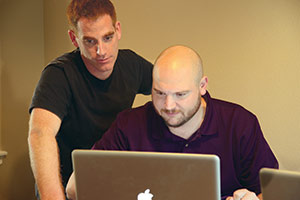 As a Peace Corps volunteer in Romania from 2003 to 2005, David Lederman (MBA '10) realized that every volunteer encountered similar hardships throughout their service. "From culture shock and adjusting to what Peace Corps calls the 'cycle of vulnerability,'" Lederman identified those challenges that were unique to this volunteer population.
To address this, he coauthored two volunteer e-training manuals utilized by over 1,500 volunteers and designed web- based interactive training applications that received "Best Practice" recognition by Peace Corps Headquarters. His training materials continue to be used by volunteers over seven years later, and have indirectly benefited thousands of Romanians.

The experience made Lederman contemplate, "What other ways could technology be used to empower people to solve problems on a larger scale?"

Today, the user-experience expert answers that question with ExpertEase, a web platform he codeveloped with partner Robert Griese that helps experts sell their most valuable intellectual property—their expertise—through virtual programs, workshops, or courses.

Lederman says, "Experts should be able to focus on what they know best: their expertise and client relationships." The platform handles everything else, including hosting, scalability, and billing. Experts benefit from their own customizable website, which they can brand with their existing marketing materials, and create virtual programs or workshops.

"Our goal is to make it so that experts can effectively transfer their expertise in an interactive and engaging way that maximizes the experience for clients, patients, or students," he explains.

Lederman discovered a pressing need for this type of service after witnessing his brother's frustration with mainstream medicine. An internal medicine physician, his brother decided to open his own clinic that treated chronic health issues through nutrition and wellness programs. When returning to face-to-face sessions on a recurring basis became difficult or too expensive for many patients, Lederman thought, "There must be a way to allow experts to share that expertise quickly and easily in a way that seamlessly integrates with and grows their business?" Now, people like Lederman's brother can do all of this through ExpertEase.

"It's very exciting to see experts of all kinds—wellness professionals, teachers, consultants, or trainers, like my brother— be able to use a tool like this and suddenly feel like the shackles of tech hurdles and barriers have been removed," says Lederman. "They can focus on establishing or expanding their business. The web, if used effectively, is a tremendous tool."