Of Maestros and Men
Highly acclaimed musicians Alexander Treger and Lynn Harrell join the Fine Arts Division faculty as artists in residence.
In response to the Los Angeles Unified School District's proposal to eliminate all art and music programs from elementary education, Grammy Award- winning cellist LYNN HARRELL wrote a letter to the district last year touting the necessity of the arts.
Art education, he argued, is necessary for growing minds and lifelong happiness, and he implored those responsible for these decisions to keep art and music in the schools, "lest we risk dooming our children to lives of emotional despair."
"Why music is being taken out of the schools is because it is very difficult to measure how it affects the growth of the human being," says Harrell. "Scientists found that kids who are exposed to music have higher IQs and are better adjusted socially. They have an increased sense of autonomy. I, myself, am a much deeper human being—and happier—because I had music all my life."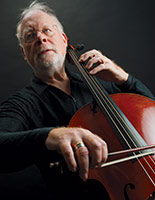 Starting this fall, after a lifetime of performances and accolades, Harrell will be pursuing his passion for teaching young musicians as an artist in residence as part of Pepperdine's Fine Arts Division faculty
He joins Pepperdine after serving six years on the faculty of Rice University's Shepherd School of Music in Houston, Texas. Before that, Harrell served for nine years as the international chair for cello studies at the Royal Academy of Arts in London and five years as artistic director of the orchestra and conductor training program at the Los Angeles Philharmonic Institute
As the child of two professional classical musicians, Harrell was exposed to the industry early on, but admits to never being pushed into pursuing classical music as a profession. The ultimate motivator was a cello teacher whom he came to study with when he was 11 years old.
"Within a few months I realized I wanted to make music my life," recalls Harrell. "It was such a powerful feeling; I was very embarrassed and very shy about showing that to my parents."
The reluctant youngster credits this early experience with breaking him out of his shell and improving his confidence in school and relationships. "I became less shy because I had a big cello I was carrying around and it made me feel legitimate!"Just before his mother passed away in 1962, Harrell played in a master class of Pablo Casals, often regarded as one of the greatest cellists of all time. "I remember what a strong personality he was and, even at 87 years old, he was able to play with such vigor and such passion and demonstrate those things to me, that it just completely transformed my world of what was possible."
By the age of 18 Harrell had lost both of his parents and was faced with the realization that all he had were his cello and a suitcase. "I understood the serious work that was upon me to make this into a profession, so I started educating myself," he says.
After studying at the Juilliard School and Curtis Institute following high school, the young musician joined the Cleveland Orchestra in 1964 and was its principal cellist until 1971, when he made his recital debut in New York. Since then Harrell has performed internationally as a recitalist, chamber musician, and soloist with orchestras.
In 1994 Harrell appeared at the Vatican with the Royal Philharmonic for a historic event: the Vatican's first official commemoration of the Holocaust. The concert honored the memory of the six million Jews who perished and included Pope John Paul II and the chief rabbi of Rome. That year Harrell also appeared live at the Grammy Awards with Itzhak Perlman and Pinchas Zukerman, where he performed an excerpt from their Grammy-nominated recording of the complete Beethoven string trios.
In June 2010, along with his wife, violinist Helen Nightengale, Harrell founded the HEARTbeats Foundation, a charity that strives to help children in need harness the power of music to better cope with and recover from the extreme challenges of poverty and conflict.
"I always hope that my message of music and its place in our society can be embraced by people that I work with and recognized for what it really means for our spiritual, emotional, and intellectual development."
This year, as part of Pepperdine's faculty, Harrell hopes to give his students the chance to explore the same opportunities that he has been fortunate enough to enjoy in his years as a musician.
"The most valuable aspect of a master class is to endow the student with a performance platform," he explains.
"It is very important to have lessons and practice, but it's also very important to have performance opportunities. We learn something completely different in a performance, that's part of the development. To accept and expose oneself and one's inner, deepest, quivering feelings and let them come out and let it be okay ... a master class is able to do that for me."
---
ALEXANDER TREGER, former Los Angeles Philharmonic Orchestra concertmaster, has identified one goal for the students who will be working with him this fall: "Practice more!" exclaims the noted violinist and conductor, who has been giving private lessons to music majors since the beginning of the 2013-2014 academic year as an artist in residence.
Joking aside, Treger admits that he feels a responsibility to endow the younger generation with his decades- long knowledge of music gained by collaborating with some of the greatest classical musicians of the 20th century.
"I just hope to give them the best I can to make them overall better musicians," he explains.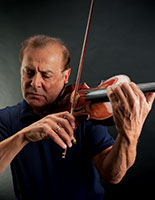 This feat will not be difficult for the man who started teaching music at the age of 22 as soon as he graduated from the prestigious Moscow Conservatory, where he studied for six years under the "greatest teacher of all time," renowned Russian violinist David Oistrakh.
"He had this enormous ability to see what a specific student needs," recalls Treger.
"I very vividly remember him always saying, 'Not only do the students learn from me, but I learn from my students, as well. It's a two-way street,' and that has always been my philosophy: to not only teach, but also learn."
One of the greatest lessons Treger has learned as a result of his wide-ranging interactions with his pupils has been learning to adjust his teaching method and approach based on the needs of each individual student.
"As a teacher, you need to figure out what a particular student needs, what works for them, and what you can give them to make them better," he explains.
"Of course, as far as teaching the music of the great composers of the past or the new music nowadays, I ultimately try to teach them to be honest with the composer's text and create an image of what the composer has put on the page. These are things I learned at a very young age."
When Treger was 9 years old, he already knew, after three years of formal musical training, that his pastime would translate into a career. Music schools were a dime a dozen in the former Soviet Union, and Treger set out to become the next great violinist.
While at the Moscow Conservatory, Treger took a great interest in conducting and, after graduating, took his first job as a member of the Moscow Radio Symphony Orchestra. Soon after, he left Russia to become the concertmaster/soloist of the Israel Chamber Orchestra for one season before moving to the United States in 1973.
After four years with the Los Angeles Philharmonic, Treger was appointed assistant concertmaster in 1978 and promoted to second concertmaster two years later. From 1984 to 2011, he performed with the orchestra as concertmaster, the leader of the first violin section, until his retirement.
Throughout his impressive career, Treger has performed with some of the greatest conductors the world over, many of them solo performances with the orchestra at the Music Center and the Hollywood Bowl, including Carlo Maria Giulini, Valery Gergiev, and Pierre Boulez.
Still, one of Treger's proudest accomplishments has been conducting the American Youth Symphony, "one of the best youth orchestras in the country," since 1998.
At Pepperdine he plans to pass along the knowledge, experience, and hope that have carried him throughout his career. But ultimately, he urges his students to be realistic about their future as they embark on their respective journeys to attaining their dreams.
"No matter how much talent one can have or is given, it takes a lot of dedication and a lot of hard work to be the best you can be," he says. "I just practiced today for two hours. I still spend hours with a score. You just can't live without it."