The Game Changer
With an established career in traditional psychotherapy, Graduate School of Education and Psychology alumna Erin Shannon (MA '98, PsyD '01) also treats athletes using energy medicine.
Legend has it that Erin Shannon helped the St. Louis Cardinals win the 2011 World Series.

Something funny happened in the dugout that year: players were seen tapping different points on their bodies and wearing necklaces made of curious-looking stones. "I was nervous they were going to figure out it was me," Shannon says.

Months earlier, an athlete had walked into her very traditional, very Western psychotherapy clinic and said, "I've heard about this stuff that you're doing. This other stuff." He was a pitcher for the Cardinals and had heard about the healing power of Shannon's energy medicine from her father, Mike Shannon, a radio broadcaster for the Missouri baseball team.

"I thought, 'Oh boy, I'm going to get sued.'" Shannon agreed to treat the athlete in the energy medicine room she had recently set up in her St. Louis office and sent him on his way. She didn't accept payment for what she thought was a one-time favor for a friend.

Her office soon began receiving phone calls from other professional athletes, many of them pitchers, quarterbacks, and goalies. "It spread like wildfire and I was terrified, because this was not psychotherapy and I was very afraid of what this 'energy stuff' might do to my nice, Western medicine reputation," Shannon recalls.

Because they utilize their bodies for their practice, Shannon explains that athletes are very attuned to the subtle energies in their bodies. "They're very kinesthetically intelligent and aware of what their energy is doing. They might not know the clinical terms to explain it, but they can definitely feel when I am in their subtle energy field."

While pursuing an education and career in psychology, Shannon was mostly interested in the study and practice of traditional, Western psychotherapy based on physical, measurable variables. "I had to see it to believe it," she says.

Then, in 2002, her mother was diagnosed with glioblastoma multiforme, a highly aggressive brain tumor that Shannon calls "a death sentence." Doctors estimated that she would die within the year. The family tried anything and everything that Western medicine provided, but nothing worked.

One year later, in her final days, Shannon's mother stirred from a comatose state in her hospice bed and grimaced in pain. Twelve hours of pump after pump of morphine proved futile. One more would have ended her life.

"As we were all tearing our hair out trying to figure out what we could do for my mother, a hospice nurse tapped my shoulder and asked, 'Do you mind if I use Reiki to find the source of your mother's pain?' I had no idea what she was talking about. I just said, 'Lady, I don't care what you do. If you can tell me what's wrong, then do it.'"

Thirty seconds later, Shannon's mother took a deep breath, and the face that once grimaced in pain smoothed over. All of her vital signs soon stabilized.

"My entire world turned right on its side in that moment. I had no idea what that was, I had no idea how to fit that into my understanding of anything," she says.

Reiki, Shannon would learn, is a form of Eastern medicine developed in Japan that utilizes the power of transferring energy through therapeutic touch to promote the recovery of various illnesses and maladies. Universal energy is believed to be transferred through massages, taps, and strokes over key meridian and energy points of the body that allow for healing and a state of equilibrium.

Her mother passed away three days later, peacefully and painlessly, and Shannon spent the next three years studying everything from healing touch to quantum physics. She woke up before dawn every morning to read, at minimum, one book a day on whatever the hospice nurse had done to reduce her mother's pain.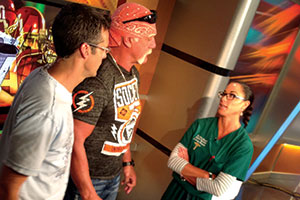 Photo courtesy of Fox 2 News St. Louis

Today, Shannon's practice is very unconventional and treats mostly professional athletes who fly in from all over the country, some Olympic athletes, and some college athletes.

"And then some regular people. Regular human beings. They come in and they really want

the 'energy stuff,'" she explains. Shannon gives patients the choice of a traditional psychotherapy session, which involves a consultation in an office with a couch and chair, or a session in the energy room that is appointed with a massage table, various crystals, and soothing music. "Once people go into that energy room," says Shannon, "they never go back."

Shannon's treatment plan begins with healing athletes' injuries through different methods, including the Black Pearl technique, a combination of massage and acupressure over certain points of the body, which regulates different neural networks in the brain and allows blood flow to return to normal levels. Once they recover, Shannon goes on to begin performance optimization techniques, which involves pairing certain players with the best coaching techniques for their specific conditions.

The athletes she treats most commonly suffer from concussions, explosive rage disorders, ADHD, and CTE—chronic traumatic encephalopathy, a degenerative brain disorder experienced by athletes who have suffered repetitive brain trauma.

"It's a quite dangerous mix of things that are very common in higher levels of sports performance," she explains. "The more you play sports like soccer and hockey and football, the more likely you are to accumulate diffused brain traumas that maybe aren't so apparent now, but down the road are devastating."

With patients who suffer from these types of conditions, Shannon uses several energy medicine techniques, such as cerebral blood flow regulation that strengthens the brain with remarkable progress. "Some people have come to not need lifelong ADHD medications after we do treatments for concussions," she says. "My passion right now is to try to find ways to help people cope and prevent injuries so that, down the road, they can be happy, healthy fathers and husbands when they're retired.

"My psychotherapy degree and background are extremely helpful in talking through things when emotions come up. I use all of the things that I have learned and I still am in love with psychology from Freud to Piaget to Jung," enthuses Shannon. "But paired with the energy medicine techniques, it just knocks it out of the park."