The Rite Stuff
Rite Aid CEO John Standley ('85) has helped revitalize the drugstore giant using the values he gained as a student.
In 1982 John Standley's father submitted an application for his son to attend Pepperdine University. They had just moved back to California from Pennsylvania after Xerox Corporation, where his father worked as a finance executive, had relocated the family. Standley had just completed two years of college at Penn State University and decided to take a break to think about his next steps in life.

"I wasn't sure what I wanted to do after two years of college," he admits. "I started a painting business and decided I was going to paint houses for a living."

Five months later, Standley's father informed him that he had been accepted to Pepperdine and encouraged him to reconsider his path. Entering as a junior in 1983, he signed on as an accounting major at the senior Standley's persuasion and experienced a different kind of higher education.

Today, Standley is at the helm of Rite Aid Corporation as chairman and chief executive officer, and credits his time forming mentorships with his professors and making connections with his fellow students at Pepperdine as a key ingredient to his success.

"It changed the whole experience for me," he says. "The Pepperdine experience really helped me figure out what I wanted to do and, as a person who probably needed a bit of direction in my life at that time, it was a great experience for me to develop relationships with many of the people I met at Pepperdine, particularly my professors. They really had an impact on helping me figure out what I wanted to do."

After graduating, Standley remained in the Los Angeles area and utilized Pepperdine's connections with the top eight accounting firms at the time to begin working at Arthur Andersen. While at the public accounting firm, he gained his first professional exposure to retailing in the chain store sector.

In 1994, Standley began to move into executive leadership roles and, over the next four years, served in key executive financial positions at various retail and grocery companies, including Smith Food & Drug Centers, Ralph's Grocery, Fred Meyer, Inc., and Fleming, Inc.

Then in December 1999, Standley, along with three of his former associates from Fred Meyer, moved to the East Coast to form a new leadership team at Rite Aid. They were tasked with revitalizing Rite Aid after the prior management team had thrust the company into a significant financial crisis. His job as executive vice president and chief financial officer was to ensure that the company returned to a financially sound state and improved earnings.

After Standley and the team restored Rite Aid back to health, Standley further refined his executive credentials in 2005 by becoming CEO of Pathmark Stores, where he helped orchestrate another turnaround.

While Standley was leading Pathmark, Rite Aid had made a major acquisition by purchasing 1,858 Brooks Eckerd drug stores, a move that was designed to give the company the scale it needed to compete with its larger rivals. However, after a lengthy regulatory review and experiencing snags in the integration process, the company was looking to move forward as it managed significant debt.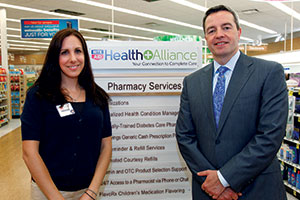 John Standley with store manager Kristen Stewart

That's when Standley received a call from Mary Sammons, the president and CEO of Rite Aid at the time, asking him to serve as a consultant to the company. He accepted, and his immediate contributions and prior experience soon prompted Sammons and the board to offer him the position of president and COO, which he assumed in September 2008.

That same month, the stock market's sudden collapse signified the beginning of a tough economic recession that made the drugstore chain's position even more challenging.

"There was a fair amount of risk associated with the situation when we came into it," Standley recalls. "Banks weren't lending a lot of money, and gaining access to capital was based on the reputations and relationships that we had built previously in our careers to get the company going in the right direction."

Standley's role involved putting a key team together to help the company tackle the financial and operational issues that were holding it back. "A lot of the people that I currently work with at Rite Aid are people I've worked with in the past," says Standley. "They are here because their proven track records made them the right people for the job."

Together, the new leadership team played an instrumental role in leading Rite Aid through another impressive turnaround; this one fueled by expense control, operational efficiency, key refinancing transactions, and a new wellness- focused brand anchored by the company's Wellness+ customer loyalty program. The company continued getting stronger as Standley was named CEO in 2010 and chair of the company's board of directors in 2012. Last year Rite Aid delivered a profitable full-year performance for the first time since 2007.

"Surrounding yourself with the right people so that you can take care of your customers and patients and deliver the right experience is really one of the big keys to success," Standley says. "It's about assembling the right team, getting the right resources, and putting together a successful strategy to make sure your employees have what they need to be successful."

With escalating health care costs and the emergence of the Affordable Care Act, Standley maintains that retail pharmacy is uniquely positioned to play a big role in how health care delivery evolves in the country over the next several years. His vision for Rite Aid is not only focused on running a convenient front end of the store, but also thinking strategically about the role of pharmacists and pharmacies in communities.

One of Rite Aid's latest initiatives is building an integrated care model, Rite Aid Health Alliance, which connects physicians, specially trained care coaches, and Rite Aid pharmacists to work together with specially identified patients to help them achieve specific physician- identified wellness goals and improve their overall health and self-management abilities. Rite Aid will also add RediClinics to a large number of stores over the next few years in order to address acute conditions such as flu and strep throat, and also to provide physicals in-house.
As the current chair of the National Association of Chain Drug Stores (NACDS), he also helps drive the mission of advancing community pharmacies and helping establish opportunities for their expansion and success.

"I hope one of the things that I'm doing is returning those investments," says Standley. "By putting the effort and energy into helping develop people here at Rite Aid and furthering the cause of community pharmacies, I hope I'm returning, paying forward, what was invested in me as a student at Pepperdine."