The Campus Crew
Each year, 10 first-year students part of the Posse Scholars Program at Pepperdine experience college through a unique lens.
Genevieve David ('15) was a senior at Rockville High School in Rockville, Maryland, when she got the call.
The person on the other end of line was Dan Rodriguez ('78, MA '81), Seaver College professor of religion and Hispanic studies, who had called David to inform her that she had been selected to study at Pepperdine in the fall of 2011 as part of Posse 2, the second cohort of Pepperdine's Posse Scholars Program, now in its fifth year. "They scream, they cry, and we can sometimes hear their parents screaming in the background," Rodriguez says. "That's the best part."

Months earlier, David's high school counselor had nominated her for a Posse Foundation scholarship, a full-tuition, merit-based leadership grant offered to public high school students—"young leaders with extraordinary academic and leadership potential who may be overlooked by traditional college-selection processes," as outlined by the organization.

Following her nomination, David embarked on the Posse Foundation's Dynamic Assessment Process, a three-step interactive interview that includes large-group and individual sessions that evaluate a Posse- hopeful's leadership and teamwork abilities, as well as their motivation and desire to succeed. She joined the almost 2,500 diverse nominees from around the country for a large-group recruitment meeting, and was one of the semifinalists invited to the Posse office for an individual interview.

In the final stage, the Posse committee narrows down the finalist pool for partner schools to 20 to 25 students, and Posse-hopefuls determine their top three colleges that have partnerships with the organization. David filled out an application for Pepperdine and, in mid-December, participated in a group interview with the other finalists chosen by the University's admission committee.

When she heard Rodriguez's voice on the other end of the line that evening, David knew that she had made the right choice. "Every other option I had possibly thought about became secondary and tertiary. Pepperdine was where I was going to go."

As the months progressed, she discovered what it meant to be a Posse Scholar at Pepperdine. Every Monday for eight months, she took the metro to Washington, D.C., to Posse headquarters, where she and nine other high school seniors selected to become Posse Scholars engaged in discussions during precollegiate training.

"We were able to talk through what we were going to experience in college and how we could be a support system to each other," David recalls.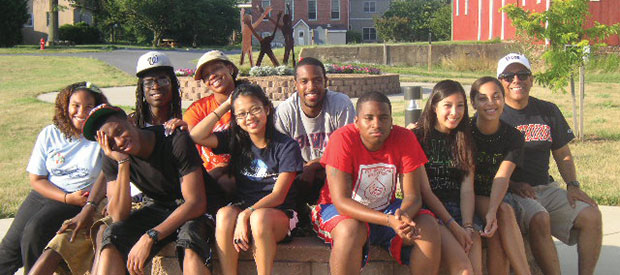 Genevieve David (front, third from left) and her "posse," with faculty mentor Dan Rodriguez in 2011

When the opportunity to become a Posse mentor was presented to Rodriguez, he thought, "Wow, I wish there would've been something like that when I was a kid, when I came here," says the alumnus, who was one of the only Hispanic students on campus in the 1970s. His mentor was a man named Israel Rodriguez, a staff member in the admission office at the time.
He had come from where we had come from, and back in those days, our group was all inner-city high school kids from L.A.," says Rodriguez. "There wasn't that kind of support back then, and I've had the opportunity to be that person to the students today. It's been a very valuable experience for me."

As David's faculty mentor, Rodriguez not only became her campus advisor, but a spiritual one as well, baptizing her in the Pacific Ocean during her freshman year. David spent the four years that followed devoted to campus life—as a spiritual life advisor in her sophomore and junior years; as an intern for Reality Check LA, an organization that engages youth to promote healthy relationships; and by investing her time in volunteer work and women's ministry.

Through the years, Posse students have proven to be some of the most dynamic student leaders on campus.

"They are known on this campus, not just as Posse Scholars, but also because they make an impact in whatever campus community they are involved in," explains Kristy Paredes Collins, dean of enrollment management at Pepperdine.

Since 2010, when Pepperdine first partnered with Posse, many students have been involved in the Student Government Association (SGA) and many serve as student tour guides, in which capacity they are able to tell the Pepperdine story through their unique lens.

"Seeing these students find their unique place on campus ... by mid-sophomore year, it was clear: They were digging in," adds Rodriguez. "By the time they were juniors, they were taking over the school in the areas they were involved in. I was so proud of them and they were so proud of each other."

Sarah Houston ('14), who was part of the first Posse cohort on campus, served as SGA vice president in her senior year and received a Fulbright scholarship to teach English in Turkey in 2014. Most significantly to her, Houston was part of the student group responsible for starting the conversation surrounding mandatory diversity training and on-campus mental health initiatives by working with the Inter-Club Council and other student organizations on campus.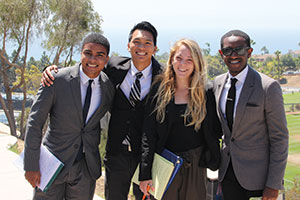 Sarah Houston with fellow Student Government Association members (L-R) Alex Booker, Rafaello Sampang, and Demisse Habteselasie

During her SGA tenure, Houston was also instrumental in implementing the first-ever women's initiative on campus to facilitate discussions about the struggles and benefits of being a woman on campus and bring together the different women's groups in order to create a sense of solidarity and a larger cultural shift in how students view gender issues. She also had a hand in designing programs for off-campus meal plans and mentoring younger Posse Scholars. As the philanthropy chair of her sorority, Tri Delta, Houston contributed her time to Project Serve, and participated heavily with International Programs and Wonderfully Made, a Christian ministry dedicated to helping today's modern young women discover, strengthen, and reclaim their true value and worth.

"Their perspective of the world is unique, and they shine as strong leaders who are comfortable sharing those viewpoints," says Harper Matthews, a Seaver College admission counselor, of the Posse Scholars. "Most of our students are from D.C. public schools known for their challenging school systems. They are thriving at a school like Pepperdine and becoming leaders of our campus, but they also want to use their perspectives to help other students learn and grow. You can see how each Pepperdine posse leaves a legacy at the University."

In the 2014-2015 academic year, after four years of partnership with the Posse Foundation's D.C. branch, Pepperdine established a relationship with the organization's Los Angeles outpost in an effort to give back to the local community. At first, administration was concerned that reaching out to students in "our own backyard" wouldn't be as effective. They quickly realized after talking to Posse headquarters that when looking at Los Angeles, Malibu is not exactly the backyard.

"It's like two different worlds," says provost Rick Marrs, one of the members of administration responsible for establishing Posse on campus. "We want students to have a very different experience."

The new partnership would also allow for a link between the Posse initiative and outreach to the foster youth in Los Angeles, a goal that the University plans to nurture in the coming years.

"Some of the challenges that these kids face are obvious, but they especially have a hard time with the college-application process," explains Marrs, of the setbacks related to naming family members and stating income and residence on their paperwork.

Providing local students who live in the heart of the city opportunities to pursue higher education also brings different perspectives to Pepperdine.

"If we are able to teach other students about what is going on 30 miles from Malibu, that is an important move," says Collins. "Those students are still going to change our campus, maybe even more so, because they know about the things going on not too far from here, and to be able to bring that awareness to other students is invaluable. You don't have to travel far to see that there are big needs."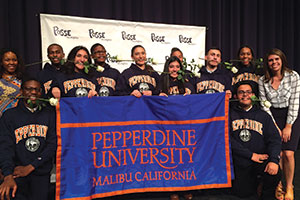 L.A. Posse 2 at the most recent Posse Scholar awards ceremony

First-year Geonnie Wilson's first experience in Malibu as a Posse Scholar was during this year's PossePlus Retreat, an annual, weekend- long retreat where the 10 Posse Scholars, along with the group of friends, family, faculty, and others they invite to join them, discuss one of the most significant issues affecting their generation. The groups sometimes grow to 150 participants. This year's topic gave Wilson the chance to dive deep into conversations surrounding police brutality in 2015.

"We got to see different sides of each other," the Inglewood, California, native reflects.

"It was very intimate, and everyone was able to express their feelings openly. We were able to see everyone at their weakest moments."

Matthews, who was one of the staff participants at the retreat, remembers the impact that the evening had on the African American men present. "Having an educated conversation about what's going on in the world was very eye-opening," she recalls. "We discussed everything from the history of racial inequality to what they have experienced in their personal lives. Every time I go to the retreats, I am reminded of why it is I do what I do."

Houston names the PossePlus Retreat as one of the most dynamic and transformative experiences that she had at Pepperdine, and recalls discussing socioeconomic class issues in America and how they impact college students while in school and as they launch their careers. She was very intentional about who to invite that year.

"I made sure it was someone who had a completely different view of the world than I did," explains Houston, who recalls asking one of her closest friends from her sorority who grew up in an area drastically different than D.C., from where most Posse Scholars hail. "She has had such different experiences than those who were in my posse. I wanted her to get to know them and wanted to bring those two groups together. They are usually so separated, but they don't have to be. It opened her eyes to issues she had never experienced or even heard about. Seeing the connections that were made between my Posse friends and my other friends was awesome."

Houston experienced Posse and campus life differently than some of her peers. "Posse opened my eyes to issues of race, identity, and class that I would have never experienced had I not been part of the program," she says. "I had the opportunity to hear the discussions surrounding some of the inequalities around our campus. Each person in my posse had a different experience at Pepperdine, and I was able to be with them when they discussed the unique struggles and micro-aggressions that occurred in their lives."

David recalls discussions of gender and sexuality, race, and class in America during her most memorable PossePlus Retreats.

"The reasons why these conversations don't happen is because people think they're going to be judged," says David, "but the retreat creates a safe space for the Posse Scholars and those who are invited to attend. Then we are able to bring those conversations back to campus. My time at Pepperdine, and college in general, were the four most formative years of my life. That's because of the beautiful and messy and chaotic and authentic experiences that we shared together, and all of the different conversations that we had. They were all very critical to my growth."

"The Posse Foundation is giving students who are often overlooked by the traditional selection process an opportunity of a lifetime," muses David. "I can speak on behalf of my entire posse that there was no way but by God and His grace and His glory that the 10 of us were sent to Pepperdine. There's just no way."