Home Court Advantage
Sisters Olivia and Erica Ogwumike bring a legacy of explosive talent to the Pepperdine women's basketball team.
Speed. Hard work. Agility. These are just a few of the strengths sophomore Olivia Ogwumike contributes to the Pepperdine women's basketball team. This season, she brings another asset: her younger sister, Erica.
"In high school, we both had this intuition with each other," says the elder Ogwumike of playing basketball with her younger sibling, a freshman. "I am very excited to rekindle that and grow it to a higher level at Pepperdine."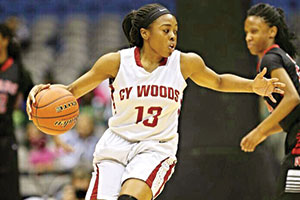 Each of the sisters, who hail from Cypress, Texas, is an excellent basketball player in her own right. Last year, Olivia, a forward, started 19 games out of 24, averaged 5.0 PPG and 3.3 RPG, and made the WCC's All-Freshman team.
"I came in like every other freshman, not expecting to play that much," Olivia recalls of the action-packed season. "By the grace of God, I picked up things quickly. I knew as a post player, I could rebound and play defense. At the end of the day, I knew if I did that, I was helping my team out. I was fortunate to end the year the way I did."
Women's basketball head coach Ryan Weisenberg told ESPN he knew when Olivia signed with Pepperdine that he was getting a high-IQ player. "But I didn't know she was as good as she is," he said. "She's gotten better each game, because she started competing with herself. She's becoming the presence we've lacked in the past."
Erica shares her sister's knowledge of the game, but plays a different position: guard. Last year, she averaged 18.9 points and 6.4 rebounds per game. She won the state championship with her high school team, was named MVP, and chose Pepperdine over Stanford, Texas, and Rice. "Erica is one of best players in the country," enthuses Coach Weisenberg. "She has a presence on and off the court."
Remarkably, Erica and Olivia are not the only basketball stars in their family. College basketball fans know the name Ogwumike from their older sisters Nneka and Chiney, who played together at Stanford. Both Nneka and Chiney shattered school records for points and rebounds, were number one picks in the WNBA draft, and currently play in the WNBA. Nneka plays for the Los Angeles Sparks and Chiney plays for the Connecticut Sun.
In a way, Nneka and Chiney introduced Olivia and Erica to the game. "We were always hanging out in the gym because our older sisters played basketball," says Erica, who started playing at age 8. "We played kid leagues and then played in middle school. Then it started getting serious in high school."
With their older sisters as their "biggest supporters," Erica and Olivia are getting ready for their best season yet. Over the last two years, the Waves have increased their win total and look forward to moving up in the WCC.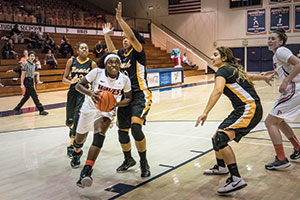 This year's team includes three of five starters from last season in addition to seven talented freshmen.
As one of the freshmen, Erica brings new energy and versatility to the team. "She is explosive and very simple with her game," explains Olivia. "I love her ability to play almost every position and her tenacity is infectious."
Perhaps tenacity runs in the family. "Olivia is an excellent teammate," says Erica of her hardworking sister.
"She is willing to do whatever, whenever, in order to help our team be successful. She takes each game to heart and leaves all her emotions on the court."
While balancing an arduous training schedule and 6 AM practices, the Ogwumike sisters have scheduled rigorous course loads, as well. Olivia is majoring in psychology and is pre-med. Erica, who recently graduated valedictorian of her high school class, is majoring in pre-business administration and is also pre-med.
With a bright future ahead, Olivia talks strategy for this season. "I've always been a defensive-minded person. Defense wins championships. If we're a relentless, defensive-minded team I think that's a good goal."
Erica adds, "I'm excited about seeing our progress. We're a very cohesive team, and we're all going to play for each other. We're willing to sacrifice what we need in order to get the job done. Those are the mechanisms you need for an exciting season. That's exactly what we're going to have this year."