A Vocational Journey
Thousands of miles from campus, professors from around the University reflect on the journeys that brought them to Pepperdine.
Each year, a group of 15 to 20 new faculty members gather at LAX to embark on one of their first-ever Pepperdine experiences. What lies ahead for the tenure-track faculty is a second, more philosophical voyage that prompts them to consider their vocational journeys that have led them to where they are in their careers presently.
After landing in one of five International Programs locations, typically Lausanne, Switzerland, Florence, Italy, or Buenos Aires, Argentina, the travelers are invited to engage in five days of discussion of the integration of faith and learning, a hallmark of the Pepperdine mission and vision, and the exploration of their calling and identity as Christian teachers. The New Faculty Retreat is often referred to as one of their most important early-career experiences and many professors cite it as one of the reasons why they continue to serve the University.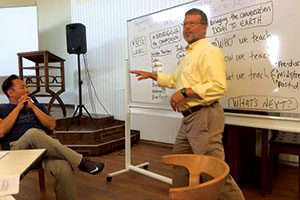 Center for Faith and Learning director Gary Selby leads new faculty in a discussion about integrating faith and learning in their teaching and scholarship in Lausanne, Switzerland, this past summer.

"One of the things that we find is that, often when you go through most academic programs, you are forced to compartmentalize your faith, and it's not something you're allowed to bring out and integrate in your scholarship," says Gary Selby, director of the Center for Faith and Learning, the sponsoring department that has led and organized the New Faculty Retreat since 2008. "For new faculty, it gives them permission and actually encourages them and gives them the responsibility to think about how to integrate faith in their teaching and scholarship."

Selby, who is also a professor of communication at Seaver College, remembers a similar retreat experience in his early days at Pepperdine when he found himself in a room full of people who were sharing personal stories of how they came to the University, blown away by the thought that conversations like that were taking place in an academic setting. That fall, in 2005, he embarked on his first New Faculty Retreat in Florence, Italy, where he felt a sense of empowerment and started seeing his work as not just a job, but as a real calling.

"When we're on campus, we're responding to what we know about each other," Selby says. "We're responding to the impression we've gotten. Here, you find out the incredible stories some of our colleagues have gone through on their journeys to work where they are now."

For Abraham Park, associate professor of finance at the Graziadio School of Business and Management, the retreat experience is "one of the great privileges of teaching at Pepperdine." As a lay minister who had struggled with the idea of his calling for quite some time, Park found purpose in his journey.

"It was a time for me to joyfully reaffirm that the ministry God called me to was the place of my current job."

Park also explains that it helped him develop a deep respect for the Church of Christ tradition, "especially by the seriousness with which they sought to live out the Word of God."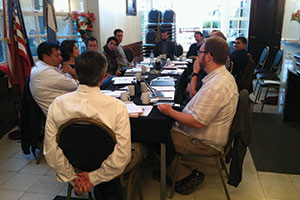 Center for Faith and Learning associate director Paul Contino (facing the group) facilitates a discussion of Parker Palmer's book, The Courage to Teach, at Casa Holden, Pepperdine's Buenos Aires house.

"I came to have deep affection for my colleagues, faculty from different departments whom I would have otherwise never met, whom I now value as brothers and sisters in Christ carrying out God's plan and purpose here together."

Each day of the retreat is designed to stimulate meaningful conversations about the role of faith

in the classroom and allow for deep reflection. On the first and second days, participants are prompted to think on the barriers, challenges, joys, and influences that have impacted their personal and professional journeys. Faculty members write their vocational stories, exposing their vulnerabilities and allowing for moving, personal conversations. The third day includes a session that focuses on teaching and the role of calling in the life of a Christian teacher.

"It gives them the opportunity to think about their successes and challenges in their first year," Selby explains. "We are all growing into our unique place and the realization that every new teacher is going to have a different style encourages finding your own voice as a teacher."

Discussions on the fourth day focus on recent topics on the cutting edge of education, especially the integration of faith and learning and how the interplay of the two might affect their pedagogy.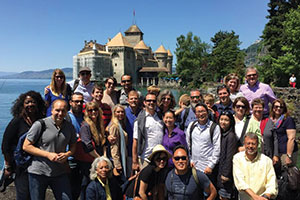 Between the moments of reflection, bonding activities, and worship, the group also takes time to explore the host city. Highlights of the itinerary include boat excursions to Château de Chillon, a castle built on Lake Geneva, and tours of La Porteña, a ranch located one hour outside of Buenos Aires, where the faculty experience traditional gaucho music, horseback riding, and local cuisine. On the Sunday of their one-week stay, the group has the opportunity to visit a local church. In Switzerland, it's St. Pierre Cathedral, the adopted home church of John Calvin. On the final day of the retreat, the group meets to explore the history of Pepperdine, as well as the University's Church of Christ heritage.

"It's not an overstatement to say that during this intense and exciting week I grew to love my new colleagues," says Louise Lofquist, associate professor of music at Seaver College, who connected with faculty members from all five schools of Pepperdine.

Lauren Amaro, assistant professor of communication at Seaver College, adds that the trip was a rejuvenating experience.

"I took rare time to contemplate my identity as a person called by God," she reflects. "I was reminded of His perfect orchestration at each stage of my life, and I left the trip breathing prayers of praise."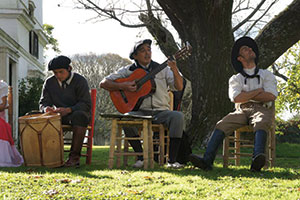 As a family communication scholar, Amaro explains that the retreat allowed her to look closer at the theoretical importance of a partner's support in furthering a person's—especially a woman's—career.

"Away from the stress of toddlers, financial cares, and home ownership, my husband and I had time to dream together about our lives and our work," she continues. "We talked a lot about being uniquely called to bless others in our jobs and I entered the 2015-2016 school year more secure in my calling than I have ever been. We have never felt more confident that God brought us to this beautiful place for beautiful reasons."

One of the things the groups consistently discover as a byproduct of their experience is the sense of community that is built when faculty members are removed from their normal circumstances and relocated to an unfamiliar place.

"That experience has created an entire culture shift at Pepperdine," Selby says. "Even the faculty members who don't stay at the University recognize the influence Pepperdine has on their careers. They carry that with them wherever they go.

"We want faculty who are committed to their disciplines and who are going to be excellent scholars and teachers," Selby continues, "but we also want faculty with whom Pepperdine's mission and vision resonates deeply. For most of these faculty, the retreat is really the thing that gives them that."