Cultural Counsel
A clinical psychology program at the Graduate School of Education and Psychology has graduated its first cohort of students trained to work with Latina/o families and communities.
Latina/o cultures have historically valued traditional institutions such as family and religion, promoting a strong sense of respect in the home, both between husbands and wives and parents and children.
Yet as wholesome as these traditions may seem, they also prevent families from addressing any private issues they may be facing. Individuals often suppress their pain, as openly expressing grievances could consequently generate a new set of problems to resolve.

While many groups seek counseling from mental health professionals such as a licensed psychologist or marriage and family therapist, Latina/o communities often associate therapy with "being crazy" and shame. Latinas/os who would otherwise benefit from mental health services miss opportunities to reap the benefits of treatment and instead remain in emotionally challenging relationships and situations.

For licensed psychologist Miguel E. Gallardo, this is an all too familiar scene. In his private practice in Lake Forest, California, Gallardo specializes in helping adults and adolescents overcome depression, grief, domestic violence, and trauma. As a founding member and past president of the California Latino Psychological Association and California Psychological Association, and former chair of the American Psychological Association's Committee of Ethnic Minority Affairs, Gallardo has particular expertise in working with Latina/o families.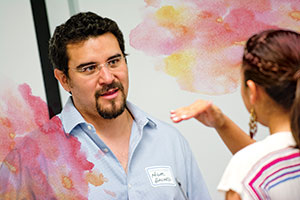 Throughout his years in the field, Gallardo has noticed a huge discrepancy between the large number of Latina/o communities in Southern California and the number of programs that train mental health professionals to handle Latina/o-specific issues. As an associate professor of psychology at the Pepperdine University Graduate School of Education and Psychology (GSEP), Gallardo was determined to develop a practical curriculum for psychology students that would train them specifically to work with Latinas/os.

"When you look at the demographics of training programs, and then you look at the demographics of the student population, there is a real disparity between the student demographic and the demographic that they're going to be working with. We developed a program to address and reduce that disparity in some ways," he says.

With support from the Pepperdine leadership team, in 2013 Gallardo became a founding member and director of Aliento, a training facility and research institute located at the University's Irvine Graduate Campus that offers the master of arts degree in clinical psychology with an emphasis in marriage and family therapy with Latinas/os.

Aliento, which translates to "breath" in Spanish, familiarizes GSEP students with the unique needs of Latina/o communities through hours of hands- on training, Spanish language courses that expand their mental health vocabulary, and community service projects. Students thus learn how to approach Latina/o clients through culturally respectful and responsive methods—particularly the theoretical orientations of liberation psychology and liberation theology.

"Our context and the environments in which we find ourselves often influence how we see ourselves and how we think about ourselves," Gallardo explains. This includes "the language that we use to describe what we might be experiencing and feeling, particularly from a mental health or mental illness perspective."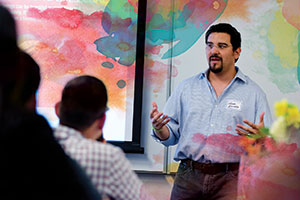 First, liberation psychology is used to teach Latina/o clients that their views of themselves and others are influenced by their surroundings. This approach helps remove self-blame from those who have been oppressed for so long that they now believe there is truly something wrong with them—as though any endured abuse was somehow deserved or destined.

For example, Gallardo points out, "if someone says Mexicans are not as intelligent as other ethnic groups, eventually they may start to ask, 'Are we not as intelligent? Am I not as intelligent? Am I not as good as other people?' Oftentimes the individuals are made to feel like the problem is inherently withinthem than their social surroundings."

Yet, as Gallardo notes, liberation psychology challenges people to ask, "Is there something going on with you, or might there be other things that you find yourself always surrounded with— like situations, dialogue, discourse, or messages—that might be contributing to how you feel and think about yourself?"

The second component of making the program relevant to Latinas/os is through liberation theology. An interpretation of Christianity, liberation theology focuses on helping the most needy populations in society and promotes social justice and human rights for disenfranchised groups.

Derived from Catholic teachings, Gallardo maintains that liberation theology views the poor as being privileged of God's grace and that society should make an effort to relieve and liberate them of their hardships.

Gallardo explains that while this theory emerged in response to a lack of assistance for the poor, the basic notion serves as an appropriate component of the program.

"The theology of liberation made sense for me because that's really who I wanted our students to learn how to work with," he says. "It is centered on those who oftentimes have the least power and no voice in society and combines our Christian mission and philosophy with psychology."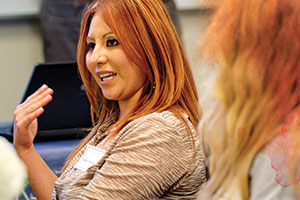 Students in the program have the opportunity to apply these schools of thought to their community service projects. For example, one cohort is currently partnering with several different mental health agencies to provide a stigma-reduction arts program, which seeks to reduce the stigma of mental illness and teach people how to express their emotions through the use of art.

Aliento is also working with these same agencies to host a training program for religious leaders—whether they work in church, mosque, temple, or synagogue congregations—to educate them on mental illness and mental health issues.

As Gallardo explains, "Oftentimes church communities and religious communities are the gatekeepers for people when they have a need. They'll go to their religious entities before they go to a mental health provider. So we decided to go to the religious communities and work together with them to train them on what to think about, what resources are available to them, how to better serve their congregants, and how to better reduce the stigma in some ways."

The program also offers Spanish immersion courses that send students to different Latin American countries. There, they gain a deeper understanding of the mental health terminology that is required to accurately explain psychological concepts and diagnose Latina/o clients in ways that will resonate with them and form strength-based perspectives.

With the program's first class having graduated this past May, Aliento's unique education models and training approaches have left strong impressions on the students in the program.

"I learned from Aliento that being Latina did not immediately qualify me to fully understand the roles that culture, environment, and social context play in the lives of Latinos/as in the U.S.," reveals Pilar Gomez-Marmolejo (MA '16), a graduate of the program's first cohort. "On a more personal level, it helped me realize that I was not exempt from having stereotyped ideas about mental disorders."

Alumna Susan Arias Klenk (MA '16) was particularly surprised at how effective the Spanish language courses were for communicating professionally in Spanish.

"I found that presenting our clinical cases in Spanish fostered my understanding about mental health issues," shares Klenk, who also participated in Aliento's immersion program in Buenos Aires, Argentina. "I gained the skills necessary to become a culturally competent therapist in working with Latinas/os."

Current student Dawn-Marie Luna is also passionate about offering Spanish-language therapy to Latina/o clients. After working with a youth-led nonprofit organization in California's San Joaquin Valley centered on LGBTQ support and learning that the number of LGBTQ suicides are at an all-time high, she realized the desperate need for clinical interventions in Spanish.

According to Luna, "It became crystal clear that Latina/o youth and their families lacked access to culturally congruent mental health resources, as well as psycho-education in their native Spanish."

As Aliento's founder, Gallardo believes that training students to help the most vulnerable, marginalized, and stigmatized populations promotes spiritual growth in addition to mere academic development.

"I feel like our program truly embodies our Christian mission at the University—of purpose, service, and leadership," he says. "I think we're really tapping into all three of those domains with this program."