Doctor Without Borders
After watching his dental office burn to the ground, a George Pepperdine College alumnus started a new career in the Third World and widened his own worldview.
Life in scenic Whitefish, Montana, was predictable and comfortable for dentist Jerry Golphenee ('62), until the day in 1992 an oil rag caught fire at a neighboring suite and set his office ablaze. Once the smoke cleared and Golphenee assessed the irreparable damages to the structure, he seized the opportunity to reevaluate his professional goals and considered making a change that would alter the course of his life.
The George Pepperdine College alumnus relocated to Saudi Arabia for two years, during which time he treated locals and royalty alike. Yet he could not avoid the fact that, despite living among great wealth, he was not fulfilling a more personal desire. In 1996 he signed another two-year dentistry contract after responding to an ad in a medical journal, only this time in one of the poorest places in the world: Kathmandu, Nepal. While Golphenee did not intend to stay longer than the contract required, his involvement at a local church and the strong call to minister to the people of Nepal inspired him to remain in the primarily Hindu nation longer than expected.

"I went to Nepal with a Christian attitude," he shares. "I was also making good money and had an easy life, but after getting involved with the church, I couldn't leave."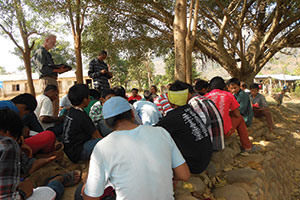 At Church in Nepal, a local congregation, Golphenee, who was raised in a family steeped in the Church of Christ tradition, collaborated with Nepalese preachers to teach Bible study sessions and translated classes to further educate the congregation about Christian history and doctrine.

In 2009, after 14 years of working with the church, Golphenee was contacted by Bear Valley Bible Institute in Denver, Colorado, about the possibility of establishing a foreign extension school in Nepal to train future Nepalese ministers to spread their Christian knowledge among their own people in surrounding villages. Golphenee agreed to the international partnership and by January 2010, Kathmandu became home to the Nepal Center for Biblical Studies, which offers a two-year training program that prepares Nepalese Christians to preach the Gospel at churches and towns throughout all of Nepal.

"By training the native Nepalese people, they will be the ones to impact their own society and grow the church," Golphenee explains.

The logic behind this philosophy is simple: foreign missionaries do not possess the cultural understanding and experience to preach in a way that resonates with Nepalese people, and they lack the necessary credibility and relationship to leave a lasting impression. For this reason, Golphenee prefers to increase the number of Nepalese preachers, rather than foreign missionaries, to speak to the locals about Christianity. This method is particularly strategic in bringing hope into the poverty-stricken communities, demonstrating that if one of their own members is able to rise above oppression, receive an education, and live joyfully, they can, too.

Upon graduating from the Nepal Center for Biblical Studies, students return to their hometowns and begin reaching out to their neighbors.

"People see the change in them, and that speaks head and shoulders above all the words any foreigner could say. They preach in a way that their people will understand. It becomes real, believable, and attainable when they see it in their own people," he shares.

Christian concepts are entirely new to a society completely overpowered by the caste system, which, by definition, discourages people from acting charitably toward one another. According to Golphenee, "Hinduism and Nepal's culture teach you to accept whatever you're told. And within the caste system, you have to accept that you're either born in a high caste or low caste, which determines your whole way of life, and you never think about changing it."

Yet even this rigid mentality is profoundly challenged when Nepalese people hear about God's love for the first time.

"They see God working in ways where there is love even in hardships. It's a message they never knew existed. And for those that are interested, it touches them in a beautiful way," Golphenee says.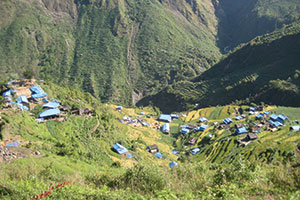 The fall of the Hindu monarchy in 2008 and the rise of a more secular republic has also brought greater freedom of religion to the country, which has led to Nepal becoming one of the fastest-growing Christian populations in the world. The outreach of various international secular organizations following natural disasters, most notably the 7.8-magnitude earthquake that struck the country in 2015, has also introduced the Nepalese people to God's charity and love.

"The 2015 earthquake hit people that didn't have much to lose, but they lost everything," he says. "Now we're in a rebuilding program, and we've been able to bring in money and help with food, tarps, and blankets."

With Golphenee's help, the program, which raised funds and sent teams of hikers to aid hard-to-reach villages, has successfully raised over $400,000 for the affected Nepalese in the last year.

Golphenee admits that the last two decades have had tremendous influence on his own spiritual journey, making his relationship with God stronger, deeper, and more personal. These experiences have shown him that he can do more good in Nepal than back at home because he is able to fill a need that others cannot.

"If I were in a congregation here with many people who could teach a class, there wouldn't be the urgency for me to be active," he explains.

Despite all the years that have gone by, Golphenee still looks back at the day he decided to leave the United States and restart his dental practice in a new world.

"I've heard the Christians in Nepal say, 'God burned down your office so you would come to Nepal.' I am thankful that the office burned down because of the changes it brought in me. I thank God for having a hand in these things."