Hope, Amplified
Inspired by Christopher Parkening as a child, a musician sets a record for the Pepperdine classical guitar program.
In the Denver, Colorado, home of music enthusiast Jim Mueller, each of his five children was required to study piano for two years under his guidance as part of their homeschool curriculum. As an industry professional, he chose piano for its ability to introduce young musicians to foundational elements of music education, such as notes, keys, and chords.

Following his comprehensive instruction, the children were encouraged to explore a musical instrument of their choosing with the ultimate goal of glorifying God through music.

His second-born daughter Hope showed immediate interest in pursuing guitar lessons after being drawn to its portability and melodic sound. Today, she is the first woman in the guitar program at Pepperdine, where she studies and performs under the tutelage of renowned classical guitarist Christopher Parkening.

The road to Pepperdine was both adventurous and arduous. In search of a suitable instructor who would nurture their daughter's passion, Mueller's parents contacted Serena Eads of Colorado's Metropolitan Jazz Orchestra about the possibility of private lessons. While Eads did not usually work with children, she was so impressed by Mueller's natural talent on the half-size guitar that she agreed to teach her as long as she promised to practice between sessions.

Although Mueller had originally wanted to play folk music and sing along, Eads recommended beginning with classical guitar to help improve the young musician's technique. Her first lessons were derived from The Christopher Parkening Guitar Method - Volume I: Guitar Technique lesson book, which she diligently completed through the last page. So began her love for classical guitar, to which she dedicated most of her free time over the next few years.

While planning a three-day surprise family vacation to celebrate her 16th birthday, Mueller's parents asked which guitarists she liked in order to gather clues about where to take her. When Mueller mentioned Parkening's name, her parents began researching upcoming concert dates. Though the master guitarist had recently retired from the stage, they learned that Parkening was the Distinguished Professor of Music at Pepperdine. After contacting him with Mueller's birthday wish, Parkening invited the family to visit the University's Malibu campus to attend one of his master classes and to hear her play guitar in person.

The trip, which Mueller calls "the best experience of my life," ignited her desire to attend Pepperdine after high school. When she discovered that a woman had never before been accepted into the University's classical guitar program as a music major, she knew she had to work harder than ever to surpass the competition. "I hit the ground running," she recalls. "I needed a new guitar instructor, so Professor Parkening recommended a former student of his that lived in Colorado, which was a miracle because he lived five minutes from our house."

Under the direction of her new instructor, Linus Dambrava, Mueller's skills grew tremendously over the next two years. But when she applied to Pepperdine as a first-year, the University offered her the music minor rather than the major she needed in order to study classical guitar under Parkening.

This unexpected twist led her to attend the University of Denver, where she spent hours each day rehearsing for recitals and practicing at home—believing that eventually she would play classical guitar with Parkening at Pepperdine.

The following spring, she re-auditioned for Parkening's program and was granted a scholarship to attend Pepperdine as a music major.

"I worked really hard to get from playing under freshman level to playing above sophomore level," Mueller reveals. "Professor Parkening was impressed by the growth I had shown in the last year ... and I became the first woman to ever be admitted into his program."

Now a sophomore at Pepperdine, Mueller continues to receive high praise from her childhood hero.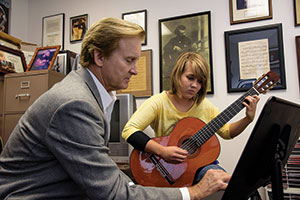 "Hope is a fine young guitarist who is very disciplined and hardworking," says Parkening of the first student to diversify his namesake program.

"She gets a very beautiful sound on the guitar and plays with a lot of musicianship and emotion. I really enjoy teaching such a devoted guitar student."



Off stage, Mueller passionately shares her message of remaining faithful during times of heartache.

"When you have a dream and a desire, you really have to lean on God," she says about the hurdles she faced throughout her journey to Pepperdine. "It took a lot of faith and trust to not give up. But I knew that this was God's calling for my life, and that the meeting when I was 16 was a divine appointment."

She also happily uses her personal experiences to offer words of encouragement for those facing similar trials.

"I really want to reach out to other people and show them that they don't have to give up on their dreams—that there's hope, and that there's nothing they can't do with God's help."