The Man Behind the Mic
A lifelong sports enthusiast leads fellow fans as the voice of the Los Angeles Rams.
It's 11 AM at the L.A. Memorial Coliseum and a firework lets the crowd know that something 37 years in the making is about to begin.

"Ladies and gentlemen, the doors to Los Angeles Rams football are now open," booms an enthusiastic, effusive voice through the speakers, welcoming 91,000 fans into the nearly 100-year-old stadium. That Sunday morning at 8 AM, while both new and lifelong Rams devotees dusted off classic jerseys and caps to prepare for the first Rams game in greater Los Angeles since 1994, Sam Lagana was at church worshipping in anticipation of his first time behind the microphone as the Rams' public address announcer.

Pepperdine Magazine sat down with Lagana, Pepperdine's associate vice chancellor for athletics, to discuss what it really means to be the stadium voice of the city's highly anticipated football team.

What is the energy like inside the booth?

You can feel it building before a game. There's nobody in the stadium except for the security guards, and you can just hear a roar from the outside when the doors open. Within minutes, you see people coming in, you see the bowl start filling up, and we can feel it in the booth. We're up on our feet, jumping up and down, ready to go. It's an excited anxiety, but you have to stay calm—like a quarterback. You hear the roars, but can't get too caught up in what's happening in the stands. It's show time!

What do you hope to accomplish in this role?

My job is to give the facts in a way that helps motivate the crowd to realize the important moments of the game. I have an enthusiastic style, so my goal is to inject that energy into the crowd's experience. To see those dads and sons and mothers and daughters united under Rams football is very awesome. My hope is that they walk away feeling good about Rams football. I want them to leave with the feeling that they were in a safe, happy place with their family and friends. I want that experience to reign.

How did you prepare for your first time in the booth?

It was important to get acclimated to how the words I was saying were going to sound. When I speak, the crowd hears it about one-and-a-half to two seconds later, and you hear it again when it's bouncing off the peristyle. It's easy to get garbled. We made sure I had retained a spotter so that they can help me decipher what's happening on the field. It's hard to tell who's in a tackle from my perspective because we're so high up and far back in the stadium. These players are new to the city, so I prepared by learning their numbers, knowing who is on the field, and figuring out their normal cadence.

What have you discovered about the Rams fan base in L.A.?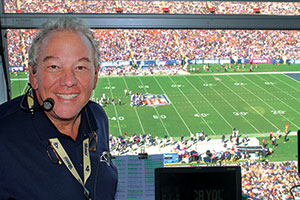 The Rams fan base is excited to be here. Angelenos are excited for this team to be back. They want a great product and they want to be winners. When you look at how many championships this city has won in every major sport, the Rams want to be back in that mix. I think fans want them to be back in that mix. You also get to see the diversity of the city. Families, people of all different socioeconomic backgrounds—you can see that this is meaningful to them. Everybody is in this big bowl, and everybody is sharing the experience together.

Do you have personal memories with the Rams?

I was a Rams fan growing up. My dad took me to my first Rams game against the Chicago Bears in the late 1960s, and I remember it vividly. A friend of mine tweeted out a nice note of congratulations for my first game and reminded me that we used to go to games with his dad after my dad passed away. I was disappointed when the Rams left L.A. I'm really glad they're back.

Do you think the Rams will make it to the Super Bowl?

If this ball club can get to the position of real prominence in the next couple of years, the Super Bowl is doable. We have top talent: Todd Gurley is stellar, and we have a defensive team that is probably the best in the NFL. The last Rams team that played at the Coliseum got to the Super Bowl in 1980.

How did you come up with the battle cry "Rise with the Rams?"

We want people on their feet at the beginning of the game and at halftime. I've always personally subscribed to that in whatever sport it is. After we score, we rally the crowd with "Whose house?" and everyone responds "Rams' house!"

How does this job relate to the fundraising work you do for the University?

When the fans respond to what I'm saying, it gives me the same rush as when someone makes a gift to the University that makes a sizeable difference in the lives of our students. There's no personal gain for me in either of these experiences, but there is gain for others. To see other people benefiting, whether it's victory, whether it's feeling good as a family, whether it's a student getting a scholarship—it's really very special and rewarding.

What does this opportunity mean for Pepperdine?

It's fun to connect with Rams people, but Rams people also want to know about Pepperdine. People ask me about Pepperdine, so I have an opportunity to introduce them to the University. It's a door opener for us as an institution.