Land of Opportunity
During a summer internship program in Israel, a group of students explores the rich politics, culture, and history of the Middle East
Each summer since 2010, a small group of students representing Pepperdine's five schools travels to Tel Aviv, Israel, to fulfill two-month internships made available through the University's Brenden Mann Internship Program coordinated by the Diane and Guilford Glazer Institute for Jewish Studies. Through custom-selected opportunities based on their areas of professional interest, students are connected with global businesses, nongovernmental organizations, and law firms to take advantage of the engaging, challenging, and eye-opening experiences that the city's booming economic, cultural, and spiritual offerings provide.
Upon their return to the United States in August, five students shared how this once-in-a-lifetime journey shaped their approach to international business practices and informed their perspectives of one of the most dynamic countries on earth.
---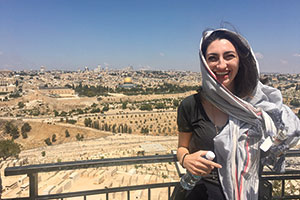 Anna Goodman
School of Law | Shurat HaDin (Israel Law Center)
Determined to pursue a career in international law, and with just a few months of law school experience under her belt, Anna Goodman eagerly signed on to assist the staff at Shurat HaDin—a nonprofit law firm that works with victims of terror attacks and manages civil litigations on their behalf.
"When you realize you're working on behalf of families whose loved ones have been killed or those who have been physically maimed or disabled, and that you're standing up for their rights and making sure that the people responsible are being held accountable ... to me, that was such a meaningful and powerful experience," she says.
At Shurat HaDin, Goodman worked alongside eight other law school interns from the United States to research regional terror attacks, write briefs and responses, and help prepare the firm's attorneys for cases currently in court—a substantial amount of legal labor for a first-year law student.
Goodman's internship also connected her with cabinet members serving under Israeli prime minister Benjamin Netanyahu, members of Israeli intelligence organization Mossad (formally named HaMossad leModiʿin uleTafkidim Meyuḥadim), as well as American FBI agents, all of whom widened her perspective of the region's unique sociopolitical disagreements.
"I didn't know much about the conflict in the Middle East prior to going," Goodman admits, "so it was extremely impactful to gain a firsthand understanding of the complications involved. It seems like everyone on both sides is trying to find a solution, and many people genuinely have hope that there can be peaceful coexistence."
Through interactions with Israeli residents, Goodman also sensed an undeniable presence of community, security, and openness among the nation's communities. "Israel faces so many external threats that they have become much closer as a culture," she notes. "There is such a high level of responsibility that internal crime is almost nonexistent."
---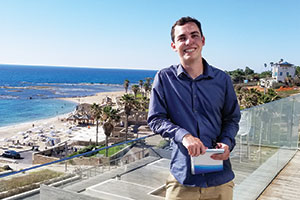 Chad DeBoe
Seaver College | Peres Center for Peace and Innovation
Chad DeBoe grew up in a household that frequently emphasized Israel's pertinent role in history, religion, and global politics. So when the political science and economics major first entered college, he resolved to actively broaden his knowledge of the nation and its people. In Tel Aviv's neighboring city of Jaffa, DeBoe interned in the peace education department at the Peres Center for Peace and Innovation—a nongovernmental, nonpolitical, nonprofit organization that engages in several different sectors to improve coexistence between groups commonly divided by geopolitical tension—founded by former prime minister and president of Israel, Shimon Peres.
At the Peres Center, DeBoe was in charge of editorial and administrative tasks to advance a special program funded by the United States Agency for International Development—a soccer program that brings Israeli, Arab Israeli, and (West Bank) Palestinian girls together to play and interact with one another. "They bring girls of opposing and often contentious narratives together to foster a human connection through sports and education that may not be possible as they get older and cynicism creeps in," he says of the program.
"It allows the girls to challenge themselves and see each other as human." DeBoe, who also nurtured his love for sports outside of work by playing beach volleyball and running alongside the shore at Frishman Beach, further explains that without such programs, members of these three communities might never have the opportunity or inclination to seek these types of intercultural friendships. "These girls have matured in ways that a vast majority of people never will," he contends. "Living in Israel and terning at the Peres Center has not only sparked an intrigue in these anthropological , but has also challenged me to take a step back and reflect on how I personally tackle these same issues."
---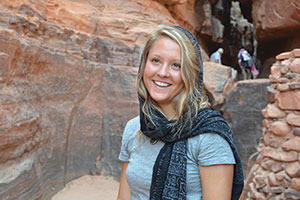 Amelia Dal Pra ('17)
Seaver College | Peres Center for Peace and Innovation
During her junior year at Seaver College, Amelia Dal Pra ('17) nurtured a newfound passion for Judaism by taking courses through the Glazer Institute and expanding her knowledge of the Israeli- Palestinian conflict. To supplement her academic studies, she also routinely attended Shabbat dinners at Jewish friends' homes around Los Angeles to learn more about their religion and customs. Moving to Tel Aviv for the summer to catch an even closer glimpse of Israel's daily spiritual practices, social etiquette, and corporate operations seemed like a natural next step.
As an intern at the Peres Center's public relations department, Dal Pra was primarily assigned to writing press releases—some of which were published in the Times of Israel website and Jerusalem Post newspaper.
While fine-tuning her global communication skills at the office, Dal Pra was surprised to find that social discussions of controversial topics were not avoided and, often, even encouraged.
"Religion and politics are immediately the first things they talk to you about," she reveals. "So you learn how to have real, authentic conversations with people."
While strategic communication was a primary objective at work, Dal Pra also spent silent, "surreal moments" overlooking Israel's breathtaking landscape and thinking back to all of the biblical stories she had heard as a little girl that had taken place in those exact physical locations.
As Dal Pra explains, "I always imagined as a kid that Jesus walked for days in these really spread out lands and vast areas. But when I got there, I saw that I could stand in front of the Sea of Galilee and almost touch Capernaum, Tiberias, and Magdala. I could stand in the areas where 80 percent of the events in the Gospels took place."
"You can walk through the ruins of Capernaum and imagine—in the simplicity of it all—this seemingly insignificant place where Jesus spent a lot of his time. These simple experiences in the quiet were very spiritual and moving for me."
---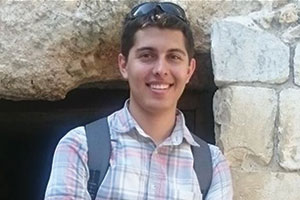 Enrique Navarro-Donnellan
School of Public Policy | International Institute for Counter-Terrorism (ICT)
Excited to visit a part of the world he had never seen before, Enrique Navarro- Donnellan spent his summer at ICT researching and documenting acts of terrorism in the Middle East with special focus on airstrikes in Syria and Iraq. Administration at ICT also granted him access to attend the Herzliya Conference, an annual gathering of domestic and global political leaders, including Israel's former defense minister Moshe Ya'alon and former justice minister Ayelet Shaked, to discuss and determine national policy.
Sponsored by Israel's Institute for Policy and Strategy, the Herzliya Conference presented Navarro-Donnellan with the coveted opportunity to learn more about the complexities of interregional cooperation and domestic terrorism issues, as well as diplomatic strategies from a vast array of internationally known government officials, including former United Kingdom prime minister Tony Blair.
"After seeing the impact the speakers had on influencing world affairs, conference reaffirmed the value I see in the career path that I want to take," Navarro-Donnellan shares. "It reminded me that international politics is remarkably personal. There are human interaction elements that are important to master, those elements may be even more important than the professional training that is involved terms of resolution-crafting and success."
Now back in Malibu, Navarro-Donnellan highly recommends that other Pepperdine students take advantage of the Brenden Mann Internship Program. As he puts it, "The program opened the door for me to be in the presence of government leaders. It was an invaluable experience."
---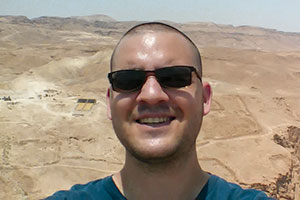 Anthony Cardenas
Graziadio School of Business and Management | AlphaBull
Having just discovered his Sephardic roots, along with the prospect of interning at preeminent global financial services company Alpha Bull, MBA candidate Anthony Cardenas jumped at the opportunity to visit the land he describes as "a bastion of freedom and liberty in a place otherwise known for authoritarianism and intolerance."
At Alpha Bull, Cardenas was responsible for identifying investments in the global equity markets, analyzing the international segmentation of Tel Aviv's initial public offering market, and building predictive models for various equities and currency pairs in order to estimate potential threats to, and opportunities for, the company.
"The relationship I built with the CEO of Alpha Bull was not only my best experience in Israel, but one of the best in my life," he shares about Yacov Harpaz, a renowned financier who has worked on Wall Street, managed some of the largest banks in Israel, and is responsible for spearheading the deployment of Israel's structured financial products.
Cardenas was also involved in Alpha Bull's investment endeavors in a Tel Aviv-based medical research startup—a project that landed him a remote position as the startup's investor relations consultant back in Los Angeles. Most recently, he has teamed up with Alpha Bull's chief technology officer to launch another startup company, this time targeting commercial and industrial equipment markets.
"Pepperdine does better than most business schools in solidifying a sense of global community and local purpose in the classroom," Cardenas explains. "This makes it easy to handle a wide variety of backgrounds and personalities in a professional setting, and I can't think of a more diverse place in the world than the Middle East—specifically Israel."
"The analytical arsenal and interpersonal skills provided by the Graziadio School are second to none," he continues, "and I rightfully attribute my success in Israel to the experiences in and outside the classroom at Pepperdine University."