Material Witness
From Marilyn to Nehru, photographer Lawrence Schiller ('57) captured the incredible true stories of some of the most fascinating people in modern history
Where were you when you heard that President John F. Kennedy had been shot as he rode in a motorcade through Dealey Plaza in downtown Dallas, Texas?
Lawrence Schiller was at his home in Los Angeles when his wife announced what she had just heard on the radio. Within hours he had traveled some 1,400 miles, reaching Dallas police headquarters just as Lee Harvey Oswald was being booked on suspicion of assassinating the 35th president of the United States. Working for the Saturday Evening Post, Schiller had arrived just in time to take some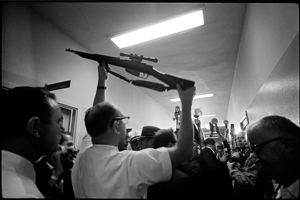 of the first photographs of one of the most notorious killers of our time, introducing the rest of the world to the face of the defiant accused assassin and the rifle that changed the course of American history.
"I raised my Leica, shot two frames, and made what would become an iconic image," Schiller remembers. His strategy for telling a story in a single frame? "Finding, as Henri Cartier- Bresson said, 'the decisive moment.'"
Film footage shot on the second floor of the police station that day shows Schiller standing alone just steps away from the sea of photographers. "Get out of the way!" can be heard coming from the group, distractedly unaware of the strategic process in play.

"I never did feel comfortable being where the other photographers were standing," Schiller explains. "I was never part of the pack. I always had to do what nobody else was doing."
Just a few years prior, Schiller was a student at George Pepperdine College in Los Angeles taking photos of life on campus, from drama to sports to student body elections. He had won a scholarship to Pepperdine after submitting one of his shots to a scholastic sports photo competition run by the Hearst Newspapers.
After living in campus housing for the first few semesters, Schiller eventually rented an apartment nearby and was given a small office next to the Dolores statue near the center of the school. When he wasn't in class, he used the space to make appointments for photo shoots and meetings—and to plan his next moves. His photography career was taking off and he eventually outgrew the space. Needing a darkroom and a larger place to shoot, he moved his burgeoning business to the basement of President Hugh Tiner's home on campus. That summer, Pepperdine rented out part of the campus to a school for baton twirlers.
"I took this picture of some 200 to 300 girls all throwing their batons in the air and sent it to the Saturday Evening Post for their 'The Face of America' pictorial," Schiller remembers. "When they said they wanted to publish it, I wasn't too attentive to the caption—'A school for baton twirlers sponsored by Pepperdine College.' When it was published, the school didn't think it represented their image very well."
After a stern talking-to by the dean, Schiller promised to be more mindful and continued to document the campus experience while contributing to the school yearbook. A portrait he shot of California governor Goodwin J. Knight during a campus visit garnered so much praise from the politician's team that the governor made it his official portrait.
While still a student at Pepperdine, Schiller began selling his photos to international publications—the only ones that would hire a 20-year-old college student to photograph some of the world's most famous—and infamous—personalities. Foreign magazines like France's Paris Match needed a photographer on the west coast and Schiller was happy to ingratiate himself with the likes of Paul Newman and Clint Eastwood, Bette Davis and Barbra Streisand, to capture Hollywood royalty on the rise. He remembers working late hours on a photo essay for Life magazine featuring Jack Lemmon and lamenting the hour-and-a-half drive home.
"Jack said, 'Larry, why don't you sleep on the couch? I'll find a shirt that fits you,'" Schiller recalls of the close bond that they forged over the course of the assignment. "You have to be vulnerable," he advises, describing the understated demeanor necessary for building and maintaining close relationships with his subjects. "Combine that with a little chutzpah and just knowing how to talk to people."
---
In 1962, on the set of Something's Got to Give, what would have been Marilyn Monroe's final film, Schiller was commissioned again byParis Match to document the production, a common promotional tool that movie studios utilized prior to a film's release. Over the course of the six-week production, Schiller captured the star both on set and behind the scenes. The "money shot" was catching the playful starlet splashing around in a pool sequence.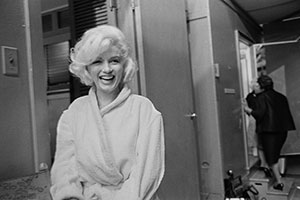 Unbeknownst to the crew—and to Schiller— Monroe had decided to go off-script and emerge from the water wearing less than what the production notes called for. Schiller's shutter captured each moment on endless rolls of film and scored covers and numerous pages not only in Match but inLife,Time, andStern. While the film was never completed—famously disrupted by Monroe's personal troubles—and was completely abandoned after her untimely death, photos from that set are some of Schiller's best- known and most celebrated pieces.
If you dig even a little bit into Schiller's relationship with Monroe, you will discover that their bond was unconventional at times, and one that Schiller still cherishes now over 50 years later. There are tales of them poring over contact sheets under a streetlamp on Sunset Boulevard in Monroe's Thunderbird—her, drinking Dom Pérignon out of a brown paper bag as she cut up the color transparencies she didn't like with pinking shears, and him, sweating as she destroyed his handiwork— hesitant, but confident in her process.
Schiller had no reason not to trust her. She was practically a professional photographer herself, having developed an expertise in lighting and angles throughout her well- documented romance with the camera.
"She knew exactly how to turn. She knew exactly what the nose shadow would be," Schiller remembers. "Marilyn was the first person I ever photographed who knew as much or more than I knew about lighting."
In Marilyn & Me: A Photographer's Memories, Schiller's 2012 memoir about his intimate moments with the starlet, the photographer recalls her precise notes on the set ofSomething's Got to Give in the moments before she emerged from her dressing room to the relief of a patient—yet frustrated— production crew.
Marilyn ... saw me in the mirror and, without turning around, said, "That's not the best angle for me. If you go over there"—tilting her head slightly, indicating a spot to the left—"the light will be better."
I moved to where she suggested and at that moment she turned her head halfway in my direction. Looking over her left shoulder, she flashed a coy smile that told me all I needed to know about Marilyn Monroe: she knew who she was, she knew who I was, and she knew what to do. What's more, she understood light.
As I lifted the Nikon with the 105mm telephoto lens, Marilyn smiled at me, and I pressed the shutter. Immediately, I realized I had the shot. In fact, Marilyn had shown me what other photographers who had shot her knew: that when she turned herself on to the camera, the photographer didn't have to be more than a mechanic; it was almost as if she were both the shooter and the subject.
As Schiller's star was rising, Monroe's was as bright as ever. In those moments, it would have been hard to believe that, in just a few months, it was about to burn out in such spectacular fashion. In fact, Monroe's last-ever "on-set" photo was taken by Schiller just before she died. That August, he paid tribute to her one last time—Nikon in tow—as her shrouded body was wheeled out of her Brentwood home, immortalized in the flash of Schiller's camera.
---
Schiller refers to the mid century as the "Wild Wild West," and he was riding the wave, scooping up assignments for Life and Time magazines covering elections, assassinations, and urban unrest. By 1959, he was one of the top photographers on Richard Nixon's presidential campaign and collected accolades and awards for his emotional snap of Pat and Richard Nixon conceding the 1960 presidential election. His lens also captured Muhammad Ali in his prime defeating Joe Frazier in the ring, Martin Luther King Jr. delivering a passionate speech in 1965, and the opening of Chinese-American relations when Nixon was finally elected president in 1968. Schiller, with camera in hand, was ubiquitous and his work was influencing the way America was perceived around the world.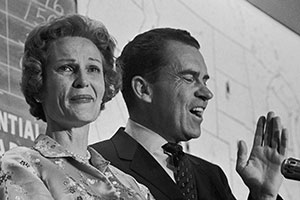 "Covering all of these events, you have no idea their magnitude at the time," says Schiller. "You're hoping to find the right moment in which a single picture tells the whole story. There are great photographers with unbelievable talent— photographers that are artists. I wasn't an artist. I was just a guy with a camera, and I was using it like a sponge."
At one point, Schiller was taking on 150 assignments a year, "parachuting in" on a story and departing as quickly as he had arrived. "I learned about the world through the people that I photographed," he recalls. What he didn't realize at the time was that he was also becoming a skilled interviewer.
"Every time I'd photograph someone important, I'd try to find a way to sit and talk to them and interview them," explains Schiller. "Sometimes I would talk to people for hours and hours and tape-record the conversations. That was my way of getting an education."
By the close of the 1960s, Schiller had developed relationships with some of the most notable actors, activists, and world leaders. Through photo essays and interviews, he reported on the hot topics of the day, like homosexuality and the American male for Time magazine and psychologist Timothy Leary's controlled experiments on the therapeutic potential of psychedelic drugs. He also spent time with those who carried out some of the most heinous crimes in modern history. He obtained Susan Atkins' calm confession about her role in the Manson Family murders (chronicled in his bookThe Killing of Sharon Tate), and at the bedside of a dying Jack Ruby, Schiller documented his involvement in the shooting death of Kennedy's killer.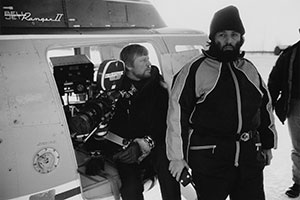 In the early 1970s, as both American and international magazines were beginning to fold, Schiller began looking to a different medium—television—to hone his craft. With no training, he started making documentaries and financing them with his own money. American Dreamer starring Dennis Hopper was his first foray into the new field, and he was hired to directThe Man Who Skied Down Everest, which won the Academy Award for Best Documentary Feature in 1976.
In The Executioner's Song, author Norman Mailer put into narrative form Schiller's jailhouse interviews with Gary Gilmore leading up to his execution by firing squad in Utah in the late 1970s. Schiller went on to direct the television film adaptation of the Pulitzer Prize-winning novel starring Tommy Lee Jones, who won the Emmy for Best Actor for his portrayal of the notorious killer.
Throughout his career, Schiller also produced or directed more than 15 television films, five of which have won Emmys, including the Peter the Great miniseries starring Maximilian Schell, Vanessa Redgrave, and Omar Sharif.
"True stories got higher ratings on TV," Schiller explains. "I didn't know how to handle fiction, but I knew how to take a true story and make a docudrama. I understood what a true story was because I was a journalist."
"The film has to smell right," Schiller continues. "It's got to be real. You have to feel the pores of the skin of the people. It can't be a movie. It has to be a reality."
---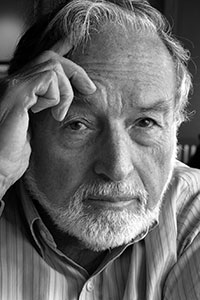 From May through September of this year, the Smithsonian American Art Museum had on display an exhibition called American Visionary: John F. Kennedy's Life and Times. Schiller was tapped by the museum to curate an exhibition of photos for the Kennedy centennial. They had seen Superman Comes to the Supermarket, a photographic book that had utilized Mailer's text of Kennedy's 1960 campaign. Members of the Kennedy family had thought it was the best collection of photos of the president.
"So we went to Washington and put together an exhibition," Schiller recalls. "Everybody said it was too late. I said nothing is too late if you have a good idea. I was blown away that at 80 years old, I was curating an exhibition at the Smithsonian and later for the New York Historical Society. It was a great experience for me."
In a conversation with White House photographers held at the opening reception, Schiller offered words of wisdom to aspiring photographers in an age of changing media.
"If you understand light, understand composition, and understand a little bit of history—and possess the skill of anticipation—add all that to your own sensitivity and your photojournalism will rise to the surface."