Pepperdines Place in the New World of Legal Education
Pepperdine Magazine is the feature magazine for Pepperdine University and its growing community of alumni, students, faculty, staff, and friends.
This is an epochal moment in legal education. The legal profession has yet to fully recover from the 2007–08 financial crisis as technology disrupts law firm business models. Law schools, in turn, facing a declining applicant pool, have responded by reducing the size of their entering classes to maintain the academic credentials of their students and equip them to pass the bar exam and obtain meaningful professional employment after graduation.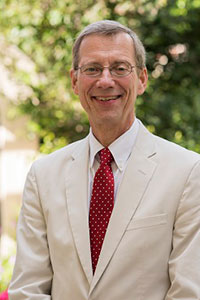 In the midst of these challenges, the University has asked the School of Law to recommit to becoming what we have long aspired to be: the nation's premier Christian law school, combining academic and research excellence with an ever- deepening Christian faith while being welcoming to all.
With the University's assistance, we reduced the size of our entering class by 25 percent this fall and increased our median LSAT (to 160) and UGPA (to 3.62). This reduced class size will enable us, over time, to continue to increase our students' academic credentials and fuel our efforts to continue to increase the rates of our students' bar passage and job placement.
The University is supporting our efforts to right-size the law school in the face of the new realities of legal education and legal practice. To provide a stable financial foundation with a lower JD enrollment, we are ramping up our fundraising efforts and expanding our non-JD programming in two areas of our greatest strength.
First, to leverage our world-class Straus Institute for Dispute Resolution (ranked number one by U.S. News & World Report this year and for 12 of the past 13 years), we have expanded our LLM degrees, master's degrees, and certificates offered through Straus. We have also launched this fall new LLM and certificate programs in entertainment, media, and sports law to capitalize on the University's partnership with AEG and the abundant opportunities for our graduates in these industries in Greater Los Angeles.
Second, to capitalize on our faculty's historic strength as teachers (as reflected in our annual ranking among the top 10 teaching faculties in Princeton Review's national survey of 40,000 law students, along with Boston University, the University of Chicago, Duke, Stanford, and the University of Virginia, among others), we launched this fall a new online master of legal studies program. We are particularly excited about the potential of this program as we expand the reach of our faculty far beyond Malibu.
I fervently believe that Pepperdine School of Law has the right plans and people in place to thrive in this new environment. The great strength of Pepperdine—what makes it unique and what inspired me to seek the deanship—is its faith-fueled caring community. As we approach our 40th year on the gorgeous Malibu campus, we celebrate the many achievements of the law school's storied past and are hard at work writing new chapters in Pepperdine's drive to become the nation's premier Christian law school.
Our faculty and staff are committed to recruiting the strongest possible students, providing them with a transformative educational experience, and launching them into rewarding careers. Each one of us is dedicated to pursuing ambitious and accountable excellence in everything we do. We seek to build a community in which all students, staff, and faculty are loved, nurtured, and challenged to grow personally, professionally, and spiritually. The end result will be a law school proud of its past, excelling in the present, and confidently setting its sights on an ever-greater future.
By Paul L. Caron
Duane and Kelly Roberts Dean and Professor of Law, School of Law