From Russia with Love (and Laughter)
Russian-American comedian Yakov Smirnoff heals relationships through the science of laughter
Comedian Yakov Smirnoff was the 1980s embodiment of the American dream, the Russian immigrant who arrived in America with nothing and rose to become a household name. Known for his amused commentary on American culture and his catchphrase, "What a country!" by the end of the '80s he was helping President Reagan write his speeches about American-Russian relations during the Cold War.
And then the Berlin Wall came down.
"David Letterman had a Top 10 list about things that would change after this big event in history. I made number one: 'Yakov Smirnoff will be out of work,'" Smirnoff recalls. "And it was true."
However, the sudden downturn in his career at the close of the Cold War gave Smirnoff the opportunity to notice a different type of tension taking place off the world stage and in people's homes, specifically in marriages. He observed relationships that were once infused with laughter and warmth become humorless and, well, cold.
"People say, 'husband is not funny anymore,' or, 'wife used to laugh at my jokes, but now she's just rolling her eyes.' Their sense of humor did not change. It's a sign that they're not meeting each other's needs," he notes.
Smirnoff is transforming observations about relationships into two new stages of his career. The first is that he has adopted a completely different genre of comedy; once known for his jokes about living the Russian-American experience, his current comedy show about laughter in relationships is titled Happily Ever Laughter: The Neuroscience of Romantic Relationships. He has toured the country performing his new show—including a performance at Pepperdine in March—and PBS aired
a national special about it in 2016.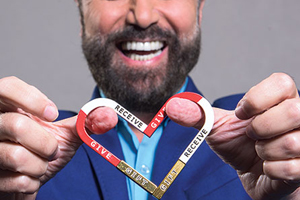 The second development in Smirnoff's career is that he has formalized and built on his observations through academic study. In 2006 he earned a master's degree in positive psychology from the University of Pennsylvania. Now he is expanding on what he has learned with a doctorate (EdD) in organizational leadership from Pepperdine's Graduate School of Education and Psychology. He is slated to graduate in May 2019.
"You can apply research of laughter to employee engagement, to leadership, to anything in the world, pretty much. So I try to spin every assignment towards my dissertation," Smirnoff laughs. "The professors are very supportive but also very cautious if I take it too far—they bring me back."
The future Dr. Smirnoff is perhaps uniquely qualified to research laughter from scientific and organizational standpoints, given that the scholar also has more than two decades of experience as a business owner. When demand for his comedy lessened after the collapse of the Soviet Union, he bought his own theater in Branson, Missouri, which he owned and ran for 23 years.
"In Branson, they did not know the Soviet Union collapsed," Smirnoff deadpans. "They still don't know and I'm not telling."
He performed for more than 4.5 million people in Branson, saying his theater became his laboratory.
"I'm coming at this as a comedian who can gauge the happiness of the audience based on what I'm hearing ... and laughter is the gauge. Most people think laughter is the heart, but I see it as the pulse. It lets you know you're still alive. Happiness is when your needs are met," he says.
Smirnoff explains two kinds of laughter: one that helps fulfill an immediate need for entertainment or rest and another that works in tangent with our deeper human needs.
"We have manufactured laughter, which billions of dollars are spent every year creating. I'm part of that industry. People come to me for an external laugh," he explains. "Then there is organic laughter, which happens in the interaction between people, and I think relationships are suffering because we're no longer relying on people close to us to help us meet our needs."
As a speaker at the Spark Marriage Conference 2017 in Houston, Texas, in mid-August, Smirnoff asked his audience of 8,000 people how many would go on a second date if there was no laughter during the first.
"There was total silence," he notes. "So what I talk about is the word GIFT— it's an acronym for Give Importance, Fun, and Time. That's what we used to do with the most important person on the planet when we were dating; we were organically creating laughter in the honeymoon stage. We would stay up and talk for hours. We were looking for things to do that would be fun and invest that energy."
Smirnoff says he stays happy by taking care of his needs through exercise, eating healthy, and connecting with his two children, both in their early twenties. He's been working on some new material now that American- Russian relations are making headlines again, though he says these days he feels far more American than Russian. And as long as he can continue to amuse audiences, Smirnoff will be fulfilling one of his own biggest needs: making other people happy through the gift of laughter.