Showing Some Backbone
Waves volleyball setter and outside hitter Heidi Dyer overcomes major surgery to become a star—and inspire others
Unlike most student-athletes at Pepperdine who experience a clear-cut beginning and end to each season, the demands of the season never really end for Heidi Dyer. The junior from San Clemente, California, is one of a handful of Waves athletes playing on both the indoor and beach volleyball teams. While the two sports are similar, Dyer explains that competing on both teams takes "absolutely twice as much effort."
During the fall, she is fully committed to the indoor game—the one that earned her a scholarship to Pepperdine. In the spring, she does double duty. Some days require Dyer to attend both indoor and beach practices and later participate in the beach competitions. "There are days when it's hard to have any energy left for school," she admits.
There was a time when even playing one or the other would have been a challenge for Dyer. At the age of 11, she was diagnosed with adolescent idiopathic scoliosis, a condition that could have ended her volleyball career almost as soon as it had begun.
"They put me in a brace at first," she says, remembering her frustration about having to sleep in the confining contraption. "But I knew it had gotten more serious when my doctors said the brace wasn't working and started discussing the option of surgery."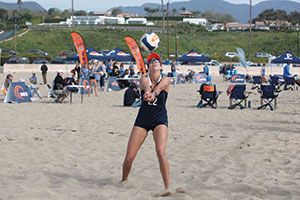 It wasn't a simple procedure. Surgeons removed three ribs from Dyer's right side and grafted bone from those ribs onto her vertebrae to fuse them together. They also installed two titanium rods to keep her spine stable. When they were done, Dyer's spine was straight, but it wouldn't bend at all—a staggering realization for someone from a family in which all six children not only played volleyball but excelled at it.
Fortunately, the surgery had happened early in her volleyball career, and Dyer's relative lack of experience ended up working in her favor. She wasn't far enough along in her career to be afraid of losing it, nor had she mastered enough of the game's fundamentals to know how limited she would be. Simple determination, she says, drove her to find ways to work around the moves she couldn't make gracefully on the court.
"One thing I've heard from coaches many times over the years is to get my elbow back farther," Dyer says. "That's something that's very hard for me. I have to move from my hips and turn sideways to use my whole body or else I'll only be getting power from my arm."
Dyer sensed she wouldn't get very far by making excuses or trying to explain her surgery. Instead, she practiced even harder, hoping to develop her skills to the point where they overshadowed even the most minor glitches in her technique. Dyer went on to excel in high school and attract the interest of a number of college programs, Pepperdine included. Not only did Pepperdine nail every item on her "wish list," but the indoor coach at the time, Troy Tanner, had followed her career since she was 13.
Even after making both of Pepperdine's volleyball squads, Dyer admits she didn't feel overwhelmingly confident. An unusual convergence of events changed that. As a freshman, Dyer, who had played both setter and right side hitter positions, was behind a senior setter with superior skills and felt unsure about her ability to play over her. "I asked coach if I could go on hitting lines"—a move that sends the ball over the blocker and parallel to the sideline—"and I was able to hit, so he watched to see if I'd be able to pass. Passing was easier since I'd played so much beach ."
Dyer was named a starting outside hitter as a freshman and, by the end of beach volleyball season, she and her partner, Taylor Racich ('16), had earned All-American honors from the American Volleyball Coaches Association.
Now, as she enters her junior year, Dyer is using the lessons she learned through her challenges to mentor and inspire the younger players. "This year, it has been great to welcome the freshmen in and shepherd them along," she says. "There wasn't really a set culture when I came in as a freshman, because we had a new coach and a group of girls who had been recruited by different people. But we have been able to build our own culture. It feels good to be able to show the new recruits how hard we have to work and how that translates into wins."
Waves beach volleyball coach Nina Matthies says Dyer is making a difference for young players far beyond campus as well. "Girls that are 12, 13, 14 years old have emailed us to get in touch with Heidi because they're having the same surgery and are inspired by her story," Matthies says.
"She's made them feel a lot more comfortable. As her story has gotten more attention in the media, it's been great to see other people benefiting from it."
Expect that story to continue even after Dyer earns her degree in integrated marketing communication in 2019. Having put so much of herself into the game, Dyer wants to continue playing—maybe a year or two of professional indoor ball overseas, maybe on the AVP tour, maybe both.
"It's just been such a big part of my life growing up," she says. "Although it doesn't define me, it's a big passion of mine, and I don't want college to be the end of that.