Weight Listed
A sports medicine professor demonstrates the power of the human body when she sets a new world record in an Olympic category
At 71, Olympic weightlifter Laurie Nelson is in better shape than the students in her anatomy and kinesiology courses. The Seaver College professor—who has taught physical education and sports medicine courses for over 40 years and serves as the pre- health professions advisor—can easily lift nearly 100 pounds, an impressive feat for a woman with a petite 5'3" frame who picked up her first barbell at age 64.
Recalling the remarkable journey that commenced just seven years ago, Nelson reveals that the force behind her motivation was realizing she could no longer place her own luggage in the overhead bin on an airplane. Shortly after that experience, the lifelong exerciser and avid hiker joined a local CrossFit gym to build her upper body strength and combat the new challenges her body was experiencing.
After a few years of working out at CrossFit Malibu, Nelson doubled her efforts and joined Takano Weightlifting gym in Woodland Hills, California, owned by USA Weightlifting Hall of Famer Robert Takano. As she continued to build muscle and improve her form under Takano's coaching, Nelson felt that she had become strong enough to participate in the USA Masters Weightlifting competition.
"I decided to compete in the US Nationals when I turned 70 because I saw that I could actually lift competitively and wanted to see if I could set the US records"—which she did two years ago in both the snatch (an exercise where the bar is pulled from the floor to a locked-arms position in one continuous move) and the clean and jerk lifts (a two-movement exercise in which a weight is raised above the head following an initial lift to shoulder level).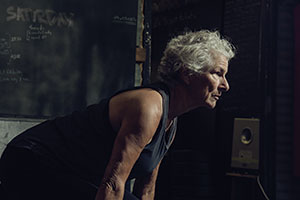 In April 2016, Nelson returned to the USA Masters Weightlifting competition in Savannah, Georgia, where she set the National Masters Weightlifting women's record (and broke her own previous record) for lifting 34 kilograms (75 pounds) in the snatch competition and 42 kilograms (92.6 pounds) in the clean and jerk competition in the women's 70 to 74 age category. Her clean and jerk stats, which were 6 kilograms (13.2 pounds) over the previous record, were so high that she even outscored the younger women in the 60 to 69 age category and qualified to compete the following year in the ninth World Masters Games in Auckland, New Zealand.
"There is a certain amount of fear involved," the athlete admits. "You have to squat down, lift the bar, and then get under it ... all in a coordinated fashion. But when you're older, it's harder to make your body do what it doesn't want to do. My nervous system isn't as snappy as it used to be and it doesn't respond as well maintaining good form. But if I could improve my form, I could actually lift even more weight."
With three judges and three referees intently observing her form at the World Masters Games (often characterized as the Olympics for mature athletes), Nelson broke two international records in the women's 70 to 79 age category (the oldest competitive category for women) with a snatch of 29 kilograms (64 pounds) and a clean and jerk of 42 kilograms (92.6 pounds).
The sports medicine professor—who is also a Level 1 certified CrossFit trainer— acknowledges that the path toward the World Masters Games was sometimes rough. But after recovering from several injuries as a result of her workout routines and being away from her students during the end of the spring semester in order to compete in New Zealand, her perseverance ultimately allowed her to demonstrate an extraordinary—and unexpected—level of strength.
As Nelson points out, "At my age, you can continue to work out just to maintain your strength because you don't really expect to get better. In other words, how much stronger can you actually get at 71? But I did get stronger over time and I improved my technique. So there is a lot of room for growth."
Having grown up during a time when girls' and women's sports programs weren't offered in schools, Nelson explains that limitations on how far females can go in specific athletic categories still exist. While male weightlifting competitions allow men to participate well into their 80s, the oldest age category for female weightlifters is "70-plus," and competitors over the age of 71 are rare.
But for the new generation of female athletes who have had access to sports training in schools, Nelson predicts that the number of female Olympic weightlifters will inevitably increase over time.
"Eventually the women will have a competitive category for 75-year-olds, too," she says. "Should any of them decide to compete in Olympic weightlifting for fun, they could do it very well. It's very possible."
With more than four decades of experience teaching young college students about the importance of physical health, Nelson is newly passionate about inspiring a different audience to step up their fitness game.
"Being a professor and teaching in sports medicine has been the perfect career for me, as I am vitally interested in health and fitness for all—especially for older adults at this time in my life," she says. "I hope my achievements will encourage others to get involved in keeping strong and fit."
"Most of the time it's not physical fatigue preventing you from exercise, it's mental fatigue," she continues. "You just think you don't want to exercise. It happens to me with weightlifting. I have arthritis and sometimes I feel like I don't want to work out. But I feel better after 10 minutes, so I keep going."