Campus Notes
Explore fun facts about Pepperdine University
Jodi Tompkins
A psychologist brings her A game to Pepperdine as the University's first-ever athletics counselor.
Pepperdine People
"Student-athletes may be vulnerable to basing their sense of self on only athletic performance and the expectations of others rather than a broader understanding of who they are. They often worry about the possibility of disappointing their parents, coaches, and teammates."
Pepperdine Athletics is on the cutting edge of collegiate mental health by collaborating with the Pepperdine Counseling Center to hire an athletics counselor to support Pepperdine student-athletes.
Beyond providing student-athletes with one-on-one therapy sessions four days a week, Tompkins also leads three identity development Convocation groups: one for student-athletes, one for the general undergraduate population, and one for resident advisors and student life advisors.
The University participated in a pilot program for mental health screenings of student-athletes, which was incorporated into the athletic physical assessment process at the beginning of the 2018–2019 academic year.
Tompkins worked at the Pepperdine Counseling Center for two years to earn her practicum hours while enrolled in the psychology doctorate program at Fuller Theological Seminary.
"Student-athletes generally do well in therapy because they're used to being coached and receiving feedback, and they give serious consideration to what we discuss and make strong efforts to improve."
Leading group therapy sessions at a medium-to-maximum security men's prison in San Diego revealed to Tompkins how much identity issues can impact older adults if not properly addressed earlier in life.
"People often wait until they're really distressed before seeking mental health help. We want Pepperdine's student-athletes to know that we care about their overall health and well-being. Our goal is to make mental health resources readily accessible."
---
New Kids on the Quad
Get a glimpse of the comings and goings of brand-new Waves and their families during New Student Orientation week in August.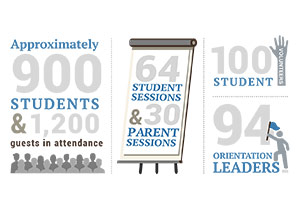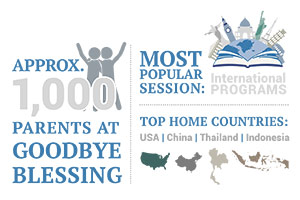 ---
Chatter
Pepperdine parents and students share their excitement about settling into the new school year.
Twitter | @SWESTYYY
Remember when your parents dropped you off at summer camp and then you realized it's not camp, you're just at Pepperdine NSO?
Instagram | @KELLYINCOOLPLACES
My suite-sisters starting off law school together! We are going to kill it ... and then get an acquittal!
Facebook | LEAH MARIE MILLER
My daughter just moved into the dorm at Pepperdine, and older students unloaded both our cars and helped in any way we needed. They were happy, friendly, and positive!
---
Sound Bites
"There are different ways of showing up for each other. We can do it with our wallets. We can do it with our feet. You can find your own way, but the important thing is that we need to do it when we see it."
Caron Gentry, Senior Lecturer, School of International Relations, University of St. Andrews
EVENT: "This American Moment: Feminism, Theology, and Politics in an Age of Anxiety"
"There are different types of entrepreneurs: those who can make the company bigger and better and those who start their own business. A lot of people have a great idea to start a business, but only a few actually have what it takes to become an entrepreneur."
Derek Folk (MBA '18, PKE 139 student), President, Williams Tax & Financial Group, Inc.
EVENT: "Becoming a Successful Entrepreneur"
"There is a reward to being a preceptor the School of Law. For me, it's been getting to know remarkably bright and terrific students who have reaffirmed my faith in the future of the profession ... It's a blessing, I hope, to the students, but it's also to those of us on the other side of it."
The Honorable Terry A. Bork (JD '85), Judge, Superior Court of Los Angeles County
EVENT: "The Power of a Mentor"
"I implore you with all your might to contend for the ideal of civilization and goodness and oughtness and rightness for all that is honorable among humankind to the very best of your ability."
Andrew K. Benton, President, Pepperdine University
EVENT: Founder's Day
---
Did You Know
Nearly 300 items were collected across six Pepperdine campuses when the University partnered with School on Wheels to provide school supplies for homeless youth.
---
From the Archives
George Pepperdine College cheerleaders ride on an antique car during the 1960 homecoming celebration.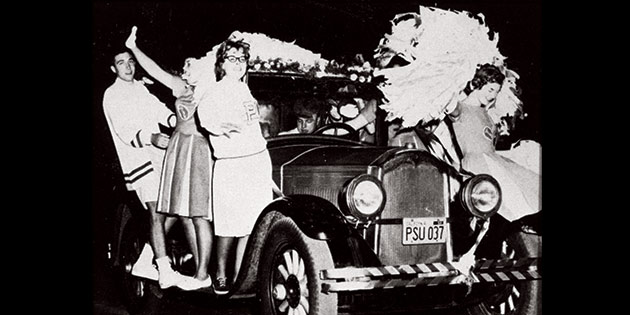 Source: University Archives Photograph Collection