Graziadio Gold
In honor of its 50th anniversary, the Graziadio Business School celebrates its entrepreneurial heritage and its dean's vision for the future
George L. Graziadio lived by the credo, "The money you earn feeds your family. The money you give away feeds your soul." It was that particular motto that moved the benefactor of Pepperdine's business school to achieve remarkable success as an entrepreneur, first as a residential and commercial real estate developer and later as the co-owner of Imperial Bank. And while his means continued to multiply, it was the promise of a nourished soul that energized Graziadio's desire to contribute to the development of future generations of business leaders, a cause and commitment that was incredibly dear to his heart.
In fact, it was Graziadio's larger-than-life presence and extraordinary ability to mobilize all around him to catch his vision that inspired Graziadio Business School dean Deryck J. van Rensburg to consider innovative ways to commemorate the golden anniversary of the business school.
"He would be thinking really big, and that's something I kept in mind," recalls Van Rensburg, of the events surrounding the launch of ASPIRE 2025, a comprehensive strategic plan developed in anticipation of the 50th anniversary of the Graziadio School. The plan focuses on enhancing the student experience, elevating faculty as thought leaders, facilitating business partnerships, and establishing the Graziadio School as an employer of choice.
"I thought, 'Let's not execute the way we've always executed. Let's execute along the vision and passion of our benefactor.' George would be excited and delighted, and he'd want us to make a big impact."
This year the Graziadio Business School celebrates 50 years of entrepreneurship, integrity, and academic excellence, values that were paramount to its founders in 1969, namely founding dean Donald Sime and the faculty. This group was committed to designing programs that emphasized the application of theory and experiential learning in small class settings to address the educational needs and enhance the significant work experience of working professionals.
Twenty-seven years later, in 1996, Graziadio, through a friendship with former Pepperdine president and Imperial Bank board member Norvel M. Young, recognized in the University the same philosophies that drove his own professional success—things like considering the realities of the business world rather than relying solely on history or theoretical concepts—and gave $15 million to endow the school in his name.
"George thought the school had a philosophy similar to what he considered to be the bank's best asset: it was run by people who knew how to run businesses," recalls Mike Sims, who served as executive officer for corporate and external relations at the Graziadio School from 2001 to 2014 and worked directly with Graziadio at Imperial Bank as senior vice president in charge of marketing for many years prior. "That match in the philosophy got him very much intrigued."
Graziadio, who referred to Pepperdine's business scholars as "my students," remained intimately involved with the University until his death in 2002, just months before the Drescher Graduate Campus in Malibu was completed.
"He wanted to make everything the best it could be. He wanted to do the most for other people," says Graziadio's daughter Alida Calvillo. "My dad didn't just want his name on the school. He didn't have the opportunity to go to college, so seeing the business school succeed was very important to him."
"He would be very pleased to see the strategic directions and the innovation that's occurring under Dean Van Rensburg," says Stevan Calvillo, Graziadio's son-in-law. "The dean also comes from a business community, and they'd probably think alike about how to make the Graziadio School the best business school. George believed that if better is possible, then good isn't enough. It wasn't just a saying. It was a life value that he instilled in everybody."
Van Rensburg says the Graziadio culture is uniquely designed and nurtured to develop the leaders that will lead the advances necessary to thrive in the Smart Machine Age, a period of advancement that will transform organizations through artificial intelligence and other technologies. He maintains that a values-based curriculum is an integral component of driving innovation at both the Graziadio School and industry at large.
A recent Oxford University study found that by the year 2060, 47 percent of jobs in the United States will be impacted by automation, a near-future reality that will require people to be reskilled, retrained, and reoriented in profound ways. The study, which surveyed machine learning researchers, also revealed a 50 percent chance of artificial intelligence automating all human jobs in the next 120 years.
"When you look at the skills that will be required in that new era—things like creativity, emotional intelligence, listening skills, and even spirituality many of them are directly related to how we deliver management education at the Graziadio School," he explains, referring to the corporate citizenship focus of the SEER Certificate program, the mentorship relationships developed through the Microenterprise Program, and the efforts to close the leadership gender gap through the Center for Women in Leadership. "We have been pioneers in the behavioral aspects of leadership that will become more important in the future. That's an important contribution."
In the vision outlined in the ASPIRE 2025 plan, Van Rensburg acknowledges that technology is an essential part of business and that advancements in technology drive necessary change in pedagogical methods, business tools, thought leadership, and organizational effectiveness.
"Curriculums have to change, and we have to continuously evolve our relevance as an institution, especially by ensuring that material is available online these days," he says. "Students are increasingly going to look for the experiences that will meet their needs, whether that's simulations, gamification, or experiential methods of learning. We need to play a role there in terms of the way we provide education."
In a 2015 study released by the Survey of Online Learning, it was reported that more than 5.8 million students completed course work online in the year prior. Ranked as one of the top 25 online MBA programs by both U.S. News & World Report and the Princeton Review this year, the Graziadio School's online MBA program was developed to provide students unparalleled access to transformational learning. This July the University announced a partnership with 2U, a global leader in education technology, to expand its online education offerings through weekly live classes and faculty-developed interactive course work via an online platform that can be accessed from nearly anywhere by computer or mobile device. The Graziadio online MBA degree program will commence in January 2020.
"People want education on their time, wherever they are, especially working adults," says Van Rensburg. "I don't see it as a substitute for the in-class experience, but it's something we have to participate in. In the past we would try and open campuses around the city to be where the working adults are. Online is an even more efficient way of doing that."
And while Van Rensburg believes in the importance of educating students to be focused leaders at the top of their field, he says that it is also essential to empower them to be compassionate leaders cognizant of the impact their business decisions have on their local and global communities—the secret ingredient that develops Graziadio School students into leaders who are not only the best in the world, but are best for the world.
"The human leader in that environment has to bring something smart machines can't bring," he maintains. "How do you create community? How do you develop an organic, creative work environment? How do you stimulate trust and empathy? Because a machine is never going to have empathy with humans. It's just going to have the right answers. It's not only a business issue. It's a societal issue. The Fourth Industrial Revolution will not only impact business, it will also impact communities. We're still at the early stages of understanding all that."
"If schools are investing in people who are giving back to communities and back to society, that effort is going to elevate the overall health of everybody," he continues. "That spirit of generosity is beyond serving your personal needs. It's about serving others."
---
Timeline
1968
The Board of Regents approves Don Sime's proposal to create a school of business at Pepperdine College.
The MBA II program (now the Part-Time MBA program), designed to educate people who are already working full time, is first offered.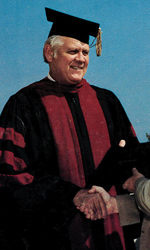 ---
1969
Don Sime becomes the first dean of the School of Business (1969-1978).
---
1971
The fully-employed MBA launches as Pepperdine College achieves university status.
Thomas Dudley teaches the first class of what becomes the Presidents and Key Executives MBA program.
---
1972
The name of the business school is changed to the School of Business and Management.
---
1974
The JD/MBA degree program and master of science in organization development (MSOD) degree, the first of its kind, is established.
---
1983
The School of Business and Management is relocated to Pepperdine University Plaza, a high-rise building in West Los Angeles.
The business school faculty refines the MBA track for more experienced managers by offering a new Executive MBA.
The Bachelor of Science in Management degree program launches.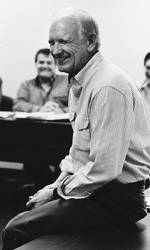 ---
1988
Arnold Beckman donates the first gift to the business school for a center for the management of technology.
The School of Business and Management expands to educational centers in Encino and Long Beach and moves to a larger location in Irvine.
---
1996
The School of Business and Management is named after benefactor George L. Graziadio Jr. after receiving a gift of $15 million, at the time one of the largest gifts ever made to a business school.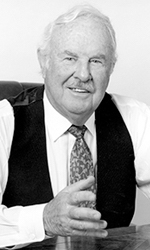 ---
1998
The Full-Time MBA program launches.
---
2000
The Graziadio School of Business and Management is accredited by the Association to Advance Collegiate Schools of Business (AACSB).
---
2003
The Drescher Graduate Campus is completed.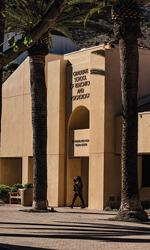 ---
2007–2015
Academic programs proliferate with innovative new programs including master's degrees in applied finance, global business, management and leadership, human resources, and applied analytics, as well as new centers and programs including the SEER Program; Microenterprise Program; and the Centers for Teaching and Learning Excellence, Applied Research, and Women in Leadership.
---
2017
Pepperdine University partners with AEG to launch sports- and entertainment-focused programs.
---
2018
The school is renamed Graziadio Business School.
The Executive Doctor of Business Administration launches.
Classes are first offered at the Calabasas Campus.
---