Hope in a new Home
One GSEP alumna has made faith-driven philanthropy her second full-time job
Her first assignment was to become an expert. Fast. Marilyn Simpson Wright (MA '89, PsyD '95) was called by her church leadership to get involved with refugee assistance work. In the four years since, Wright, a full-time psychologist from Walnut Creek, California, has not only learned how to orchestrate the efforts of a bevy of volunteers and resettlement agency caseworkers, but has also found creating a home for those starting a new life in the Bay Area to be a tremendously gratifying way to serve.
With essentially no experience in the complexities of refugee resettlement, one of her first tasks was to get acquainted with who she would actually be welcoming. "At the time, I don't think I could have told you the difference between a refugee, an immigrant, or an asylee. And there are very clear differences."
In addition to the State Department-sanctioned refugees arriving in northern California, Wright, a member of the Church of Jesus Christ of Latter-day Saints, works with many Special Immigrant Visa holders. These individuals are often Afghans or Iraqis who have served for at least two years in the US military as translators. The government offers them the opportunity to emigrate as a way to thank them and protect them from reprisals at home.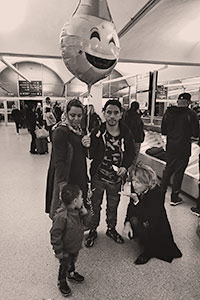 The newcomers have a wide spectrum of needs, and one of Wright's main jobs is to ensure those needs are met by working with resettlement agency personnel and volunteers from her own church and organizations such as Catholic Charities, International Rescue Committee, Lao Family Community Development, Jewish Family Services, and No One Left Behind.
"It takes a village, a caring community of folks, to tend to the temporal, spiritual, and psychological needs for refugees through this transition."
Together, they help locate housing for the newcomers—a significant challenge in the Bay Area—as well as provide them with ESL tutoring, take them to medical appointments, show them where to buy familiar foods, offer career mentoring, and provide recreational activities for the youth. Recently, volunteers created "welcome to America" digital books that showed refugees how to access resources in their neighborhood, such as free parks and museums and where the bus stops and local urgent care offices are. Wright herself frequently greets those arriving at the airport. She explains that to be the first American someone meets after what may be a years-long effort to get here is a very moving, and humbling, experience.
"Displaying kindness, empathy, and ministering to others is vital to our growth as Christians, as communities, and as citizens of the world," Wright explains. "We make the time to volunteer and serve refugees through a profound time of transition because . . . to varying degrees, we are believers. Because we love our Father in Heaven and our savior Jesus Christ ... and we look to Christ's example in how to be with one another."
She stresses that part of the unique satisfaction that comes from this service is to see the unifying aspect of very different groups helping those in need.
"The spiritual and physical needs of those around us require goodwill and cooperation among very diverse people. This is not a problem. God loves our diversity ... he invented it. I believe that he loves the differences we each possess."
For Wright, balancing her private practice, her support for Pepperdine as a member of the GSEP Board of Visitors, her large family, and her service to refugee resettlement, is simplified somewhat by her faith. "On any given day I just try to get on my knees and hope I do a decent job in any of those areas," she says. "And when I wonder if I'm doing any of it right, I am comforted by my faith and hope that my choices demonstrate the things that I value."