Mind Games
A former Pepperdine student-athlete becomes the first full-time mental health resource for Boise State University Athletics
"If you vigorously shake a closed soda bottle, opening the lid will cause an explosion. This is similar to how the human body processes stress," explains licensed clinical professional counselor Stephanie (Prince) Donaldson ('03). "Ideally, you cope with your stress before that much buildup is accumulated. But if you don't deal with it and constantly push it down, eventually you will have to succumb to a release, which can feel like an internal explosion."
Donaldson is Boise State University's first-ever director of athletic performance focused on the mental health of student-athletes—a position that was created specifically for her after 10 years of part-time consulting with the school to help this particular population. Part of Boise State Athletics' new Sports Performance, Health and Wellness department, she is a key member of a critical team of professionals and clinicians specializing in sports medicine, strength and conditioning, sports nutrition, and mental health created to treat the minds and bodies of student-athletes.
According to Donaldson, student-athletes face the same time management challenges as other college students, especially while attempting to keep up with hefty academic assignments and creating new friendships in an unfamiliar setting. Student-athletes in particular, however, must additionally adapt to the demands of a collegiate athletic career.
"Nowadays, with so much scrutiny and social media exposure, student-athletes are also trying to manage college life in the public eye, and that pressure can be immense," she says. "Yet, the drive and passion that can make student-athletes be overly critical of themselves, if channeled in a positive way, can be instrumental traits that create opportunities and success for the rest of their lives."
In her new role, the former collegiate athlete stays visible and accessible and harnesses her own experiences as a Division I swimmer at Pepperdine to relate to student-athletes on a deeply personal level. In an effort to help students prioritize the essential need for mental well-being, Donaldson attends as many practices, games, and events as possible, and is often seen conversing with student-athletes during training and rehab sessions.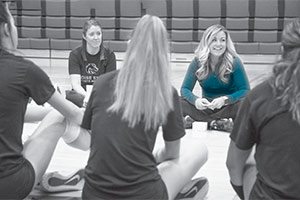 Through one-on-one counseling sessions with student-athletes, meetings with her department colleagues to discuss stress management, and the NCAA's mental health best practices guidelines, Donaldson has discovered that student-athletes have a desire to express their feelings of pressure and stress and to break the stigma that exists around mental health challenges. She endeavors to be "just another" professional resource they can regularly utilize and to help normalize the process of seeking mental health referrals.
"The public frequently talks about 'mental illness' and focuses on stories of struggle," she contends. "This is important and impactful, but we need to start these conversations the point of struggle and talk about mental health just like we talk about physical health."
Although mental health concern rates between student-athletes and their nonathletic peers are about the same, studies suggest that student-athletes may be less likely to seek help.
"This may stem partly from the mental toughness that athletes are expected to possess—the 'put your head down and power through,' 'be tough,' or 'just work it out on the eld' sports mentality," Donaldson says. "As an athletic department, we are in a unique position to create a culture shift where seeking help is seen as a strength, not a weakness."
In fact, Donaldson witnessed the results of this constructive culture shift firsthand during her freshman year at Pepperdine. "I was definitely homesick and put a lot of pressure on myself in the pool and in the classroom," she recalls, admitting that these tough times led to harmful coping methods that further deteriorated her health. Fortunately, then head coach Tim Elson ('78, MA '80) recognized Donaldson's internal battles and immediately notified her parents.
"In 1999 there wasn't much talk on any college campus about mental health, so the fact that Tim took the time to get to know his swimmers and realize when we deviated from our baseline functioning speaks to the caliber of Pepperdine coaches. With the support of the Pepperdine Athletics staff, I quickly got the help I needed," she reveals.
"At Pepperdine I was around influential coaches like Nick Rodionoff and dedicated administrators who cared about me not only as an athlete, but as a person. They considered my well-being enough to notice when I was having difficulty coping and had the appropriate conversations with me. For that, I am forever grateful."
Through a partnership between the Pepperdine Counseling Center and the Department of Athletics, Pepperdine student-athletes now have access to a dedicated counselor specifically brought on board to address their mental health needs. For the first time, Pepperdine Athletics incorporated a mental health component in student-athletes' physical fitness screenings at the beginning of the fall 2018 semester.
"Our staff provided feedback on the screenings by having one-on-one conversations with each student-athlete to emphasize that mental health is important to their coaches and the administrative staff," says Nivla Fitzpatrick, licensed psychologist and director of the Pepperdine Counseling Center. "This connection has opened up the lines of communication between our office and student- athletes, and we hope this removes any potential stigma or embarrassment about reaching out."
---
Photo: Darin Oswald/Idaho Statesman