Room to Grow
Pepperdine's newest residence hall takes sociability, accessibility, and sustainability to new heights
"College life builds relationships," says Hannah Novak ('15), "but experiences abroad create emotional connections in unique ways."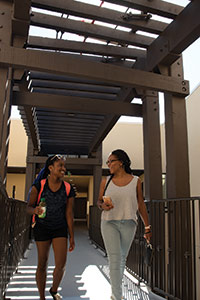 Novak, now the office manager of Housing and Residence Life at Pepperdine, remembers returning to Malibu after spending a semester abroad during her sophomore year studying in Florence, Italy. She treasured the intimate ties she built traveling with her fellow students and notes the intimacy that developed while navigating a shared experience.
"There is something special about taking long train rides and running through a city to catch a flight on time that makes you feel closer to people in new ways," she recalls. "We had eaten three meals a day together for an entire year, so we were used to seeing each other all the time. It felt strange coming back to campus and being separated from the classmates I had become good friends with in Florence."
Novak's experience is exceedingly common among juniors returning from study abroad trips, and in December 2016 the University took a proactive approach to providing a more seamless transition for this unique subset of the campus population. Seaside Residence Hall, the newest residence hall development on Pepperdine's Malibu campus, was born out of the need to provide returning juniors with a distinct space to re-enter student life more comfortably after spending a semester abroad and to expand campus housing offerings in general. Driven by the University's Planning, Operations, and Construction department, the 120,000-square-foot residence hall is the most significant addition to the Malibu campus footprint since the development of the Drescher Graduate Campus in 2003.
Pepperdine's largest undergraduate housing structure to date, Seaside Residence Hall opened its doors this August to a group of 418 sophomores, juniors, and seniors, raising the total percentage of on-campus undergraduate residents from 60 to 70 percent.
---
Home Made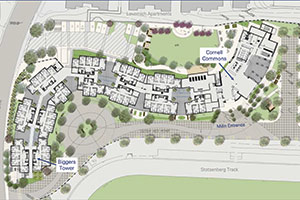 Seaside Residence Hall features 54 eight-person, four-bedroom suites, each with spacious, deluxe bathrooms offering three separate sinks, two private water closets, and one ADA-compliant shower with frosted glass doors. While these units include luxury vinyl tile flooring in the common areas and carpeting in 54 of the bedrooms, 13 of the bedrooms were constructed with all-vinyl tile floors specifically customized for students sensitive to allergens found in carpet's synthetic fibers.
The University's goal to help students connect better with one another and develop lasting friendships is also intricately woven into the fabric of Seaside's overall framework. From a student life perspective, Austin Oakes ('07, MBA '13), executive director of planning, operations, and construction, contends that students who live in residence halls exude a stronger sense of community and deeper affiliations with Pepperdine, both of which have proven to inspire higher rates of successful educational outcomes.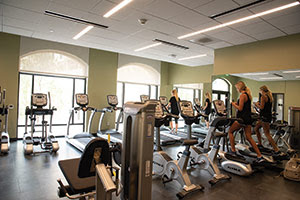 "During the most challenging moments of developing this complex, I would remind everyone that there is a purpose behind this building," he recalls. "The intentional focus was to create spaces that support the academic mission and provide the safe home environment that allows students to grow personally, spiritually, academically, and in new, lifelong relationships."
Special attention was given to developing inviting living spaces, particularly on the first floor, which features a student common area with a large television and a state-of- the-art shared kitchen where students can watch movies together, cheer on their favorite sports teams during games, and cook meals as a group. Adjacent to that common area is a 1,200-square-foot fitness center exclusively for use by Seaside residents.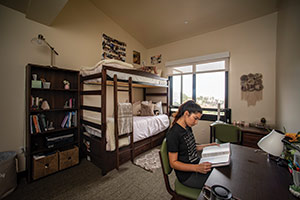 The common areas continue to the building's exterior between Seaside and the Lovernich Residential Complex, where students can enjoy patio seating, gas grills, and a firepit, further encouraging them to get to know their neighbors and build camaraderie. The grassy area behind the building features a concrete platform ideal for displaying an inflatable movie screen to host outdoor movie nights for up to 200 guests.
"The Pepperdine team has worked so well with the architects to make the building t so seamlessly into the greater visual setting of the Malibu campus," notes Lance Bridgesmith (JD '99), associate vice president of planning, operations, and construction. "That means all of our buildings have to be functional and perform the jobs they are intended for, but they also have to stay true to the architectural integrity of the rest of campus. It takes very intentional design work to make sure all the old and new visual elements are complementary."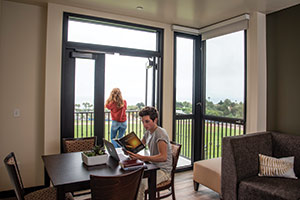 Beyond the aesthetic and communal considerations of the new space, Planning, Operations, and Construction also considered the myriad needs of the diverse campus community, which includes accessibility in the physical environment.
"We wanted to make sure students with accessibility needs could live on any floor and on either side of the building, so they could be on the second floor with a mountain view behind them or on the fourth floor with an ocean view in front of them," explains Oakes. "We wanted to eliminate these types of limitations, so we installed accessibility components throughout the building."
Reflecting on the past couple of years of structural innovation, Bridgesmith points out that "Austin has a connection to Pepperdine that allows him and our other alumni from the department to draw from their personal experiences as Pepperdine students to make this the best possible experience for the next generation of Waves."
---
Green House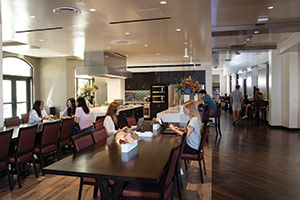 The opportunity to design and construct a new building from scratch allowed Planning, Operations, and Construction to think critically about creative and innovative ways to incorporate elements of sustainability throughout the structure.
"A lot of thought went into making this building," Oakes shares. "From the low-e glass that we put in our windows, which reduces heat gain and keeps UV rays out, to the type of insulation we purchased, to the light wells throughout the building, numerous sustainability components are highlighted within Seaside."
Outdoor breezeways constructed from the ground floor all the way up to the roof of the building help promote cross-breezes between units, a phenomenon that is impossible to achieve in the windowless corridors of typical apartment buildings.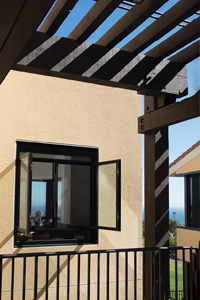 Seaside accommodations also come equipped with radiant floor heating that supplies heat from the floor upward and into the air. This efficient approach generates gentle warmth rather than a concentrated blast of heat and avoids stimulating the circulation of surface dust and dirt.
Now that construction is complete, Pepperdine anticipates Seaside will receive a LEED Silver building certification—an honorary accolade from the US Green Building Council that recognizes the University's commitment to understanding and addressing students' needs first and foremost.
Aside from the building's unique technical and physical attributes, Oakes looks forward to another bene t of life at Seaside: the promise of new friendships between neighbors, a renewed relationship with God, and the hope of building lasting relationships with fellow students.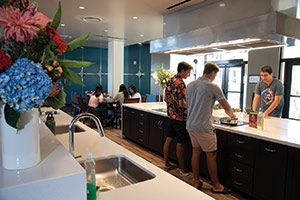 Based on his own experiences as a student and staff member, Oakes enthusiastically believes that "within a year of living at Seaside, some students will come to know the Lord in this building because of the conversations that will take place in the common areas.
"What's different about Seaside compared with buildings on most other college campuses or commercial properties is that residents have direct and intentional access to spiritual life advisors who live among them in the residence hall," he says. "The growth that we desire to see in the students truly began on the first day they moved in."