Screen Queen
An independent film producer's critically acclaimed movie breaks new ground in Hollywood
"No one is actively looking to hire a producer without any experience and fresh out of lm school," says Natalie Qasabian (MBA '18). Three years ago, the former producer's assistant quit her job to pursue her own career with filmmakers she met while studying at the USC School of Cinematic Arts.
This year Qasabian's hit suspense thriller Searching debuted to rave reviews at the Sundance Film Festival and instantly caught the attention of executives at Sony Pictures Worldwide Acquisitions, who purchased world rights to the movie for $5 million. Capturing a father's desperate attempt to locate his missing teenage daughter by hunting for clues hidden in her laptop, Searching compels audiences to consider how they manage their digital identities. The film was released nationwide on August 31 and exceeded expectations for box office success, earning $8.1 million in just a week.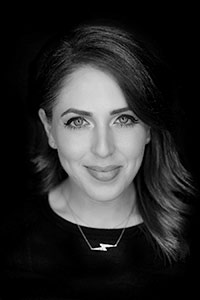 Featuring celebrated actors Debra Messing and John Cho, and enlisting the talent of several crew members Qasabian met at USC, Searching explores visual storytelling solely through the viewpoint of digital screens. From mobile phones displaying revelatory text messages and social media posts to computers unveiling secret emails and hosting video chats, Searching illustrates how heavily reliant humans have become on digital devices and highlights the immense volume of personal and confidential information shared on popular digital platforms every day. The film also proves that humans are able to construct multiple personas and realities through these devices and platforms with the option to effortlessly switch from one to another whenever required or desired.
This unique approach to storytelling led to additional victories at Sundance, as producer Sev Ohanian and director Aneesh Chaganty, who co-wrote the script, were presented with the Alfred P. Sloan Foundation grant for the use of science or technology in a feature film. Adobe also presented the filmmakers with the Audience Award in the NEXT category.
Originally entitled Search, Ohanian and Chaganty specifically drafted the script with Korean American actor John Cho in mind. With Cho in the lead role, the thriller offers a revolutionary component often omitted from mainstream Hollywood movies: substantial representation of Asian Americans, particularly in roles unrelated to martial arts instructors, organized crime leaders, or other characters typically portrayed by actors of Asian descent.
"I read the script and immediately became jealous at the idea of someone else producing it. That was a sign that I would regret passing up on this opportunity," Qasabian shares about what she calls "a conventional story told in an unconventional way."
While Searching was shot in just 13 days, editing the footage, which includes dramatic stunts, crowd scenes, and a car chase, took over a year to complete—with Qasabian enrolled at the Graziadio Business School the entire time. In fact, she also co-produced Rainbow Time and Take Me, and produced Duck Butter and All About Nina while earning her business degree at Pepperdine.
"I had just taken a marketing class when we went to Sundance, so attending marketing meetings with Sony and hearing their strategies was like a live case study," Qasabian explains. "The entertainment industry has become much more corporate than ever. You are obviously expected to demonstrate creativity, but you also have to justify and explain creative decisions using business terms."
Five feature films and one master's degree later, Qasabian reflects fondly on the day she left a stable office job and took a leap of faith to break into producing work.
"Landing a deal with Sony felt like a complete fairy tale," she admits. "I'm still amazed that my leap of faith to chase my dreams has been affirmed."
---
Cast photo: Elizabeth Kitchens
Natalie Qasabian photo: Andrew Jeric