Town Haul
The School of Public Policy partners with one of the nation's most diverse cities to empower its residents to create a shared vision for their community
"Has anyone seen Rosie?" asked a woman in her 80s, her voice exuding both hope and desperation, as she scanned the crowd gathered at Palma Ceia Park in Hayward, California, to find a friend she had lost touch with more than 30 years earlier.
Holding an invitation to Palma Ceia Fest, a special block party organized by the city and Hayward-based Chabot College, she shuffled through the audience of college students, government employees, and neighbors whom she had never met, eager to connect with someone. The possibility of seeing her friend Rosie again filled her with a joy she hadn't felt in quite some time.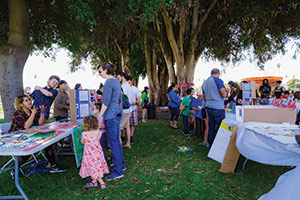 The event marked another milestone: for the first time in many years, residents of South Hayward, a community located within the city of Hayward, were able to enjoy a safe public venue to casually congregate and interact with one another.
Hayward, located about 30 miles southeast of San Francisco, is nicknamed "Haystack" and recognized by both residents and the government as a community that has experienced substantial disinvestment over the past few decades. A place on a map that many either innocently overlook or intentionally avoid, its low-income residents are plagued by failing local businesses, insufficient nutrition in the midst of a food desert, and rising housing costs.
While primarily known as a commuter community with poor socioeconomic conditions, South Hayward holds one distinction that makes it arguably the most exquisite neighborhood on the West Coast. With more than 50 languages actively spoken in the relatively small region, it is the number one most ethno-racially and linguistically diverse city in California and the third most in the United States.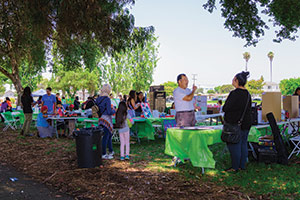 Home to a fraction of Hayward's nearly 160,000 residents, South Hayward natives have long encountered social isolation resulting from the absence of community. Beyond its underused parks and corner stores, South Hayward's outdated strip malls along Tennyson Road do not offer designated spaces for social gatherings.
"There are often five to seven people living in each home, so if they need time to themselves or want to get away for a while, the only place they can go is their bedroom, which is a shared space," explains Mary Thomas, management analyst at the City of Hayward Fire Department.
Food options are also limited, and with the exception of one Mexican market in the neighborhood, residents must drive or take a bus for a few miles to get to the closest supermarket or healthy food source. The combined fear of the busy city thruways and lack of social venues has jeopardized local businesses, most of which cater only to very specific immigrant communities.
---
Grant Gesture
Last year, the Davenport Institute for Public Engagement and Civic Leadership at the School of Public Policy presented the City of Hayward with the 2017 Public Engagement Grant funded by the James Irvine Foundation to help engage resident voices in local policy decisions. The grant was specifically used to develop a fresh vision for Hayward's long-term future by identifying residents' needs and exploring potential solutions that address their specific concerns.
Thomas initially contacted Ashley Trim (MPP '09), executive director of the Davenport Institute, to inquire about the grant. With nearly 10 years of experience serving the City of Hayward in various roles, Thomas knew that Pepperdine could be the key to getting this vision-planning project off the ground.
"The concept of 'civic engagement' is often mentioned in academic and political conversations, but not everyone understands what that actually looks like in practice," Thomas shares. "The Davenport Institute's approach to encouraging civic engagement is unique because they actually show students what steps to take in order to become actively involved in the process."
The grant allowed the city to partner with the Student Initiative Center at Chabot College and execute a plan through which students could gain hands-on experience in the realm of civic engagement. The plan was for English and journalism students to interview residents about their experiences living in South Hayward and to report their findings to the city for further evaluation, follow-up outreach efforts, and eventual improvements in challenge areas.
In January Trim traveled to Hayward to cohost a one-day project kick-off workshop with students and city employees intended to encourage discussions to help define the appropriate parameters, goals, and expectations. With specific hours dedicated to each group, as well as one inclusive meeting at the end of the day, Trim explored the city's primary fears about engaging the community, the biggest questions students planned to ask residents, and the elements of a successful interview.
According to Trim, "College students are typically not experts in government procedures. The School of Public Policy wanted to make sure that they had an understanding of city government and the limitations of what local government can do. We also wanted to make sure that the government employees had fully determined how to use the expected input, so that what the residents said would actually have an impact on the city."
Named the Tennyson Corridor Strategic Initiative—referencing South Hayward's main public street—the project paired 125 students with community members to start collecting neighborhood narratives during the spring semester. This was an especially strategic move on the city's part, as most Chabot College students live in South Hayward and possess extensive prior knowledge of the neighborhoods' assets and troubles. This meant that they were able to interview residents whom they already knew, primarily close relatives and friends, which helped generate more candid responses than if the interviews had been conducted by government employees.
The students were further able to gather significant details because language barriers were not a concern, as students and subjects were paired based on a shared native language. There was, however, one communication gap that neither party had prepared for: the confusion surrounding the project's official name.
"One frequent issue that came up during interviews was that students were asking residents what they liked about living in the 'Tennyson Corridor,' and the residents were reacting with blank stares because they had never used that term to identify themselves or their community," explains Trim. "This discrepancy between the government and the people truly highlights the necessity of public engagement."
---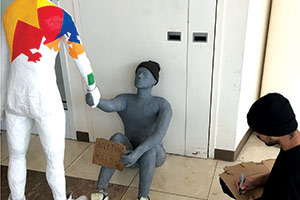 Show and Tell
After a few months of interfacing with community members, students created original artwork depicting the stories they had generated through the interviews. The art collection, Needles in a HayStack: A Community Art Exhibit, promoted through direct mail postcards designed by the students, remained on display at Hayward City Hall for 10 days in May 2018 and was attended by 50 community-based organizations and dozens of South Hayward residents. Attached to each art piece was the biographical profile the students had written about the residents depicted, along with their own proposed solutions to prevalent problems.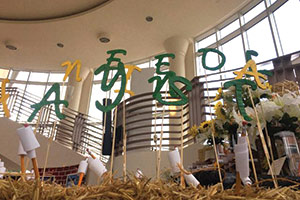 City staff also developed a digital geographic information system displaying an interactive map of South Hayward on the city's official website, where students were able to upload their articles over the parts of town on the map where the residents live. Residents who were not interviewed were also able to upload their own stories on the website. City employees relied on this aspect of the project to read through the stories and identify recurring themes. The city's next goal is to complete the review and analysis of each story by spring 2019 and to develop Hayward's new vision- planning document by next fall.
Sifting through the stories, the city discovered that although South Hayward's crime rates have decreased over the last decade, physical safety remains a top concern, stemming from the fear of people not knowing their neighbors.
"The desire is there for people to get to know each other, but no one wants to take initiative and be the first to knock on their neighbor's door and introduce themselves," reveals Thomas.
---
The Second City
The substantial amount of information that the city gathered about South Hayward through the Tennyson Corridor Strategic Initiative is a powerful testament to the influential nature of civic engagement, demonstrating that positive social impact and desired change are achievable, even amid "forgotten" neighborhoods.
As the first Davenport Institute partnership of its kind, "This started as an experiment to see how a city and college can work together to improve a community," says Trim, noting that once select philanthropists learned about the results of the partnership between Hayward and Chabot College, they offered to donate private funds to help sustain these types of initiatives in the future.
"Now we have a template for how to continue on with this project in the years to come, even without our funding in the equation. We hope that other local governments and colleges team up to pursue civic engagement in this way."
---
Photos: Sean McFarland