Campus Notes
Pepperdine Magazine is the feature magazine for Pepperdine University and its growing community of alumni, students, faculty, staff, and friends.
Pierre Long-Tao Tang
The new conductor of the Pepperdine University Symphony and Wind Ensemble notes the most instrumental moments of his performing arts career
PEPPERDINE PEOPLE
Born and raised in Hong Kong, Tang's parents encouraged him to begin playing the piano at the age of five with the thought that it would help him get accepted into a good school.
"My hometown has a very strong affinity for cultural knowledge and diversity. We don't learn music just because it's fun."
Tang was one of an elite 27 accepted to Chung Chi College at the Chinese University of Hong Kong. While completing his studies, he served as a camp leader for a Christian wind band camp and used unconventional methods to instill the importance of music in his campers.
"On the second day of camp, we got up at 5 am and took a bus to the poorest neighborhood of Hong Kong. We went dumpster diving, tried to buy lunch with the money we earned from dumpster diving, and laid with the homeless to understand what it felt like to be looked down on."
Fundamentally changed by his experience as a camp leader and the realization of how privileged he was, Tang felt a desire to lead musical groups in faith and service. In leading his students, Tang strives to help them remember that the essence of art is to connect and communicate.
"Music, at its core, connects one to something that is timeless. It transcends all barriers and language, and it arouses various feelings, memories, and sensations. The more you try to design an experience or become too concerned with the technical aspect of the performance, the less authentic it becomes."
In his rookie year at Pepperdine, Tang led the Wind Ensemble in the performance of a variety of musical selections at President Jim Gash's inauguration ceremony on September 25, 2019. Their first performance featured "Esprit de Corps" by Robert Jager.
No matter the performance, Tang seeks to create memorable moments for all who attend. "I'd like the audience to leave thinking, 'I'm never going to forget this moment.' I want them to experience something beyond words."
---
First Impressions
Recognized in April 2019 as a First Forward institution by the National Association of Student Personnel Administrators for its commitment to the success of first-generation students, Seaver College and its Student Success Center's First Wave program offer resources and tools to help this unique population thrive throughout their academic journey.

---
Chatter
The Pepperdine community shared their well wishes and warm thoughts as President Jim Gash began his new role on August 1, 2019.
MONICA BREWSTER ESKRIDGE
No one is more deserving of this position than Jim Gash. Jim was meant for this, and Pepperdine is so lucky to have him.
JESSICA GASH ('18)
Hey, I know him! So proud of you, dad!
@WINDHAM.JACOB
Congrats President Gash! Excited to start the new school year with you!
@CKENNER
Just when I think I can't love this amazing place of learning any more than I already do . . . Go do great things for Him!
---
Sound Bites
Explore a collection of some of the most notable moments from recent events held across the University.
"It's important for us to remember what the real good news is all about and reflect that enduring message of hope into

work

each day through our words, thoughts, and actions."
Dan J. Sanders (MBA '10), Chief Operations Officer, Sprouts Farmers Market​
EVENT: Graziadio Business School Spring 2019 Commencement
"I would not have the blessings of being an attorney today had I attended a university that was solely focused on research and publishing textbooks. At Pepperdine, the professors knew me, encouraged me, recognized my potential, came alongside me, and were the sole reason I succeeded."
Mark Hiepler (JD '88), Founding Partner, The Law Offices of Hiepler & Hiepler​
EVENT: Parris Institute for Professional Excellence Workshop
"Our individual calling is not designed to bring us fame and fortune. It is not about the Mercedes, the mansion, the millions, or the mink. It's about service to others . . . your calling is about God. Keep first things first."
Helen Easterling Williams, Former Dean, Graduate School of Education and Psychology​
EVENT: Finding Your Calling: A Reflection Retreat for Graduate Students 2019
"Why do we look at mitigation dollars just to fix infrastructure? Why can't a community go to Congress and apply for mitigation funds to offset the cost of insurance? Insurance will fix you far more effectively than FEMA will."
Brock Long, Executive Chair, Hagerty Consulting​
EVENT: HSAC Distinguished Speaker Series: Emergency Management 2.0
---
From the Archives
The women of George Pepperdine College gather on campus during an event in the late 1940s.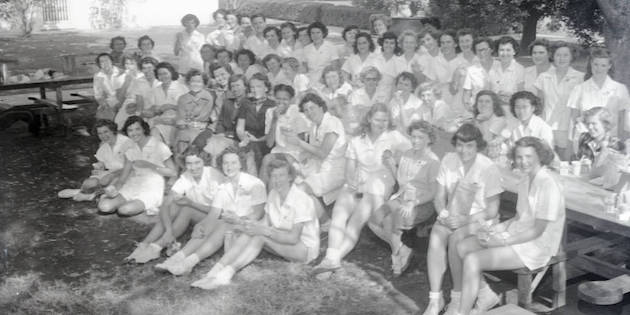 Source: University Archives Photograph Collection
Did You Know
During fall 2018, 393 full-time teaching faculty and 1,132 full- time staff served students throughout all five Pepperdine schools.
---