Heritage Hero
In her new role as Montana's poet laureate, a social justice advocate harnesses the power of the written word to expand Native American education in her home state
Mandy Smoker Broaddus ('97) discovered Native American literature during her undergraduate years at Pepperdine . . . and the rest is literally history. Having moved as a grade schooler from Montana's Fort Peck Reservation to eventually attend college in Los Angeles—the city with the highest population of Native Americans in the United States—she remembered the life-changing instruction from her grandmother and father, both longtime Church of Christ members with hearts for service: to embrace all opportunities with purpose and integrity. Little did the family know at the time how much this outlook would influence Smoker Broaddus and the world around her.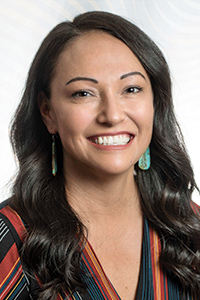 While at Seaver College, Smoker Broaddus, who belongs to both the Assiniboine and Sioux tribes of Montana, was continually involved in service projects coordinated by the Pepperdine Volunteer Center and simultaneously found herself deeply inspired by the Native American stories she had finally come across in an academic environment. Over the years, she invested her time perfecting her poetry, initially as a method of healing and inspiration in dealing with the loss of her mother at age 23. This led her to eventually use writing as a means to create a textual snapshot of the emotions she experienced from personal relationships, scenic landscapes, and current events.
Smoker Broaddus has spent the last 15 years working with Montana's school administrators and educators at various institutions to design a system that ensures Native American youth explore an accurate narrative of their heritage and that their needs are met in all aspects of their education. Her work in the realm of Native American education and her support of diversity in the creative arts led to her recognition in 2015 as Indian Educator of the Year by the National Indian Education Association. In 2016 President Barack Obama appointed her to the National Advisory Council on Indian Education, an advisory board that she continues to guide as part of the Montana Department of Public Instruction where she previously worked as the director of Indian education, developing both school curricula under the Indian Education for All initiative and supporting efforts to close the achievement gap for Native American students.
A passionate education and social justice advocate, Smoker Broaddus says that the dominant narrative about Native Americans in the United States is flawed, commonly depicting them as a single-language tribe belonging to one large cultural group and repeatedly portraying stereotypes and mischaracterizations. This is particularly noticeable in American popular culture, which Smoker Broaddus says typically either associates Native Americans with poverty or casinos, the dichotomy between the noble warrior stereotype or the belief that Native Americans are exempt from paying taxes.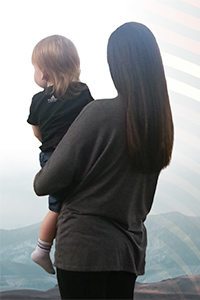 "American Indian children grow up with conflicting stories that don't describe them authentically, which is psychologically damaging during a time when they are shaping their identities and finding out who they are in the world," Smoker Broaddus explains. At the same time, however, "What they learn about their identity from their families, elders, and communities is that their people—wherever they come from—are strong and resilient, despite what we see in the movies or learn about in the classroom," she says. "An inclusive education that honors their heritage gives them the best chance of correcting the damaging narratives. It is also gives them a path forward as future tribal leaders, educators, and other professionals who can continue to advocate for tribal sovereignty."
This August Smoker Broaddus became the first Native American woman to be selected as Montana's poet laureate, a two-year designation created by the state legislature that honors markedly talented poets and continues to cultivate Montana's already-rich literary culture. Selected from a group of 13 candidates by a panel of judges belonging to Montana's literary community and approved by Governor Steve Bullock, Smoker Broaddus shares the position with longtime colleague Melissa Kwasny.
During her tenure, Smoker Broaddus will travel throughout the state for poetry readings and speaking engagements at book festivals, public libraries, and community and tribal colleges to share her Native American-focused poetry with the greater Montana community. In the process, she plans to expose her audiences to a different voice and perspective about issues of inclusivity and social justice.
Along with her social responsibilities as poet laureate, Smoker Broaddus is a practice expert in Indian education at Education Northwest, a Portland, Oregon- based nonprofit organization that allows her to travel throughout Alaska, Idaho, Oregon, Montana, Washington, and the Dakotas to spread her knowledge of Native American education.
Beyond the traditional school and office settings, Smoker Broaddus has also effectively spread accurate contemporary Native American narratives with the production of Indian Relay, an action/ adventure PBS documentary that earned her a regional Emmy Award in 2014.
"My goal is to inspire people to consume information more critically, to dig deeper into understanding how other cultures live, and to research the issues they find questionable. American Indian nations and their citizens should be better understood in this country, from a place of authenticity and integrity," she shares. "My heritage practices the philosophy of being a good relative, which extends to being a helpful community member, contributor, neighbor, and educator, not for personal gain, but for the sake of improving the lives of those around you, which in my case is young students and Native American communities."
---
Grandfather Poem
My grandfather and I sweep down
through the yielding riverbed,
walk the quiet rushes of the Mni
Shoshe, then move north,
to higher ground. He motions
toward the ponies as they rise up
and release their tears, large
drops the size of ripe apples.
They dance then, as my mother
and father shift in sleep,
dreaming to the rhythm
of horses' hooves.
Oyade wihamna. Hageji.
Iyuha ezhedu wihamnabi.
Oyade wihamna.

Excerpt from Smoker Broaddus' poetry collection, Another Attempt at Rescue