Player Assists
In the competitive world of college sports, Pepperdine's thoughtfully developed resources support the unique challenges faced by student-athletes
"Everyone sees the glory on game day, the media photos and pump-up videos, and the trophies on the shelves, but what they don't see is that we wake up at 5am to hit the gym and then sweat through hours of practice," reveals Courtney Merrill, captain of the women's soccer team and a three-time Pepperdine Scholar-Athlete and West Coast Conference (WCC) Commissioner's Gold Honors student. "Most of the time, people only see the results without seeing how hard we push ourselves every single day in order to achieve those outcomes."
With 20 hours of weekly practice sessions—in addition to strength and conditioning training, team meetings, traveling to away games on the weekends, and watching game footage of the team they are scheduled to play next—student-athletes like Merrill often miss out on opportunities to study abroad for a semester or academic year at Pepperdine's global campuses in cities like Heidelberg, Florence, and Shanghai. Fortunately, Pepperdine's international programs offer shorter trips during the summer months that are much more conducive to the undergraduate students who are unable to leave the Malibu campus for extended periods of time.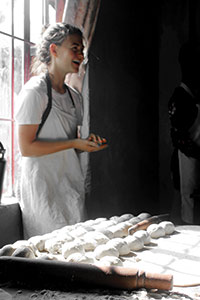 Merrill, a Seaver College senior whose nutritional science major has allowed her to develop close friendships with other young scientists, spent two weeks in June on a University-sponsored mission trip to Kenya. There, she and other students participated in a study abroad experience focused on global public health and service at a learning center in the village of Kamulu. The biennial trip, originally coordinated in 2013 by Hung Le ('87, MA '03), associate vice president and university registrar, and led by associate professor of nutritional science Loan Kim and associate professor of biology Donna Nofziger Plank, allowed Merrill to experience Pepperdine outside of athletics.
Along with sacrificing enriching study abroad programs in order to satisfy team requirements, student-athletes frequently encounter other challenges typically not experienced by fellow classmates. In response, the Pepperdine Department of Athletics has devised strategic resources to help the members of this group continue to reach their maximum potential during their transformative college years, first as students and then as athletes.
Jordan Holm ('09), director of student-athlete development and academic support for Pepperdine Athletics, contends that the primary academic concern of first-year students is time management—a useful skill that his office specializes in teaching. Per NCAA regulations, student-athletes may miss class only to attend games but not practices, which sometimes makes it difficult to enroll in classes that are offered only once a semester during the same time frame as a practice session.
As a former sports broadcasting major with extensive knowledge of the Waves lifestyle, Holm helps student- athletes create class schedules that permit both academic excellence and sufficient training time. He further impresses upon his staff to consistently make themselves available to students, so the students can receive guidance and mentorship when needed. During 15-minute check-in sessions with first-year student-athletes, Holm encourages them to share the highs and lows of their college experience, listens intently to ensure that they are adjusting as expected, and refers them to the Pepperdine Counseling Center when necessary.
"These are very bright students who are used to being at the top of their class in high school. But when they come to Pepperdine, they realize that many others are also smart and talented star athletes," shares Holm. "They are naturally driven to continually improve themselves, so we always remind them to explore all the different on-campus opportunities outside of their sport because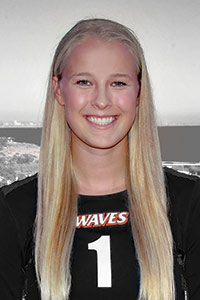 Hannah Frohling, a sports medicine major and outside hitter on the women's volleyball team who describes the academic support center as "the most-used resource among student-athletes," reveals that athletes have historically viewed the admission of mental health struggles as a sign of weakness. As the 2019–20 season's vice president of the Waves Leadership Council, Pepperdine's branded version of the NCAA's Student-Athlete Advisory Committee, Frohling represented the University at the WCC Leadership Summit in San Diego in June, networking with student-athletes from other colleges and discussing some of the most important topics in the world of team sports, such as leadership, community service, and, most prominently, mental health.we view these students as whole individuals and not just as athletes."
"While athletes are assumed to be resilient and capable, it takes a tremendous amount of strength for them to seek mental health treatment," notes the Seaver College senior. "We often have a hard time separating who we are as people from who we are as athletes, and our identities are deeply rooted in our most recent numbers and performances."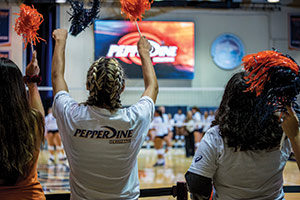 These identity issues are particularly magnified when athletes sustain injuries, a common occupational hazard when they spend more than half of their time either on the field or at the gym. In fact, Frohling spent a couple of weeks in August recovering from an injury that forced her to watch from the sidelines as her teammates practiced. In terms of mental health and identity, Frohling admits that her injury provided her with the opportunity to slow down and take more intentional care of her mind and body. As she puts it, "I was able to focus on my life outside of volleyball, to see the bigger picture of my life goals, and to reflect on my college experience."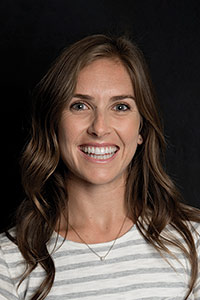 Krista Lopata ('11, MA '14), Pepperdine's athletics chaplain and former Waves indoor volleyball player, recalls the challenges she endured as a first-year student- athlete. Feeling like her sense of purpose was tied to her volleyball stats, she developed such severe performance anxiety that she completely stopped enjoying the game. It wasn't until she began meeting regularly with Maurice Hillard, Pepperdine's late athletic chaplain, that she realized her purpose was in Christ rather than in sports, and that any mistakes she might make would never change that.
"Maurice was a trusted and familiar face that was always available, always around, always at the gym, always at our practices," Lopata reminisces. "It makes an enormous difference to share your concerns with someone who understands the athletics world, who knows all the coaches and administrators here, and who has experience with what student-athletes go through in their daily lives."
In her role as athletic chaplain, Lopata reveals that her psychology degree from the Graduate School of Education and Psychology has particularly equipped her to assist student-athletes navigate through their overwhelming trials by focusing on their sense of identity and purpose, which she attests are the primary issues they discuss in private sessions. She also promptly refers them to the Counseling Center if she determines that their fears extend beyond typical performance anxiety or frustration from having a rough week.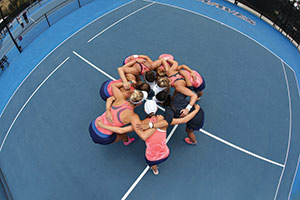 "They all share different stories from a variety of perspectives, but most of the time I can see that it all relates back to identity and purpose," Lopata says, adding that a major source of comfort for student-athletes is knowing that someone cares about their problems, is willing to listen, and can genuinely assist them. "It sounds so simple, but it's groundbreaking for an athlete who feels like his or her whole purpose is in performing. Student- athletes are seeking a positive influence in their lives and want to know that someone is in their corner when they feel unsure of themselves."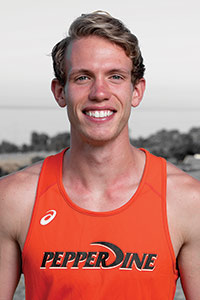 Jalen Frantal, a senior on the men's cross country and track team and president of the Waves Leadership Council, explains that conversations around injury and identity are so popular among athletes that these concepts are often the focus of Athlete Chapel, an alternative convocation series that highlights topics most relevant to this cross section of the Pepperdine community. Featuring messages from fellow student-athletes, coaches, and staff, Athlete Chapel allows participants to engage in fellowship with one another on Wednesday nights in the Jones Trophy Room in Helen Field Heritage Hall, immediately followed by Sideline, Bible study sessions led by student-athletes.
"An injury can occur in a split second, and you go from your entire life revolving around your sport to having to sit out the rest of the season," says Frantal, adding that Athlete Chapel messages related to identity help student- athletes reevaluate their self-worth, performance, and teamwork under a positive lens, while exploring how to incorporate spirituality into their lives to reduce stress.
"Pepperdine faculty and staff do a phenomenal job in terms of athletics, academics, and spiritual growth," shares the sports medicine major and philosophy minor, who is also earning an undergraduate certificate in conflict management through a joint program between Seaver College and the Straus Institute for Dispute Resolution at the School of Law. "They offer athletes everything that we need to succeed and give us the opportunity to take full advantage of all their resources.