The Power of Story
One of the most powerful experiences of transformation is being seen and heard.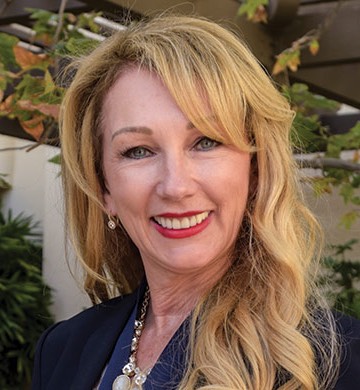 By Bernice Ledbetter (EdD '05)
Director, Center for Women in Leadership
Dean of Students and Alumni Affairs, Graziadio Business School
MS in Management and Leadership Program Chair
Practitioner Lecturer of Organizational Theory and Management
The allure of a good personal story is that it reveals something profound. Stories inform us and help us make sense of our world. They inspire action and create accountability. They help us learn and they teach us how to overcome barriers. Stories bind us.
Stories also pave the way for the next wave of storytellers. People desire to see "someone like me" in the constellation of extraordinary leaders. Thankfully, Pepperdine University has countless examples. This issue of Pepperdine Magazine is one way for us to paint brushstrokes on a very large canvas of who we are and the collective impact of our leadership in and for the world. The deep well of our shared wisdom becomes known primarily through the stories of our diverse alumni.
There are multifaceted benefits of sharing stories, especially for women and men who strive to be compassionate leaders conscious of the impact their business decisions have on their local and global communities—what we at the Graziadio Business School call Best for the World Leaders.

In a role model relationship, stories yield outsized benefits
A recent study followed 11,500 young women in 12 countries across Europe. More than half (52 percent) of the women aged 11 to 30 who looked up to either fictional or nonfictional people involved in STEM fields said they were interested in pursuing a job in that sector. Fewer than one-third (32 percent) of the women who couldn't identify a role model said the same. Clearly, sharing success stories makes an impact on those who are listening.

Promoting diversity and inclusivity inspires confidence
Women and men deepen their level of confidence when they discover someone in a leadership position with whom they can relate. Sharing stories of diversity and inclusion not only helps build a stronger management pipeline, but it also goes far in offering young men and women ways to visualize a rich variety of career paths.

Amplifying the voices and stories of women chips away at unconscious biases
Stereotypes are pervasive in the workplace and other life contexts. Unconscious bias is quick judgment that takes place without our noticing it. When the stories we tell and hear are inclusive and diverse, we come to realize a more expansive set of possibilities than we might not have otherwise considered.
I'm encouraged by the storytelling taking shape in the business world and at Pepperdine. However, I keep a watchful eye on students, especially when they are about to enter the work world or when they seek to pivot in their careers. I am particularly attentive to opportunities for our women students to see other women in positions of influence because I know that they are then far more likely to pursue that same leadership path.
One of the most powerful experiences of transformation is being seen and heard. We choose to highlight the amazing accomplishments of our alumni because we want to showcase our collective leadership capabilities and provide a deeper understanding of what we are all capable of collectively.