Setting the Scene
Four alumni share their experiences in Pepperdine's Theatre Arts program and how they laid the foundation for thriving careers in the performing arts
On August 27, 2019, Seaver College Theatre Arts students made their way into Lindhurst Theatre as Bradley on Griffin, divisional dean of the Seaver College Fine Arts Division, welcomed four alumni to speak about how their experiences as students guided their distinct career paths. Whether in production or performance, the stories shared by Paul Dufresne ('16), Allegra Edwards ('10), Sarah Lindsley ('16), and Katharine McDonough ('12) demonstrate how Pepperdine's intimate and influential theatre community allowed them to diversify their skills and step into their industries with resilience and passion.
---
Paul Dufresne
Scene Designer, Theatre and Opera
In a rickety chair surrounded by fellow elementary school students jittery from the excitement of a new place, Paul Dufresne sat in awe of the spectacle of live performance. Characters traversed the stage performing short scenes from The Tell-Tale Heart,The Legend of Sleepy Hollow, and more. The son of two musicians, Dufresne's exposure to the diverse world of fine arts was just beginning that day at the Thousand Oaks Civic Arts Plaza. Community theatre productions were a regular family outing, and the Dufresnes often found themselves wandering through the Getty and LACMA for a dose of culture and creative inspiration. Today, Dufresne recalls how impactful those short performances and trips to museums were for his passion and career. "The play of my childhood," he reflects, "has transferred to my play on stage."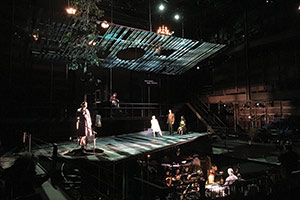 When Dufresne was preparing to graduate high school and choose a college, a friend who attended Pepperdine invited him to see the University's production of Xanadu. Marking the first time he had visited the Malibu campus, he took in as many details as he could—from the quality of the acting to the set design. After the production, while congratulating his friend backstage, Dufresne met Bradley Griffin, who later encouraged him to attend Pepperdine. "It was the exact place I needed to be for what I wanted to do," Dufresne shares. His academic journey was furthered by the support he received from faculty in the Fine Arts Division as mentors like Griffin and Stewart O'Rourke ('94), scene shop foreman, and Rick Aglietti, scene designer and technical director, "were incredibly gracious in allowing some of my wants and desires to be realized," Dufresne recalls.
Dufresne has designed immersive scenes for a range of productions, such as Dolores Claiborne, Shakespeare'sMuch Ado About Nothing, and Les Misérables. After completing his MFA in scene design from Boston University, he moved back to the Los Angeles area in spring 2019 where he designs large productions and teaches theatre and opera.
---
Katharine McDonough
Actress and Director, Musical Theatre
When Katharine McDonough stands center stage, confidence shines out of her, not just in her posture but in her voice, a quality that recalls the moment she felt destined for performance. After watching Julie Andrews frolic through cobblestone streets belting "I Have Confidence" in The Sound of Music, McDonough told her parents, "God put me on this earth to sing and dance."
McDonough grew up performing in what she describes as the quirky beach town of Dana Point, California, and eventually stumbled upon the idea that she could do what she loved—and what she excelled at—for the rest of her life. McDonough set her sights on Pepperdine, drawn to the liberal arts education and the Great Books Colloquium. The Regents' Scholar majored in both theatre and music and, every week, worked with voice coach Melanie Emelio, who McDonough still praises as a mentor. "She always brings me back to my center," McDonough shares.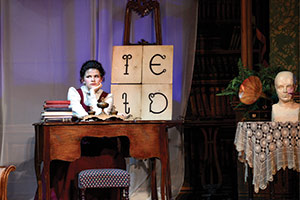 One of McDonough's lasting impacts on Pepperdine was the creation of the revue show Contempo with fellow theatre alumnus Andres Ramirez ('12). In 2016 they created Contempo Productions, a Los Angeles-based nonprofit theatre company that develops and produces new works and contemporary classics with a spirit of adventure and ingenuity. Their first production,Bubble Boy at the Colony Theatre in Burbank, was so well-received that one of the original composers of the show attended the performance.
McDonough herself has performed as the unrequited lover Eponine in Les Misérables, the delightfully irreverent Eliza Doolittle ofMy Fair Lady, the elegantMary Poppins, and as Disney princesses Elsa fromFrozen andThe Little Mermaid's Ariel.
In 2017 McDonough took on a leadership role as the director of The Scarlet Pimpernel, marking her first time directing a professional production. "Andy was the inspiration behind my becoming a producer and director," she explains. "He empowered me to step forward."
---
Allegra Edwards
Actress, Film and Television
Six-year-old Allegra Edwards was practicing her dance routine when her teacher, Ms. Dawn, asked if she would like to act in a skit strategically placed during the dance recital to give the performers more time to change outfits between numbers.
"I was very young," Edwards said. "But I caught the acting bug early, and it didn't go away." In high school, she started viewing movies with an eye toward a possible career—she couldn't stop thinking of how much fun Kiera Knightley must have had on set while filming Pirates of the Caribbean: The Curse of the Black Pearl.
Originally from Colorado, Edwards learned about the unique offerings of Pepperdine's theatre and television major during her first campus tour. The quality of the program, as well as a fondness for the well-appointed Smothers Theatre, drove her decision to apply and later attend. The intimate community of Pepperdine and the Fine Arts Division gave her exposure to various corners of the industry, from writing scenes for Pepperdine's annual Songfest to understanding the nuances of global performance in Edinburgh, Scotland. Edwards was also an active performer with Pepperdine's Improv Troupe led by Tracy Burns and Allen Simpson, an experience that built the foundation of her career as a performer.
After graduating from Pepperdine in 2010, Edwards went to the American Conservatory Theatre in San Francisco. She completed her MFA in 2013, and, after battling the complex and often disappointing world of auditions in Los Angeles, Edwards moved to New York City to perform in a small, off-Broadway production.
Since then, Edwards has appeared in such television shows as The Mindy Project,New Girl, andFriends from College. Her film credits includeThe Social Ones andSocial Mediation. She will appear as a series regular on Amazon's showUpload and in USA Network's showBriarpatch, both of which will debut in 2020.
---
Sarah Lindsley
Costume Designer, Costume Co-Op; Floral Designer, Simply Whimsy Design
Hailing from generations of artists and creatives, Sarah Lindsley's path to performance was laid out for her long before she decided to pursue it as a career. She spent her high school years engaged in theatre as a passionate actor and dancer. But when a skiing accident injured the ligaments in her right knee, her future as a performer was suddenly in jeopardy.
Though Lindsley was unable to perform in her high school's production of West Side Story, her mother had volunteered to design the costumes for the performance and, despite not knowing how to sew, Lindsley picked up the techniques quickly to work with her mother on the designs. Their work caught the attention of the National Youth Theatre in 2011 and was nominated for Best Costume in San Diego.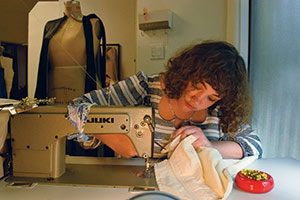 Lindsley's professional pursuits initially pointed toward event design, and she joined Pepperdine's diverse fine arts program for its unique approach to that field. The program, however, compelled her to move beyond event design and explore the fields of costume design and hair and makeup artistry. She received mentorship from Melanie Watnick, adjunct professor of theatre and costumer, who trained her in materials, styling, and sewing, and O'Rourke, whose insights on set construction have affected her process of costume design more than she expected.
As someone newly entering the field of costume design with limited experience at a sewing machine, Lindsley explains, "I tried to not be afraid to learn new things while also bringing my creative side to each project." She expanded her training when she began an internship with Costume Co-Op in North Hollywood. "When it suddenly becomes your job," Lindsley shares, "you learn it quickly."
After graduating from Pepperdine in 2016, Lindsley has continued to develop artful pieces as a costume designer. She has designed pieces for Kanye West, American Horror Story, Disney, and Universal Studios. She also returned to her passion for event design and runs Simply Whimsy Design with her mother. This fall, she will join the national tour ofFinding Neverland as one of two designers tasked with maintaining the look of the show. Lindsley will be responsible for mending garments, styling wigs, and training each theatre's technical crew on assisting actors with their complex wardrobe changes.