The Six People You Meet at NSO
Pepperdine Magazine is the feature magazine for Pepperdine University and its growing community of alumni, students, faculty, staff, and friends.
The University tradition that marks a milestone in the lives of hundreds of students who will be transformed by the many opportunities and experiences that can only be found at Pepperdine. Meet the six familiar figures that make NSO a memorable experience for the more than 800 incoming students and their family members at the beginning of each academic year.
New Student Orientation
---
1. The Dedicated Dad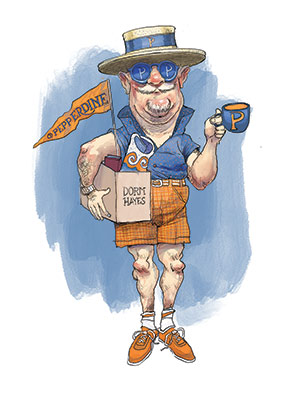 Clad in blue and orange from head to toe, this proud Pepperdine parent gives Willie the Wave a run for his money with his undeniable school spirit and enthusiasm for sharing it with everyone around him. He can be found perusing the bookstore aisles, arms stacked high with the latest Pepperdine merch emblazoned with emblems of Waves pride.
---
2. The Welcome Crew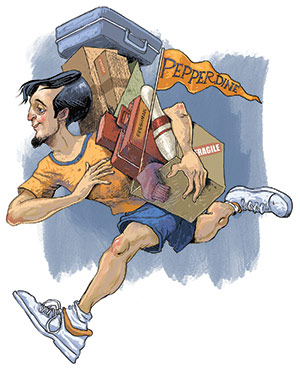 As the cars packed with prized possessions and anxious family members approach lower dorm road on move-in day, their occupants are greeted by a gaggle of orientation leaders with no shortage of pep. Beyond their excitement about the new students' arrival, these NSO guides are cheering them on every step of the way with high-fives, happy faces, and a helping hand as students settle into their new lives on campus.
---
3. Doug Hurley AKA "Orange Hat Guy"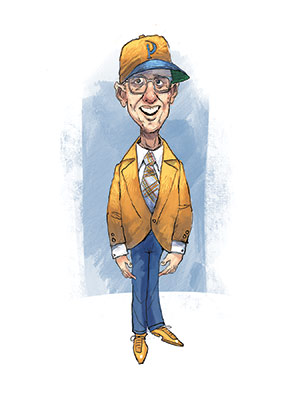 As the associate dean of students, student activities, and campus recreation, no one can compete with Doug Hurley for the title of NSO king. Hurley lives for the annual new student welcome and is a familiar face throughout the weeklong activities that he carefully plans and prepares for all year.
---
4. The Overwhelmed (But Excited) New Student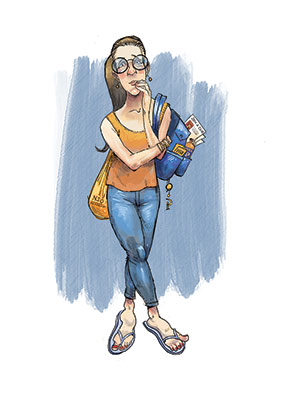 Buried under tote bags, paperwork, and blue and orange lanyards, brand-new Waves are eager to join a club, score an on-campus job, play intramural sports, get elected for student government, go overseas, or sign up for a service project.
---
5. The "Can't Let Go" Parents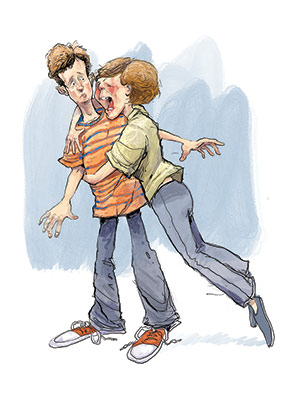 Still milling about during the first week of classes, these empty- nesters have already signed up for Waves Weekend, established a regular texting ritual with their college-bound kids, and regularly peruse real estate in close proximity to campus.
---
6. NSO Campus Partners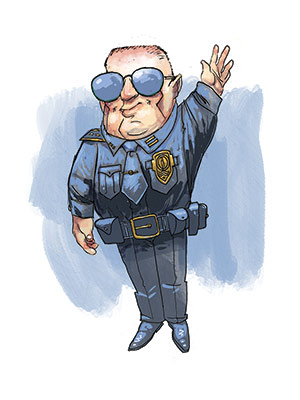 From the helpful dean easing new students into academic life to the friendly public safety officers who maintain operations all week to President Gash cartwheeling and crowd-surfing his way into the hearts of fresh Waves faces, the whole campus comes together to celebrate the start of a new journey for the newest crop of first-year and transfer students.
---
Illustration:
Rick Gibson (MBA '09, PKE 121)