The Business-Minded Artist
Parvez Taj makes accessible art for contemporary customers.
A young woman contemplates the empty wall of her new condo, wishing the Audrey Hepburn poster from college would still suffice. Her neighbor roams the echoing rooms of a city gallery, disheartened by price tags affixed to the paintings. Parvez Taj (MBA '05) feels their frustration.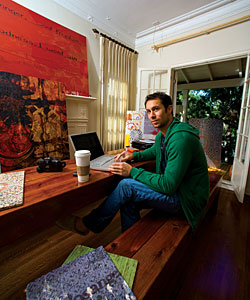 The lifelong artist has often considered how difficult it is for ordinary people to decorate their homes with interesting and affordable art. "The problem is that there is cool art but it's crazy expensive; the alternative is just cheap paper or posters," he says.
Now the young entrepreneur combines his astute business mind with a passion for creating dynamic art. His self-titled art company produces his own designs for major furniture stores, setting him apart from artists displaying individual works in a gallery to be sold to the highest bidder.
"I'm trying to fill the gap by providing high-end design and cool art, but making the art accessible to people who wouldn't normally be able to afford hip art," he adds. In his Beverly Hills studio Taj creates art that is sold to furniture outlets, including Crate & Barrel, EQ3, and Z Gallerie.
He conceived the business while an MBA student at the Graziadio School of Business and Management. The idea won him First Place in the first annual Pepperdine Business Plan Competition in 2005.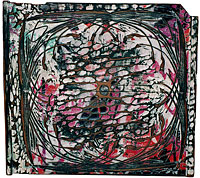 "I won $20,000 and was able to raise the first round of investments for my business," he says. "I started going to trade shows to pick up clients. Crate & Barrel said they loved my designs, but they couldn't meet the production price point, as I was producing domestically."
Not to be discouraged, Taj established a line of production in Malaysia, followed by a second line in China, which have both been so successful that he is now producing the work of other artists exclusively for major retailers like Crate & Barrel.
Taj's work is contemporary and edgy, eschewing standard motifs to create a visual concept of his take on the world. A photographer, he captures images of people, places, and objects, and then uses software to manipulate the picture. He calls it "a reinterpretation of how I'm feeling about society and myself."
His 2008 work featured a series of urban-inspired visuals. "I was looking at London, Paris, New York, Miami, and Los Angeles," he says. For the 2009 collection, he is changing direction. "Now I've made a push into nature, looking at trees, flowers, dirt, grass, water. Dandelions have been my motif of choice right now, too."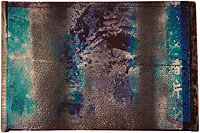 Taj hails from Canada, where he graduated from the University of Western Ontario in 2000 with a degree in finance. He jumped headfirst into the New York fashion world while producing runway shows, but the business-minded graduate became restless. "I felt it was a saturated market, that it had already had its day and was just sustaining. I wanted to be in a revolutionized business."
After 9/11, he left New York City to reconsider his future. Taj began to tap into the rise of interior design on television and in magazines, and realized there was a corner of the market not yet covered.
"There had been a big growth in the furniture business—people using furniture to express themselves and to create living environment that they were happy with. It was an interesting trend, and I wanted my art to have that appeal."
He mulled over his burgeoning idea as he embarked on an extended trip to India, where he filmed and edited a charity documentary. As a child of professionals, not entrepreneurs, Taj was unsure of the next step, and at some point during his year in India he struck upon the idea of attending business school.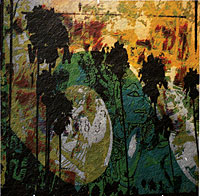 So the young artist began painting a fresh canvas for his life. He enrolled as a full-time MBA student at the Graziadio School, arriving in Fall 2003 with his business idea formed. "From day one, I told everyone exactly what I wanted to do and how," Taj affirms. "This was my goal since I stepped on campus."
Today Taj hopes to expand the business further, gaining more clients and taking on individual art projects at hotels and offices. But of one thing he is certain: he is forging a new path for artists and for the business of art.
"The future is to reach more people," he envisions. "I want to do for art what Calvin Klein and Ralph Lauren did for fashion—make it accessible. I'd like to be known as one of the first artists who made this possible."