News
Pepperdine Magazine is the feature magazine for Pepperdine University and its growing community of alumni, students, faculty, staff, and friends.
Supreme Court Justice Scalia Addresses the Pepperdine Community
Antonin Scalia, associate justice of the United States, spoke to a packed audience of more than 625 people on March 9 in the Caruso Auditorium at the School of Law. The acclaimed Supreme Court justice spoke with School of Law dean Ken Starr on a variety of legal topics, including how the Court has changed over the years.
When asked why there have been many dissenting opinions in recent years, Scalia said, "I don't mind there being dissents. On an issue of law, let's say an issue of statutory construction, where we all agree on what the principles are, you can disagree on how much weight to give each aspect of one canon of interpretation versus another canon. But what is different about what has been happening for the last 30 years or so is that we disagree on the fundamentals. We disagree on what we think we're doing when we interpret the Constitution. There are only two of us for sure on the Court who are originalists, who think the object of the exercise is to figure out what it was the American people agreed to as an exception from the principle of rights when they adopted the First Amendment or Fifth Amendment."
Scalia continued the discussion about originalists versus "consequentialists," who believe that the Constitution is a living, ever-changing document. He answered questions from the audience, discussed his own written opinions, and spoke on who he considers the greatest justices (Marshall, Brandeis, and Jackson).
Scalia was born in Trenton, New Jersey, March 11, 1936. He received his bachelor's degree from Georgetown University and the University of Fribourg, Switzerland, and his LLB from Harvard Law School. President Reagan nominated him as an associate justice of the Supreme Court, and he took his seat September 26, 1986.
---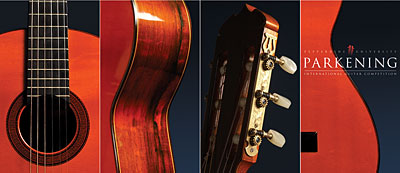 Parkening International Guitar Competition Returns This Spring
Musicians and fans from around the world will come to Pepperdine's Malibu campus May 28 through May 30 for the Parkening International Guitar Competition, the preeminent classical guitar competition in the world.
The three-day event honors Christopher Parkening, Distinguished Professor of Music at Seaver College, for his lifetime commitment to fostering musical excellence in young artists as demonstrated by his mentor, the great Spanish guitarist Andrés Segovia. Cash prizes in excess of US$65,000 will be awarded; this is the largest prize purse of any classical guitar competition worldwide.
The five judges, representing different areas of the classical music world, are Nancy Allen, principal harpist with the New York Philharmonic; Manuel Barrueco, world-famous guitar virtuoso; Stephanie L. Challener, publisher of Musical America Worldwide; Thomas Frost, Grammy Award-winning record producer; and Costa Pilavachi, former president of EMI Classics.
The first Parkening International Guitar Competition was held at Pepperdine in 2006. Since then Gold Medalist Pablo Sáinz Villegas has emerged as one of the world's leading classical guitarists. With grants from Howard and Roberta Ahmanson and Manny and Juanita Del Arroz, the Parkening International Guitar Competition is held every three years, and coincides with the Parkening Young Guitarists Competition. It helps to identify outstanding young guitarists and encourages them to continue their performance careers and study.
arts.pepperdine.edu/parkening/
---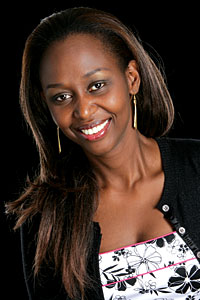 Genocide Survivor Immaculée Ilibagiza Shares Her Story of Faith
Hundreds stood in applause as survivor and bestselling author Immaculée Ilibagiza took to the podium during a Wednesday morning Chapel last fall. The Rwandan expat traveled from her home in New York to present her story of survival, hope, prayer, faith, and, above all, forgiveness.
In 1994, while nearly one million Rwandan Tutsis died at the hands of Hutus, Ilibagiza spent three months cramped in the bathroom of a merciful Hutu pastor with seven other terrified women. Her parents, brothers, friends, neighbors had all been killed.
"It is amazing to me to be sharing my story with the world," she told the crowd of Pepperdine students, faculty, and staff. "There was a time when I thought I wouldn't see another face outside the bathroom I was living in for 91 days."
Despite the horror she endured, Ilibagiza's message to the Pepperdine audience was clear: her faith in God and constant prayer during those terrible days kept her alive. "The biggest wish in my heart is that people will grow closer to God after reading my book," she said of her New York Times best-selling book,Left to Tell: Discovering God Amidst the Rwandan Holocaust, and new follow-up memoir,Led By Faith: Rising From the Ashes of the Rwandan Genocide. She added that overcoming her very understandable anger was an integral part of learning to trust God. "I want people to know that God is real, even in the darkest hours."
"Her attitude to God makes me more passionate to speak about my faith and involve God in my life," said freshman Linda Nyandamu after Ilibagiza's talk. Summing up her response to the courageous speaker, she added, "She inspires me."
Visit magazine.pepperdine.edu/ ilibagiza/ to listen to a podcast with Ilibagiza.
---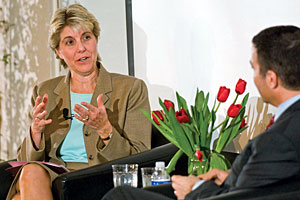 Dean Linda A. Livingstone Elected to Board of Directors for Prestigious Accreditation Association
Immaculée Linda A. Livingstone, dean of the Graziadio School of Business and Management, has been elected to the board of directors of AACSB International, the premier association that accredits business schools. Livingstone will serve a three-year term, effective July 1, 2009, and be among 10 prominent management education and business professionals appointed to the board for 2009-10.
"I am honored to contribute to AACSB's policy governance as a board member and to have been chosen to serve our peers, our students, and our community in a role that helps us all advance quality management education worldwide through accreditation and thought leadership," Livingstone says.
AACSB International is an association of more than 1,100 educational institutions, businesses and other organizations in 70 countries. It serves as the premier accrediting body for institutions offering undergraduate, master's, and doctoral degrees in business and accounting.
Livingstone has served as the first woman dean of Pepperdine University Graziadio School of Business and Management since 2002. She oversaw a $200 million expansion of the business school's regional campuses, increased the school's international partnerships to 30 business schools around the world, and led the school to membership in the Globally Responsible Leadership Initiative and as a signatory to the Principles for Responsible Management Education.
She serves on the board of directors of the Graduate Management Admission Council (GMAC), is a member of the Impact of Business Schools Task Force for AACSB International, and is a member of Young President's Organization (YPO). She received her BS, MBA, and PhD from Oklahoma State University.
---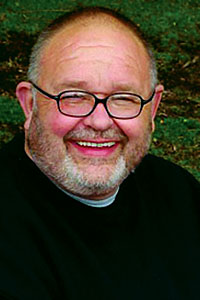 Pepperdine Remembers Jim "JB" Brock
The Pepperdine community lost a dear friend with the sudden passing of longtime housing administrator Jim "JB" Brock on January 15. JB first began his career at Pepperdine in 1984 in the Seaver College Career Development Center. He went on to serve as director of residential life, associate dean of students in student affairs, and director of housing.
Tabatha Jones ('97, MS '03), associate dean of students, shares her memories of JB:
"In the weeks since we lost our friend, I've recalled him seated at a round table in the Waves Café, always surrounded by people, as one to whom his employees, coworkers, and others were drawn everyday to share a meal, not out of compulsion but love. JB embodied the call to a compassionate ministry of presence , especially to the vulnerable among us who sensed God's nearness because of his concern and care. I remember other proud moments, like the time when as president of WACUHO, a professional housing organization, JB convened the annual meeting and was met with the thunderous applause due only to an icon. JB was the remarkable, uncommonly gifted one who lived God's presence among us—often heard before seen because of a hearty, hardly indistinguishable laugh that could win over even the cynics, lifting them up for no good reason at all or simply because they needed it."
To share your memories of JB with his family and friends, e-mail housing@pepperdine.edu or post your reflection on the Facebook page created in his memory: "Preserving Our Memories of Jim Brock."
Ed. note: At press time, we were saddened to learn of the sudden passing of Roy Adler, another beloved and longtime member of the Pepperdine community.
Adler was a professor of marketing at Seaver College. Visit "Dr. Roy Adler - In Memoriam" on Facebook to learn more.
---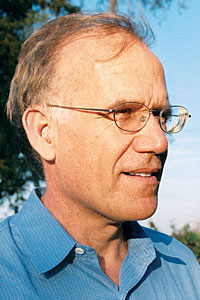 School of Public Policy Welcomes Historian Victor Davis Hanson
Acclaimed author and historian Victor Davis Hanson joined the faculty at the School of Public Policy as the Spring 2009 William E. Simon Distinguished Visiting Professor. His class, "Global Rule of Western Civilization?" explores Western exceptionalism and its sustainability: "It is the age old dilemma of the West: will the free, affluent citizen possess enough restraint to control his appetites and not do what he is otherwise in theory legally and economically free and empowered to do?" he asks.
Hanson gave his first public lecture as the William E. Simon Professor on March 4. In the lecture, titled "Political Challenges Facing the Obama Administration," he addressed policy changes wrought by the new administration before explaining that the perception of Obama as a "moralist" might make it difficult for the media to criticize the president.
Raised as a fifth-generation orchard and vineyard grower in Fresno, California, Hanson began writing about issues of farming, immigration, and education until 9/11, when he began writing about terrorism, radical Islam, and international affairs. He is a nationally syndicated columnist for Tribune Media Services, and the best-selling author of hundreds of articles, book reviews, scholarly papers, and newspaper editorials. He has authored or contributed to over a dozen nonfiction books, including Mexifornia (2003) andBonfire of the Humanities (2001).
In 1984 he established the classical languages program at California State University (CSU), Fresno, and is currently the Martin and Illie Anderson Senior Fellow in Residence in Classics and Military History at the Hoover Institution, Stanford University.
---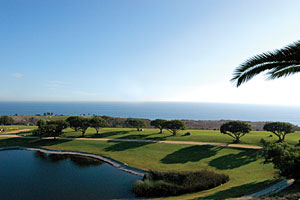 Doing Our Part: Sustainability Efforts at Pepperdine
Although the "green revolution" has gained momentum in recent years, Pepperdine's commitment to creating a sustainable campus began in 1972 when a water reclamation program was implemented for irrigation. Since then, Pepperdine has engaged in and created numerous other practices to minimize environmental impact and to instill in students an eco-minded awareness. Those efforts are coordinated through the University's Center for Sustainability.
The water reclamation program has continued for 37 years, keeping recycled water from entering the Pacific Ocean. Through this program, the University has saved a total of 3.5 billion gallons of water since construction of the Malibu campus. "We are currently working to increase our use of reclaimed water from 95 percent to 99 percent campus-wide," says Rhiannon Pregitzer (JD '06), director of the Center for Sustainability.
As well as water recycling, Pepperdine also operates a waste recycling program through its partnership with trash vendor Crown Disposal. Trash is separated off-site and every single recyclable item disposed of at Pepperdine is recycled, with a resulting diversion rate of 78 percent of the overall campus waste stream. During campus construction activity this year, an average of 80 percent of all construction waste has been recycled.
Driving cars is an essential part of Southern California living, so the Center for Sustainability promotes to the Pepperdine community alternate forms of commuting. Carpooling, vanpooling, mass transit, and walking are encouraged and subsidized through the Rideshare program, and employees are helped in finding carpool matches through a Web site.
In addition, a campus car carpool-share program was launched in Spring 2009, providing Hertz rental cars to students to encourage them not to bring cars to campus. Keeping student cars at home helps reduce air emissions and alleviate parking problems.
For more information about environmental initiatives at Pepperdine, visit the brand new Center for Sustainability Web site at www.pepperdine.edu/sustainability/.
---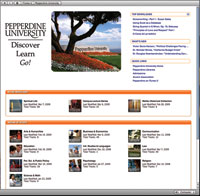 Pepperdine Launches iTunes U
Pepperdine has joined the multimedia pioneers of higher education by launching its own version of iTunes U, a service platform provided by Apple Inc. that enables the University community to distribute digital videos and audio recordings in "podcast" form over the Internet. With lectures, interviews, seminars, performances, sermons, and more, all available for download at no charge, iTunes U will dramatically extend the reach of the University learning community. The platform provides an easy link to content 24 hours a day, seven days a week and is accessible to anyone with a Mac or PC.
"For centuries, libraries have facilitated the distribution of information and knowledge. Pepperdine iTunes U provides a new avenue for continuing this time-honored tradition," says Mark Roosa, dean of the University Libraries, which launched the new platform. "It will significantly enhance the University to share with the world some of the wonderful aspects of Pepperdine life, including our academic programs, our faith-based orientation, and the ways in which students are preparing to make a difference in the world."
Now users can explore areas of the "Pepperdine Life" such as the Graziadio School's Deans Executive Leadership series, commencement addresses, and the Stotsenberg Recital series. Check out these top downloads and much more on Pepperdine iTunes U:
Christian scholar John Stackhouse on "Faith and the Challenge of Evil" ? Pulitzer Prize-winner Ed Larson on "Lincoln vs. Darwin" ? Biologist Douglas Swartzendruber on "Understanding Cancer" ? Public policy professor Michael Shires on "California Budget Crisis" ? Classical guitarist Christopher Parkening on "The Creative Process" ? Author Emerson Eggerichs on "Principles of Love and Respect."
---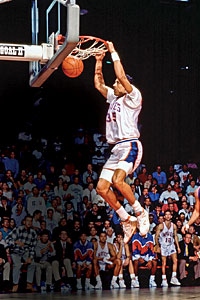 Waves Basketball Great Doug Christie Selected for WCC Hall of Honor Premiere
Former two-time All-American Doug Christie represented Pepperdine as the West Coast Conference inducted its inaugural class into the WCC Hall of Honor at the conference's basketball tournament in March.
In addition to Christie, the other inductees are Hank Gathers (Loyola Marymount), Frank Burgess (Gonzaga), Clive Charles (Portland), Carroll Williams (Santa Clara), Tom Meschery (Saint Mary's), Bernie Bickerstaff (San Diego) and Joe Ellis (San Francisco).
"We are very proud of the inaugural Hall of Honor class," said WCC commissioner Jamie Zaninovich. "The list of inductees represents the West Coast Conference's strong tradition of athletic excellence."
Christie played three seasons for the Waves (1990-92) and was the WCC's Most Valuable Player his final two seasons. He led the team in scoring, assists, and steals each of those years. He still ranks 15th on Pepperdine's all-time scoring list (1,392 points), is third in both assists (395) and steals (168) and 10th in blocked shots (86).
During Christie's three seasons playing for Tom Asbury, the Waves went 63-27, won two WCC regular-season titles and conference tournament championships and advanced to the NCAA Tournament twice.
He attracted dozens of NBA scouts to Firestone Fieldhouse and was later selected 17th overall in the 1992 NBA draft by the Seattle SuperSonics. Christie had a 15-year professional career and played with the Los Angeles Lakers, New York Knicks, Toronto Raptors, Sacramento Kings, Orlando Magic, Dallas Mavericks and Los Angeles Clippers. He was known as one of the league's best defenders and earned multiple selections to the NBA All-Defensive Team.
---
Lady Margaret Thatcher Visits Pepperdine London House for Historic Reopening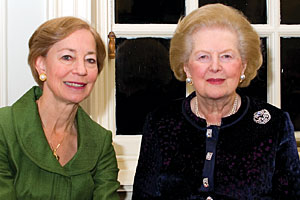 Alice Starr (left) and Lady Thatcher
Special guest Margaret Thatcher, former prime minister of the United Kingdom, was presented with an honorary doctorate at the event. "Lady Thatcher has been front and center in the making of history and, in many respects, in shaping the free world," says President Benton. "To honor her was a rare and memorable opportunity to bring her into the Pepperdine community and to say 'thank you' to her. What a privilege."
The London House is used by students of both the School of Law and Seaver College. Since 1981 the School of Law has offered its second- and third-year students a summer session or full fall semester program in London, fully approved by the American Bar Association. The program for Seaver College students includes visits to museums, art galleries, libraries, houses of Parliament, and other historical and cultural sites. The central location of the London House allows students to reach London's theatres, concert halls, and shopping areas in a matter of minutes.
"This house embodies precious memories," notes Seaver College dean Rick Marrs. "It is in the London House that the students create community. They make deep friendships that will last a lifetime."
"I am so pleased to say that it was done just right. We have preserved a place of many memories and we have prepared this special residence for her next 20 years of service," Benton adds. "Our alumni and students will be proud."
---
Psychology Professor Lou Cozolino Authors New Book on the Aging Brain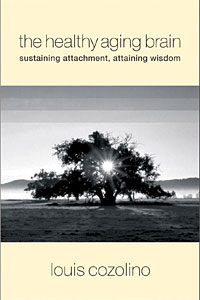 Lou Cozolino, professor of psychology at the Graduate School of Education and Psychology, has authored a new book exploring the science behind maintaining a healthy brain. The Healthy Aging Brain is based on Cozolino's research into childhood brain development and the physiology of adult minds, particularly looking at ways in which optimal brain capacity can be maintained in later adulthood. The book is designed for the lay reader looking to keep an active and healthy mind as much as it is for doctors and psychologists.
Cozolino has maintained an academic interest in neuroscience throughout his career, having conducted empirical research in schizophrenia, child abuse, and the long-term impact of stress. He received his doctoral in clinical psychology from the University of California, Los Angeles, after earning degrees in philosophy and theology from Harvard University and the State University of New York, Stony Brook. He previously authored The Neuroscience of Psychotherapy, and maintains a clinical and consulting practice in Los Angeles.
For more faculty books in print, please visit www.pepperdine.edu/academics/research/.