Quick Sticks and Cross Checks
Pepperdine Lacrosse celebrates 25 years.
On a cold, gray February day in Detroit, Scott Tynan ('89) boarded a plane and traveled more than 2,000 miles to Southern California, anxious not only for the sunshine, but to get back on the lacrosse field with some of his best college buddies from Pepperdine.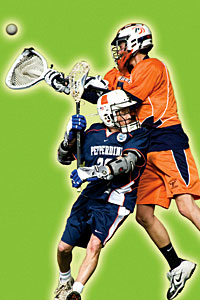 This year's alumni game marked the 25th anniversary of the team's conception, and the flurry of e-mails, phone calls, flight itineraries, and old war stories being passed around before the February 7 game promised a record turnout in Malibu. "We have guys coming from California, Arizona, Texas, Colorado, Michigan, Kentucky, Missouri, and Indiana," noted Ravi Desarazu ('90), who helped coordinate the event.
Unfortunately, the weatherman also promised record rains in Malibu, leaving the field in soggy disrepair. But these stalwarts faced bigger challenges in the past—like getting the team off the ground, for instance.
In 1984, there was no lacrosse program to speak of at Pepperdine, so a few dedicated players got together to establish lacrosse as a club sport, meaning that funding had to come from the players themselves. Yancey Rushton ('87) was one of the founding fathers. "We probably raised $30,000 a year," he said. "At the time, we were the only team with matching uniforms."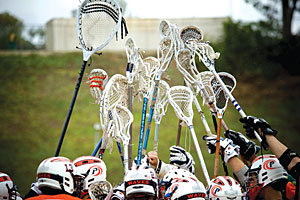 Byron Hemingway, a coach from that pioneer team, also made the trip to Malibu for the game. "I haven't seen these guys in 23 or 24 years," said the strength and conditioning coach, for whom the lacrosse team's wind sprints have been named. "It's inspiring to see them back here getting together."
Members of that inaugural team have remained in close contact through the years, organizing alumni events and supporting the current team. "Even though it's a club sport, we treated it as a varsity sport and we all feel like we're part of a team," explains Rushton.
Alex Diener ('91), now an associate professor of geography at Seaver College, played lacrosse in 1989 and 1990. "When someone asks me who I keep in touch with, it's really the guys from that team," he says. "Club sports provide students an outlet to be on a team, wear the jersey, don the school colors, and go out and compete."
On game day, 34 alumni players arrived with sticks, families, smiles, and stories in tow. Despite the forecast, the sun peeked through at tip-off. Detroit-native Tynan got his dose of sunshine, but just minutes into the game, something happened that he hadn't hoped for at all. "The very first time I touched the ball, I got checked by two guys and threw my back out," he lamented, sidelined by the injury. "I asked him to ref," griped his wife, Irene, tending to him worriedly.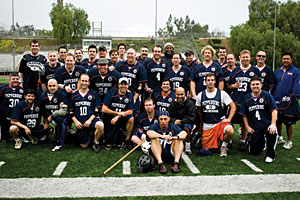 Tynan was the first inductee into the Pepperdine Lacrosse Hall of Fame in 2001 as the team's highest scorer. His spine crunching injury opened up the conversation to the team's history of bodily havoc. "I tore my Achilles in this game five or six years ago," said Paul Mellinger ('92). "I broke my septum once. Before the game even started," laughed Steve Gandee ('94).
While historically, alumni tend to prevail in these games, this year's current team dominated. "We cannot lose to our alumni!" student coach Max Biedermann ('12) barked during a timeout. "They have a lot of pride in this program, and if we let them walk all over us, it shows that we don't take it the same way."
Four years ago the team actually had to end their season early due to low turnout, but the 2008-09 team has 26 active players on the roster. The team leaders also found a sponsor in Harrow Sports, a two-year deal and the first sponsorship the program has ever signed.
With the clock running down, the current Waves scored twice to seal the 9-5 victory, a symbolic one for Waves lacrosse. "It shows us that we've gotten better as a program, that we've progressed," said Biedermann. "Besides, you never want people older than you to beat you. I'm sorry; it's true."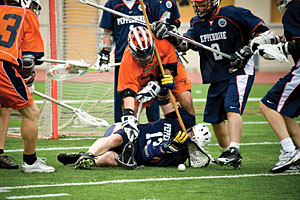 Despite their loss, the alumni were in high spirits as they lined up to shake hands with their younger brethren. "I would rather lose to tell you the truth," Tynan said from the sidelines. "I get more joy knowing that the team is better than to have the alumni win every year."
The rain soaked his alumni jersey as he lay in anguish on the wet ground, but Tynan insisted he wouldn't want to be anywhere else. "I didn't join a fraternity at Pepperdine, and the lacrosse team was my fraternity, so I feel as close to these guys as anyone. A lot of the guys I haven't seen in 20 years and it feels like I just saw them last week, it's so natural. They're my best friends."