Standing Up for Understanding
Melissa Umbro knows that the best way to understand someone is to walk a mile in their shoes.
Melissa Umbro knows that the best way to understand someone is to walk a mile in their shoes. Through her trip to Indonesia, she'll learn what it's like to be Muslim, and what it's like to be a Fulbright award winner.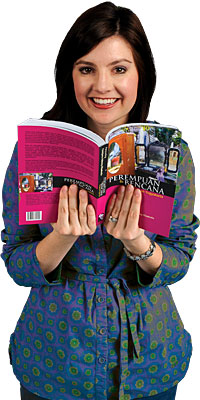 While most people play music or talk-radio during their commute, Melissa Umbro ('02) blasts Bahasa Indonesian instructional language CDs.
"Hai, apa kabar," she repeats. "Hello, how are you?"
After months of preparation, Umbro recently embarked on a 10-month journey to Indonesia, where she will complete a project that's been three years in the making. The trip is made possible by the U.S. government's prestigious program in international educational exchange: the Fulbright Scholarship.
"Indonesia is the most populous Muslim nation in the world and it doesn't get a lot of attention for that," she says, explaining that although Indonesia's more than 200 million Muslims constitute an overwhelming majority, the country is not an Islamic state. "Because it's a secular state, it's fairly moderate. There are obviously extreme groups, but there are millions of people who are moderate."
Currently, the number of Muslims in the world is estimated to be between 1.25 and 1.84 billion, making it the second largest religion in the world. Terrorism and the media's focus on the condition of women in the Muslim world have cast a dark shadow upon the religion, but Umbro believes there is more to Islam than the actions of its extremists. "My goal for the project is to really understand, communicate, and disseminate information about the actual reality that Islam is very peaceful," she says.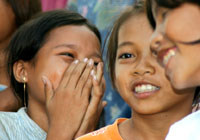 After graduating from Pepperdine in 2002, Umbro completed a master of divinity at Fuller Theological Seminary. She first became interested in Southeast Asia in 2005, when she and her husband took a trip to Cambodia and hosted a retreat for relief workers. "It was then that I became really intrigued by the role that women play in community development."
She saw firsthand the power of collaboration among women in rural areas. "The relief organization had trained women in this village to teach other villagers basic life skills related to health. In one year, they had seen the infant mortality rate decrease by a substantial amount."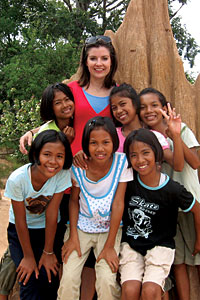 The emotional support system also became evident when she visited an AIDS relief program. "There was a group of infected women in varying stages of the disease," she recalls. "There's an obvious stigma for those who have tested positive for HIV/AIDS and I remember being so touched by the hope that they had collectively, and by the stories they shared."
The following year, she returned to Pepperdine, not as a student, but as a staff member, taking on the new role of coordinator of national scholarships and awards. "My role is to recruit students to apply for awards, help them put together the application, edit their documents, and provide mock interviews where applicable in the hopes of having more and stronger applications," she says.
Since her arrival, more than 30 Seaver College students have won major academic awards. In 2008 a record five students won Fulbright scholarships, the most Pepperdine has ever seen in one year.
So Umbro decided to put her knack for cracking the Fulbright code to the final test: submitting an application herself. "I realized how much I was drawn to the Fulbright program, and because there's no age limit, I thought, this is one that I actually could try for and it would even help me do my job better here."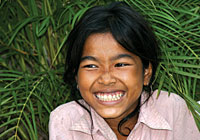 Now she's undertaking a journey to explore faith in a contemporary Muslim nation, and specifically the role that women play in its evolution. "I'm really interested in how they read religious texts, and how Muslim women there are shaping Islam and reading the Qur'an."
She hopes to empower women to become activists in peace building and to promote interfaith dialogue. "I hope to have a Web site for the project connecting people from different countries who have fairly different religious traditions.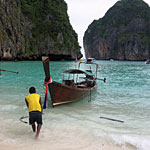 Much of the project will be determined as the trip unfolds, and in these early days of her journey, Umbro is full of anticipation. Most exciting, she says, is the opportunity to join the cadre of men and women who are shaping the world through their Fulbright awards. "I like Fulbright's overarching goal, which is to increase mutual understanding between people of the U.S. and people of other countries. Eight years after 9/11, the time has come to see what really is true about Islam."