Global Links
Martine de Gannes represents Pepperdine and her homeland of Trinidad and Tobago on the golf course.
Born in Port-of-Spain, Trinidad, Martine de Gannes grew up in a family of national athletes. Her father was a golfer for Trinidad. Her mother swam for Trinidad. Her older brother competes on the Trinidad national sailing team.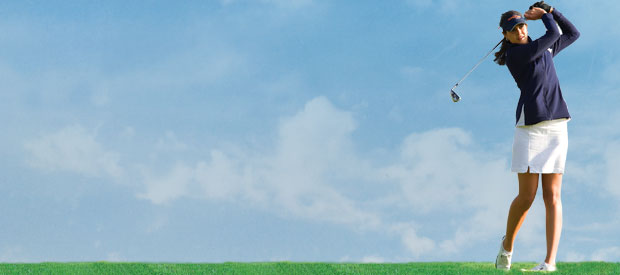 So when the Seaver College student first picked up a golf club at age 12, she too was asked to join the ranks of the national team of her homeland. "I literally just had to be a human being who was 12 years old and could swing a golf club," she says modestly.
But de Gannes was a natural. From 2005 to 2007, she was ranked as the No. 1 Ladies Golfer in Trinidad and Tobago with three Trinidad and Tobago Ladies Amateur Championship trophies, four Caribbean Amateur Junior Championship trophies, and two nominations for Trinidad and Tobago Sportswoman of the Year under her belt.
Now she swings the club for the Pepperdine, where she is studying advertising and maintains an enviable GPA. "I've come a far way from where I'm from. There are not many resources in Trinidad, so being able to come to a top program was something that I never saw as being possible, but it just fell into place."
During her summers off from Waves golf, she represents her country in international competition. "I have been as far as South Africa and Australia, along with Mexico, Canada, and a whole host of other countries, playing for Trinidad," de Gannes says. "The honor to represent your country once is special; I cannot believe that I have been lucky enough to represent Trinidad on national teams 19 times to date."
In her freshman year at Pepperdine, de Gannes earned All-WCC Honorable Mention honors, but was sidelined in her sophomore year due to an injury. Now in her junior year, she has come back with a strong season, earning a ninth-place finish in her first tournament back at the Golfweek Conference Challenge.
"Golf is one of the few sports where one's success is the sole result of all the hard work that he or she puts in. It tests all aspects of character, determination, and perseverance to push through all 18 holes and see that last putt drop into the hole," she says.
While she is almost 4,000 miles from home, de Gannes says that the community she's felt at Pepperdine helps stave off homesickness. And when that won't do, she thinks about all of the people who have helped to get to where she is today. "It's amazing to look back and see how it all began and to see where I am now," she says. "Even I get moments of disbelief that I am actually at Pepperdine playing for one of the top ten teams in the nation."