The Inside Scoop
Technologist john shearer brings 25 year of start-up success to the Graziadio School's entrepreneurship program.
When John Shearer was 17 years old, working at an ice cream shop in a lake town in Minnesota, his parents announced that they were moving the family to New York. "I didn't want to move," he recalls. "I was about to be a senior in high school."
Instead of packing his bags, Shearer did something unheard of for someone his age: he bought the ice cream parlor. "I talked to the guy who owned the ice cream parlor and he offered to sell it to me.
It was a little house, so you could live in the back. I took out a small business loan and that was that. My parents moved to New York; I stayed."
Selma's Ice Cream Parlor gave Shearer his first taste of business success, and he used the profits to put himself through college at the University of Colorado, where his interests turned to physics. "That's when the innovative stuff started turning in the brain.
My apartment was covered in whiteboards, so that I could work on these crazy ideas because they'd take days and weeks. Friends would come over and we'd mess with goofy equations," he says.
Though he was fascinated by technology and lab research, Shearer's passion for business wasn't left behind at the ice cream parlor, so he decided to pursue an MBA. "I knew I had that entrepreneurial spirit, but there was no training for that in the MBA program. I can remember one seminar where they brought in successful entrepreneurs and I was dying to talk to them about how they did it."
Fearless once again, Shearer and a friend began a small start-up business based on some technology he spotted in Japan used in medical DNA analysis. Shearer envisioned a new use for it: mapping. With funding from Hitachi, Shearer founded Information and Graphics Systems, Inc., which became the exclusive worldwide distributor, system integrator, and product developer of CAD design software. In the first two years, he grew revenues to more than $10 million. "It ended up becoming three or four different companies," Shearer says.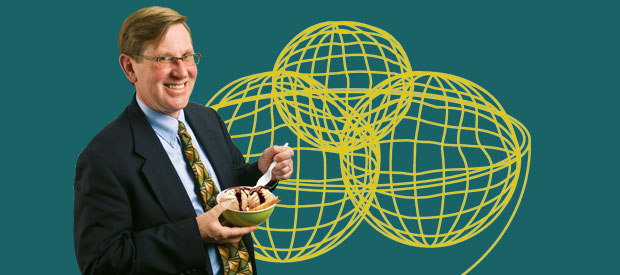 This was just the first of Shearer's four successful business start-ups. After selling Information and Graphics Systems, he spun-off IGS, a telecom and energy network facilities inventory company, working closely with Oracle. He then cofounded Connexn Technologies, Inc., which became a leading provider of revenue assurance software to the telecom industry. It was acquired by Azure in 2004.
Based on his success, Shearer often consulted for small companies and helped them raise money. He also worked on behalf of venture capital firms, evaluating technology and portfolio companies in the U.S., U.K., and Ireland. "I just love the front-end—the risk, venture-creation thing. That's what I'm best at. When the company is super stable, that's boring," he says.
During his "off time," Shearer came up with the idea for his most recent venture, Powercast Corporation. "I devised a way to harvest the energy in radio waves to power low-powered devices," Shearer explains of his invention, the Powercast Wireless Power Platform, which charges electronics wirelessly.
With this idea, Shearer has acquired more than 100 wire-free power technology patents and earned widespread recognition, including CNET's CES 2007 Best Emerging Technology Award, LAPTOP Magazine's 2007 Mobile Maverick Award, and, most recently, the 2009 "Best of Sensors Expo" Gold Award for its energy harvesting module.
Larry Cox, director and chief architect of the entrepreneurship program at the Graziadio School of Business and Management, met Shearer while a professor at Ball State University. His students chose Shearer to be honored at an Ascent Awards ceremony. "He's a perfect blend of technologist and entrepreneur. He's endlessly curious about technologies, but knows how to turn them into profitable ventures," Cox says.
When he was recruited to revamp the entrepreneurship program at Pepperdine, Cox realized that Shearer was exactly the piece of the puzzle that the new curriculum was missing. "Technology-based innovation simply cannot occur without the participation of a scientifically minded content expert," says Cox, who asked Shearer to be Pepperdine's first entrepreneur-in-residence. "John understands the science in a wide range of domains, and is able to locate and evaluate technologies with significant commercial value in university and private-sector locations."
In this new role, Shearer works as a matchmaker, connecting students to content, processes, or technology that will help galvanize the ideas that the students have come up with. "It's like being a technology concierge," he says, "and utilizing technology to solve a problem that people care about and are willing to exchange a dollar for."
He'll also help develop the new curriculum, which he likens to, you guessed it, starting a business. "It's just like a start-up. The product is the curriculum. Now, how is it working? If it's working, the students are actually creating viable ventures."
Shearer will continue to work on his own ventures, but is most excited about the business of producing future entrepreneurs at Pepperdine. "I love when I see other entrepreneurs pull it off. Watching that phase when it's the idea, it's the passion, and then seeing them pull it off, that's the most gratifying thing you can ever imagine."