News
Pepperdine Magazine is the feature magazine for Pepperdine University and its growing community of alumni, students, faculty, staff, and friends.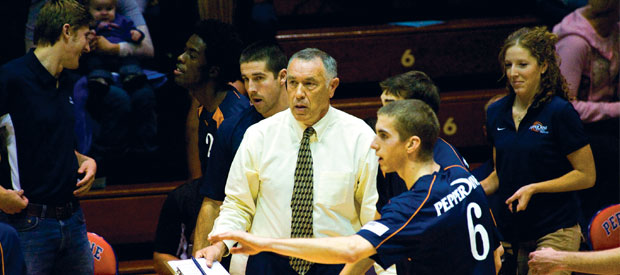 MEN'S VOLLEYBALL COACH MARV DUNPHYWINS 500TH CAREER MATCH
Coach Marv Dunphy won his 500th career match when the No. 1-ranked Pepperdine men's volleyball team knocked off No. 5-ranked Cal State Northridge in Mountain Pacific Sports Federation action on February 26.
Now in his 27th season, Dunphy appears to be only the fifth men's volleyball coach to have reached the 500-win plateau (the NCAA does not keep official records). The Volleyball Hall of Fame inductee has won four NCAA championships, and in addition to his coaching of the Pepperdine men's volleyball team, he has had a long, successful coaching tenure with the U.S. National Team.
---
GRAZIADIO SCHOOL STUDENTS COMPLETE FIRST EDUCATION TO COMMUNITY NONPROFIT CONSULTING PROJECTS
One of the biggest challenges facing the leaders of nonprofit groups is figuring out how best to organize unpaid employees, says organizational theory and management professor Mark Allen. Students of the new master of arts in management and leadership (MSML) program at the Graziadio School of Business and Management are helping a number of Los Angeles area nonprofit organizations do just that.
In small teams the students of the fully employed program provide consultation services to community-based organizations as their Education to Community (E2C) Capstone Project—a nonprofit partner to the Graziadio School's highly successful Education to Business (E2B) program. "They get to apply what they've learned about management and leadership to real-world situations, and they get consulting experience," says Allen, who acted as faculty advisor to the first three groups to launch the initiative. "And the nonprofit receives high level consulting for free. It's a win-win."
The inaugural E2C groups pioneered the program last year by partnering with three local nonprofits: impossible2Possible, Glendale Healthy Kids, and the Aquarium of the Pacific in Long Beach, California. Ryan Lee, an instructor for the Los Angeles Police Department, worked with his teammates to help the aquarium volunteers organize and market their first ethnic event, through local churches and schools rather than pricey advertising campaigns.
Lee calls the consultant-organization relationship a "delicate balance." "They're not paying us, of course, but we are telling them what they can and need to do better. It's work that requires building a solid relationship." Students who consulted with impossible2Possible, which sponsors youth volunteer expeditions, helped the nonprofit to better organize its team of volunteers, while the team consulting with Glendale Healthy Kids taught the organization's executive director how to delegate the work to willing and able volunteers.
At the end of the experience, the teams presented what they had learned and achieved. "Seeing the passion for their work as they spoke about what they brought to the table, and how the organizations benefited, was one of the most gratifying days I've had as a professor," Allen says.
---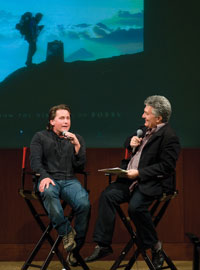 CENTER FOR ENTERTAINMENT, MEDIA, AND CULTURE DRAWS FILMMAKING TALENT TO PEPPERDINE
Since opening last fall the Center for Entertainment, Media, and Culture (EMC) at Pepperdine University has drawn filmmakers to campus each week for popular film screenings and premieres. The center is directed by Craig Detweiler, associate professor of communication.
"I've been so energized by the response to the EMC from students, staff, alums, and the local community. Pepperdine's media initiative has been a perfect fit for Malibu," says Detweiler, who notes the integral support of EMC friends like Brad Cummings ('88), publisher of The Shack.
EMC events give students the opportunity to discuss the industry with directors, producers, and stars, including Oscar-nominated actor Gary Sinise and his documentary The Lt. Dan Band: For the Common Good. In addition to a number of other interesting and often topical films, director John Lee Hancock answered questions about his surprise hitThe Blind Side, and screenwriter/director Emilio Estevez presented a sneak preview of his new filmThe Way.
As well as bringing high-quality entertainment and top-class filmmakers to Pepperdine, the events exemplify EMC's mission to "create entertainment for the (un)common good." "We've partnered with local organizations committed to human rights," says Detweiler. "Our screening of The Stoning of Soraya M focused on women in Iran, but also highlighted the local work of Northridge Hospital Medical Center's Center for Assault Treatment Services. In addition, we screenedWhite Rainbow, an award-winning film from Pepperdine grads Dharan ('83, MBA '86) and Linda Mandrayar ('84) that spotlights the plight of widows in India; Pepperdine's Volunteer Center is now organizing a summer trip to support women in India."
pepperdine.edu/entertainment-media-culture
---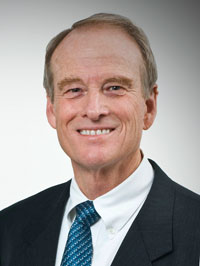 THOMAS G. BOST NAMED INTERIM DEAN OF THE SCHOOL OF LAW
President Andrew K. Benton and provost Darryl Tippens have jointly named Thomas G. Bost interim dean of the Pepperdine School of Law. Bost, former chair of the University's Board of Regents, has served as a professor of law at Pepperdine since 2000. He served as associate dean for academics in 2009.
"Professor Bost is one of the most valued friends and respected individuals the University has ever known," said Benton. "I could not imagine a more qualified person to lead our law school while we search for a new dean."
Bost's appointment becomes effective June 1, the day departing dean Kenneth W. Starr becomes president of Baylor University in Waco, Texas.
"Tom Bost is a wonderful choice to serve as interim dean of the law school," noted Tim Perrin, vice dean. "He is a superior classroom teacher, a distinguished scholar, and a wise and much-beloved colleague. He is uniquely prepared to lead the law school at this moment in its history."
Bost specializes in tax and corporate law and has been prominent in the professional legal community for more than four decades. He and his wife Sheila, who currently serves on the Board of Regents, are longstanding members of the Pepperdine community.
---
SCHOOL OF LAW HOSTS DISTINGUISHED GUESTS
The School of Law hosted the Honorable Anthony M. Kennedy, associate justice, United States Supreme Court for the fourth annual William French Smith Memorial Lecture. Just weeks later, Lord Nicholas Phillips, president of the Supreme Court of the United Kingdom, spoke at the 33rd annual School of Law dinner.
---
TEN OF PEPPERDINE'S FEMALE GREATS HONORED BY THE WEST COAST CONFERENCE
Ten of Pepperdine's greatest female student-athletes have been named to the West Coast Conference's 25th Anniversary Team, created in honor of the 25th season that the WCC has sponsored women's athletics.
The conference took nominations from each of the schools and a panel then voted on the top 50 female athletes in the league's history. Pepperdine's 10 selections come from women's basketball (Rasheeda Clark ), women's golf (Katherine Hull , Carolina Llano , and Lindsey Wright ), women's tennis (Ginger Helgeson , Janna Kovacevich , and Angela Lawrence ), and women's volleyball (Julie Rubenstein , Nicole Sanderson , and Katie Wilkins ). Pepperdine and Portland led all schools with 10 selections apiece.
"Countless outstanding female student-athletes have competed in the WCC, establishing it as one of the premier conferences in the nation for women's athletics," said WCC commissioner Jamie Zaninovich. "These 50 individuals represent the elite of their respective sports at the collegiate and international levels."
For career highlights of each of the selected athletes, visit: magazine.pepperdine.edu/wcc-greats
---
GRAZIADIO SCHOOL ESTABLISHES CENTER FOR TEACHING AND LEARNING EXCELLENCE
The Graziadio School of Business and Management has announced the establishment of the Center for Teaching and Learning Excellence. Charla Griffy-Brown, associate professor and discipline lead of information systems, has been named director.
"The center will engage in actionable research and lead the development of faculty and learning solutions that addresses the changing marketplace for professional talent and responds to economic realities," says Griffy-Brown, who joined the factulty in 1999.
Graziadio School dean Linda A. Livingstone explains that the center is part of the school's long-term strategic goal to enrich learning and aligns with the Graziadio School's mission to develop values-centered leaders and advance responsible business practice.
Among the center's many priorities are effective, affordable learning programs that blend traditional classroom delivery with online instruction and other innovation-driven options, as well as improved faculty resources in experiential learning.
---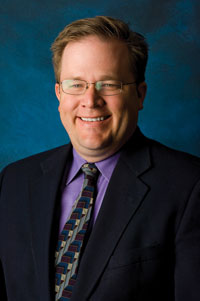 WINDS OF CHANGE INTEGRATES CHRISTIAN FAITH WITH SCHOLARSHIP AND TEACHING
The Graziadio School of Business and Management hosted "Winds of Change," a one-day event for Christian academics to discuss how various worldviews including Christianity influence basic assumptions and the thought processes behind academic disciplines. This first-time event also examined some practical efforts for having a Gospel influence on students and colleagues.
"The Winds of Change was created to give Christian professors an opportunity to explore together ways in which to influence their campus and discipline in ways consistent with their faith," says David Smith (pictured), associate dean of academic affairs at the Graziadio School. "It was our hope and expectation that the faculty attending be equipped with ideas, and leave with renewed vision for their role in their respective colleges and universities."
The schedule included two plenary sessions for professors, future professors, and spouses. The first, "Christianity and the New University Terrain," was hosted by Douglas and Rhonda Jacobsen, Visiting Distinguished Scholars from Messiah College (see page 32 for an interview with the Jacobsens). The second, "Taking Integration to the Next Level: Discernment, Disintegration/Integration, and Transformation," was led by Mary Poplin, professor of education at Claremont Graduate University.
The late February event also included several practical ministry seminars on topics ranging from "Civic Engagement for Students and Professors" to "Sexual Identity Issues: Speaking the Truth in Love on Your Campus."
bschool.pepperdine.edu/events/windsofchange
---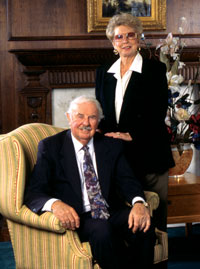 PEPPERDINE REMEMBERS LINDA GAGE AND REVA GRAZIADIO
The Pepperdine community was saddened to learn of the passing of Linda Gage and Reva Graziadio, two dear friends of the University.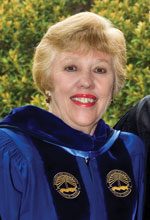 Board of Regents member Linda Gage "was uncommonly humble, yet focused in her service on our Board of Regents," said President Andy Benton. "Everything she did showed evidence of careful thought and preparation, and she never lost sight of what really matters most at Pepperdine—the student."
Gage served Pepperdine's governing body since 1996 and represented the University in a variety of organizations related to Churches of Christ, Christian education, and Pepperdine's nationwide work to benefit and strengthen families and marriages through the Boone Center for the Family.
Reva Graziadio and her husband George endowed the George L. Graziadio School of Business and Management in 1996. She was a faithful member of the school's Board of Visitors, a Pepperdine Life Associate, and a member of the Platinum Wave Society, the University's most prestigious giving circle.
Pepperdine University has been blessed by the Graziadio family's steadfast commitment, naming many campus spaces in their honor including the Reva Graziadio Lobby within the Graziadio Executive Center and the Graziadio Seminar Room in the Young Center for the Graduate School for Education and Psychology. An endowed scholarship also bears her name.
---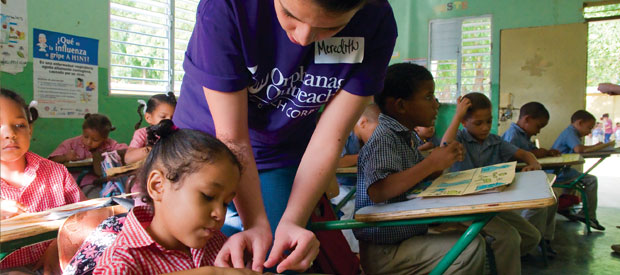 STUDENTS GIVE BACK ON SPRING BREAK
Spring Break is traditionally a time to cut loose and take it easy, but for 200 Pepperdine students it was an opportunity to assist communities around the world in building homes, mentoring children, providing medical care, and fostering faith.
During the first week of March, 15 groups of students traveled to various corners of the world, including Fiji, Guatemala, the Dominican Republic, and Panama, as well as a number of locations within the United States such as Chicago, Illinois; Waco, Texas; and the San Carlos Apache Reservation in Arizona.
Pepperdine first lady Debby Benton accompanied an education outreach group to the Dominican Republic, where they taught a variety of subjects in local schools.
Learn more about all of the Project Serve trips, including an alumni trip to New Orleans: magazine.pepperdine.edu/project-serve
---
IMPROVING LITERACY AND MATH SKILLS IN LOW-INCOME LOS ANGELES SCHOOLS
Anthony Collatos, assistant professor of education at the Graduate School of Education and Psychology, has been awarded a $195,000 grant from the prestigious California Community Foundation (CCF) to implement a program to improve student achievement in K–5 schools demonstrating the greatest need.
The program will facilitate professional development for teachers to enhance the quality of education and students' literacy and mathematics skills in the most underserved communities in Los Angeles County. Provided under CCF's Education Collaborative Initiative, the grant directly supports the mission of the GSEP Urban Initiative, an umbrella program established to effectively prepare students for long-term work in culturally diverse and under-resourced urban areas.
"Through a series of professional development workshops and continuous on-site mentoring, we hope to provide quality instruction that raises students' academic performance in English language arts and mathematics," said Collatos, director of the Education Collaborative Initiative Planning Grant. "We hope our unique approach will provide a model for how university faculty and educational experts can work with teachers to maximize the potential of small learning communities and grade level organizations."
---
REGENTS CHALLENGE FUND INSPIRES PEPPERDINE'S FIRST ENDOWED SCHOLARSHIP BY A FRATERNITY
Members of the George Pepperdine College Sub-T fraternity and its Seaver College successor Sigma Phi Epsilon came together this year to fund the first scholarship endowed by a fraternity or sorority at the University. The scholarship will support students who exhibit leadership skills and a commitment to service.
The Sub-T and Sigma Phi Epsilon Endowed Scholarship is but one of 48 major gifts for scholarships inspired by nine of Pepperdine's regents who last summer offered a 1:2 match on new scholarship gifts. The regents also offered a 1:3 match for new Pepperdine Associates, resulting in 83 alumni, faculty, and staff joining this distinguished annual giving society. All told, the Regent Match raised over $3 million.
---
SCHOOL OF PUBLIC POLICY WELCOMES SCHOLAR WILFRED McCLAY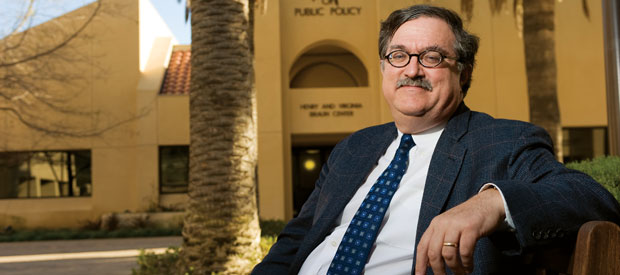 Throughout his career in academia, Wilfred McClay has always taught in history departments, so he deems his appointment as the 2009-2010 William E. Simon Distinguished Visiting Professor at the School of Public Policy "a real treat." "These students are aspiring to careers in public policy, so it can be the same material but received in a completely different way. The students pose questions with a practical edge," he says.
He set his students to work in the fall semester on a discussion about experts and the people who need to make decisions based on expert knowledge. He cites health care, forensic science, and the climate as areas crucial to policy or justice in which expert science or testimony needs to be trustworthy. "We raised the question, how do we ensure the experts are accountable in their own field? And what is the role of nonexpert knowledge?"
This semester he is changing direction to explore how cultural geography plays a key role in shaping policy and how the size and scale of a place can have a major impact on the safety, health, and happiness of the community. "It was Aristotle who argued that the city has to be a particular size in order to flourish," he comments. "The course is designed to test this principle and look at the various ways we construct a sense of 'place' in our towns and cities."
The study of American society has been McClay's mainstay throughout his career. He explored American intellectual history for his PhD from Johns Hopkins University in order to "connect with the country I grew up in and was a part of," and has been a champion for the humanities ever since. His 1994 book, The Masterless: Self and Society in Modern America, won the Merle Curti Award for the Organization of American Historians, and remains in print 16 years later.
McClay is the SunTrust Bank Chair of Excellence in Humanities, and a professor of history, at the University of Tennessee at Chattanooga, and is the Senior Scholar at the Woodrow Wilson International Center for Scholars in Washington, DC. He also sits on the board of the National Endowment for the Humanities.