Style with Substance
Jeff Garner's eco-designs make social activism a fashion statement.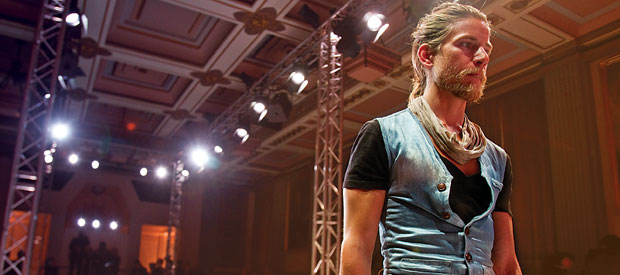 For kids growing up in rural Tennessee, fashion design isn't really a conventional career path. Fortunately for the fashion world, Jeff Garner ('00) has never been too concerned with convention.
The founder of Prophetik, a clothing line of 100 percent sustainable, chemical-free, eco-friendly garments, Garner gravitated towards fashion from the start. "I used to steal my sister's Barbie sketch pad and go hide in my room and sketch clothes," he confesses. After rejecting his family's plan for him to attend West Point, he jumped in his old Jeep and left Tennessee for Southern California. He enrolled at Pepperdine, and had to find a way to pay his tuition.
"I had never even thought twice about acting, but I went on an audition and got my first gig," he remembers. Interestingly enough, "it was a Barbie commercial, and it ended up paying for the rest of my school. "
Garner played "Blaine," the surfer deejay who came between Ken and Barbie, in a series of national and international commercials. "The cool part was that they liked my energy and style, so they let me have influence in the design of the clothes for Blaine," he says, joking that he might still be working the farm if it weren't for Barbie. "I kind of had to laugh at myself, thinking who would've known? Because growing up in the South, that wasn't really accepted."
During and after college, Garner got more entrenched in the entertainment business, working in management for Fleetwood Mac, Barry Manilow, and Donna Summer. Soon he was designing stage clothing for the artists. "I loved just sitting down and talking with people and finding out what makes them tick—what's their energy about, where their art comes from, and it just got me inspired."
After three years in the business, Garner decided to give it all up to hone his passion for fashion, apprenticing for three months under JAK, founder of Artine Clothing. For Garner, giving up his lavish lifestyle was a relief, not a risk. "I felt so refreshed. It allowed me to get in tune with my senses."
He moved back to Tennessee to set up shop locally and redevelop his natural instincts. "I cut everything back," he says. "I like being uncomfortable. I'll sleep outside. I don't run heat in my house, I dress for the weather and I use candles. I don't want to get desensitized."
With his first fashion lines, he bucked the traditional method of creating 50 pieces and hoping a few of them get picked up. "That's such a waste of energy and material and time," he says. "I designed a complete line, and just went forward and produced it and said, 'this is the line.'" Fortunately, the buyers bit. "I've been lucky. The buyers liked the concept and the story."
Since that first line was picked up in 2003, Garner has continued to create new, complete lines every season, all the while growing more environmentally and socially conscious. He handpicks certified fabrics, creates his own dyes from materials in the Nashville community organic garden, and pays fair wages to workers to produce the garments.
Believe it or not, those workers include elephants. "I usually pick one charity or project a season," he says explaining that "The Elephant Project" emerged when he learned of the mistreatment of elephants in Thailand, where business moguls in the forestry industry use them to pull down trees.
"When Thailand ran out of land, the handlers couldn't be paid anymore, so therefore they couldn't take care of the elephants; the elephants went out on the streets to start begging, and the population went down from 30,000 to 3,000," he says.
Garner partnered with an elephant sanctuary, and discovered a new trade for his pachyderm friends: painting. "Elephants are amazing visual artists," he says. "Each one has their own unique style. They take their trunk and they move it back and forth, and they ask for a new color. They paint five square meters a day, and they love it. I turn that fabric into dresses, and we raise awareness." And money, which he uses, in essence, to pay the elephants fair wages. "The sales of the dresses and the seats at the fashion shows, all that went back to the sanctuary."
It seems that Garner's low-impact fashion is starting to have a big impact on the fashion industry. Prophetik's elephant dresses were featured in the 2008 London Fashion Week. He's also been pegged to style pop icons Miley Cyrus and the Jonas Brothers.
Despite the publicity, Garner remains committed to creating something of substance, or as he describes it, "wearable philosophy." "We're not looking at the profits and the trends, we're looking at what's in front of us, and what needs to be voiced," says Garner, whose new line, Southern Shores, just launched at the 2010 London Fashion Week, and is dedicated to conservation education.
Whether it's about environmental conservation, animal rights, or social injustice, Garner believes that having a social conscience will never go out of style.