Welcome Home Mr. Pepperdine
Pepperdine Magazine is the feature magazine for Pepperdine University and its growing community of alumni, students, faculty, staff, and friends.
Founder George Pepperdine has a new, permanent place at the University: overlooking the Mullin Town Square fountain in the middle of the Malibu campus. A life-sized, bronze statue of Mr. Pepperdine sits atop Barney's Bench, named for beloved alumnus and football star Barney Barnhart ('50). Positioned between the crosses of Stauffer Chapel and Rockwell Academic Center, the installation honors the University's rich history and commitment to faith and service.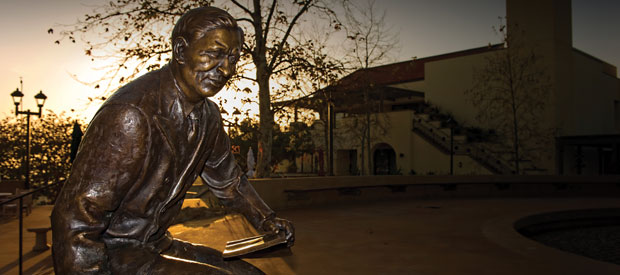 Learn more at magazine.pepperdine.edu/pepperdine-statue where you can:
View a photo slideshow of the statue and bench's creation
Listen to a podcast interview with sculptor Christopher Slatoff
Watch a video of the dedication ceremony