Behind the Curtain
Behind the scenes of every Pepperdine Fine Arts production is a team of designers, directors, and technical experts. Here's a glimpse into the work of costume designer Carol Ann Hack and orchestra conductor Tony Cason.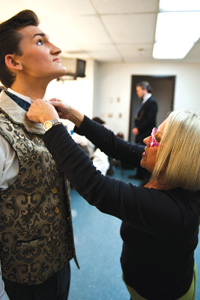 "I look at costumes as 3D sculptures mostly. They are an extension of art," says Carol Ann Hack, costume designer for the Pepperdine Fine Arts Division. Every year for the past 15, Hack has painstakingly built the visual expressions of character for theatre and opera productions at the University, each with unique aesthetic demands. "I can't even pick a favorite time period to design for. I like them all except for modern dress, which is as easy as buying a suit from Nordstrom. I don't like shopping!"
What she does like is the hunt. Her creative adventures typically lead her through the jungles of Los Angeles' thrift stores for costumes and accessories, through neighborhood fabric stores, and through the books of historical and conceptual fashion that line the shelves of her studio.
"Every new show is a challenge and I really enjoy doing the research and the creating," confirms Hack, who earned an MFA in costume design at the California Institute of the Arts in order to pursue her goal of designing for higher education. "We just recently did An Inspector Calls, which is set in 1914 in a period of silhouettes. It was fascinating because we can still get magazines from the era on eBay to do authentic research. It was also a small cast, so we could get everything perfect."
For Hack, a small cast means that she and her part-time assistant Jamie Hampton are able to design and create every costume from scratch in her studio, whereas the larger productions require some costume rental. "Sewing is a dying craft," she muses, adding that it's a vital step in the creative process.
Hack grew up inside community theatre in Michigan, where her mother was a performing soprano. She wanted to follow in her mother's footsteps, but tired of always being "the short dancer on the end." Instead, she found her perfect fit behind the scenes.
"I get as much of a thrill seeing my costumes on stage opening night as I did being on stage opening night," she says. "It's the creative challenges that fulfill me."
---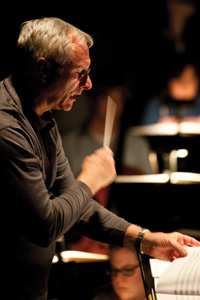 In just six years as the orchestra conductor at Pepperdine, Tony Cason has made significant changes to the shape of the Fine Arts Division's music program, including the founding of a wind ensemble and pep band. "We didn't have either when I got here, and they're both growing," Cason states. "Having the opportunity to create those programs here and seeing the progress year by year is a large part of my passion for conducting in a university setting."
Cason arrived at Pepperdine in Fall 2005 after retiring from a 34-year career as a conductor for the United States military, including 15 years as deputy commander of the United States Army Band, Pershing's Own, in Washington, D.C. Despite having previously performed in high intensity settings for world leaders and crowds of thousands, he continues to thrive off the thrill of live performance. "In a teaching environment or a professional environment, there's always things that can go wrong. The thing I enjoy is trying to keep it all together."
Each musical, opera, and symphony at Pepperdine has its own unique challenges for Cason. "The conductor in all three genres holds the forces together," he confirms. "This is certainly more pronounced in musical theatre and opera, when all the forces are at play. You must be ready to keep the voices and instrumental players together."
Familiarity helps the process to run more smoothly; Cason works closely with the same students during their four years at Seaver, aiding their progress and shaping their talents. "All of our students are wonderful young men and women. And it seems that the students we recruit and bring to the University are getting better each year."
Cason—who earned his bachelor's and master's degrees in music from the University of Memphis and the Catholic University of America, respectively—has fine-tuned his orchestra of performing students for an incredibly wide variety of productions at Pepperdine. From the large-scale musicals Hello Dolly!, Sweeney Todd, andThoroughly Modern Millie, to the much smaller orchestra used for the Flora L. Thornton Opera Program, he says choosing his favorite genre is like trying to choose a favorite child. "Rock, pop, jazz, classical, big band—I've done it all here. And I love it all!"