Dean Emeritus Ron Phillips Celebrates 40 Years at Pepperdine
Pepperdine Magazine is the feature magazine for Pepperdine University and its growing community of alumni, students, faculty, staff, and friends.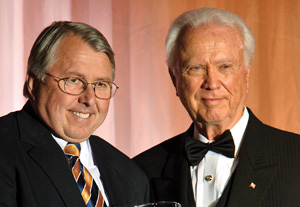 The School of Law celebrated Ron Phillips' 40 years at Pepperdine at the 34th Annual School of Law Dinner on March 5 in Beverly Hills, California. The event featured tributes to Phillips from alumni, faculty, and friends of the school. "I am deeply blessed," said Phillips, vice chancellor and School of Law Dean Emeritus. "Few people have been able to spend such a significant portion of their lives in such a rewarding endeavor."
Phillips is often referred to as the "architect and administrator of the Pepperdine University School of Law." He served as dean for 27 years before becoming Dean Emeritus in 1997. A member of the state bars of California and Texas, the American Bar Association, the American Law Institute, the Los Angeles Bar Association, and the Christian Legal Society, Phillips was a California commissioner of the National Conference of Commissioners on Uniform State Laws from 1988 to 2003. A Life Fellow of the American Bar Foundation, he was the chair of the section on the Administration of Law Schools in 1982, and was on the Committee on Courts from 1985 to 1987. He is admitted to practice before the U.S. Supreme Court and U.S. Court of Military Appeals.