Pepperdine Hosts Two Culturally Introspective Art Exhibits
Pepperdine Magazine is the feature magazine for Pepperdine University and its growing community of alumni, students, faculty, staff, and friends.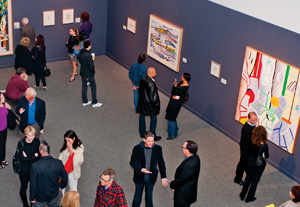 Two diverse art exhibits opened on Pepperdine's Malibu campus this spring, inviting viewers to explore both the method and meaning of cultural preservation.
Presented by the Frederick R. Weisman Museum of Art, "Roy Lichtenstein: In Process" was on display from January 22 to April 3 and provided rare insight into the artist's creative process. Lichtenstein's bold, graphic imagery focuses on the fascinating connections between mass culture, fine art, and everyday life. This exhibit—his first survey of original art shown in Los Angeles since 2002—featured 60 works created between 1973 and 1997 that show the development of his ideas into initial sketches and finished drawings through collages to the finished work.
"To have had an artist of such international stature at the Weisman Museum was a great honor and a testament to the ongoing quality of our art programs," says museum director Michael Zakian. "People, including myself, who thought they knew this famous modern master came away with a new appreciation for his work and vision."
Pepperdine Libraries and the Diane and Guilford Glazer Institute for Jewish Studies presented a photography exhibit in Payson Library from February 1 to April 25 titled "Traces of Memory: A Contemporary Look at the Jewish Past in Poland," which aimed to preserve the history of Poland's Jewish community and promote modern-day reconciliation between Jewish and Catholic faiths in Poland.
The exhibit, which pieced together the relics of Jewish life and culture in Polish Galicia that still exist, featured photographs by late British photojournalist Chris Schwarz, as well as research and texts by Jonathan Webber, professor at the Institute of European Studies at the Jagiellonian University, Kraków, Poland.