Pepperdine Remembers Beloved Friends of the University
Pepperdine Magazine is the feature magazine for Pepperdine University and its growing community of alumni, students, faculty, staff, and friends.
Pepperdine mourns the recent loss of beloved members of the University community: VIRGINIA B. (GINIE) BRAUN, FRAU MARY DREHSEL, and ELINOR NOOTBAAR.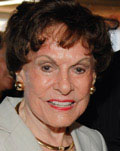 Virginia B. Braun joined the Pepperdine University Board in 1983. She was awarded an honorary doctor of laws degree by Pepperdine in 1985 and was named to the University's Board of Regents in 1995. The wife of Henry A. Braun of Pasadena, she contributed generously through the Carl F. Braun Family Trust to Pepperdine, especially its School of Public Policy. The Henry A. and Virginia B. Braun Center for Public Policy was dedicated in 2003 on the University's Drescher Graduate Campus.
Braun was born in Detroit, Michigan in 1917 and attended Briarcliff College in New York and Garland College in Boston. She was known regionally and nationally for her active volunteerism and involvement in civic, cultural, and educational enterprises. She was the founder and past president of the Republican Women Federated and held leadership positions on the Republican Finance Committee. She also attended many national conventions as a delegate on the State Republican Central Committee.
Braun is survived by four children—Barbera, Michael, Spike and Cindy; five grandchildren—Jennifer, Heather, Bro, Kern and Kyle and seven great-grandchildren—Zane, Durham, Hayden, Rainey, Simms, Barrett and Garrett.
"Ginie radiated life," said President Benton. "She inspired us with her optimism, her faith in God, and her faith in the enduring grace of the human spirit. She will long be remembered by Pepperdine as a shining role model as we endeavor to live up to her ideals and values. She will be missed greatly." Read more »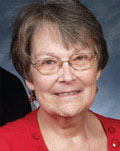 Mary Drehsel was a professor of German and academic coordinator of the Pepperdine University Heidelberg International Program. Her brave battle with cancer lasted for 18 years. She leaves behind her husband Karl Drehsel and four children, Susanna, Miriam, Karli and Markus.
"Mary touched the hearts of all the students and colleagues who knew her and loved her," said Charles Hall, dean of international programs. "She was a Christian role model to us all, a loving mother to her children, and an inspiring teacher. The Heidelberg International Program was graced with Mary Drehsel's presence for almost 30 years and will never be the same without her." Read more »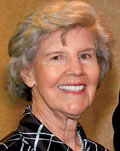 Elinor Nootbaar and her husband Herbert began their relationship with Pepperdine in the 1950s, and went on to endow the Herbert and Elinor Nootbaar Institute on Law, Religion, and Ethics. The Nootbaars' ties to Pepperdine began when Elinor joined the Associated Women for Pepperdine (AWP) and became acquainted with Pepperdine matriarch Helen Young. Meanwhile, Herb knew Helen's husband Norvel Young, longtime president of the University through the Los Angeles Area Chamber of Commerce. As the years went by, Herb and Elinor kept an eye on Pepperdine, and their direct involvement and support of Pepperdine increased when the School of Law named Kenneth W. Starr its dean in 2004.
n reconnecting with Pepperdine through Helen Young and her daughter Sara Jackson, vice chancellor for major gifts at the University, Elinor and Herb made a generous $6 million gift to the School of Law to endow the Herbert and Elinor Nootbaar Institute on Law, Religion, and Ethics; the Dean's Office; and to support the William French Smith Memorial Lecture Series. They have given an additional $4 million to further support the work of the Nootbaar Institute—making them among the most generous couples in the law school's history.
"The better we came to know Pepperdine University, its people, and its values, the more we felt the answer was in that direction," said Elinor in an article in Pepperdine's law school magazine. Upon learning about Pepperdine's Institute on Law, Religion, and Ethics, they felt it was a perfect fit. "When we realized the extent of the institute's work and the programs and mission, we were so inspired and wanted to help," said Elinor.
"Among the many ways Elinor Nootbaar supported the work of the Nootbaar Institute, one of her most important contributions was that of encouragement," said Bob Cochran, director of the Nootbaar Institute. "On many occasions, a conversation with Elinor left me, the Nootbaar Fellows, and others associated with the institute excited to continue the work of bringing the insights and compassion of Christ to the causes of justice and care for those Jesus called 'the least of these.' She will be dearly missed." Read more »