Tom Shadyac is Not Your Typical Hollywood Director
Acclaimed filmmaker and communication professor Tom Shadyac gave up his wealth and found that less really is more.
Who Are You? There are so many ways for people to answer this simple question and define themselves by their profession, citizenship, age group, or gender. Or when answering more specifically one might say, "I am" a mother, a son, a homeowner, a car driver, a soccer fan, an amateur photographer, or even a rare coin collector.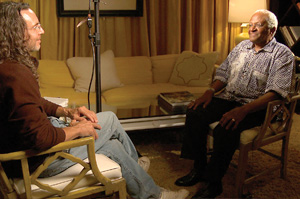 Tom Shadyac is an adjunct professor of communication at Seaver College, an acclaimed film director, producer, writer, cycling enthusiast, adventurer, American, comedian, friend, and much more. But despite a hugely successful film career that afforded him all the luxuries he could want as the director and producer of such smash hit films as The Nutty Professor, Ace Ventura: Pet Detective, Liar Liar, andBruce Almighty, Shadyac decided that he didn't want to be described as a private jet consumer, a mansion owner, a sports car driver, or anything else determined by material status.
Instead Shadyac gave up his Hollywood lifestyle to embrace a life rich in community and inner joy. He donated his surplus money, quit flying by private jet or in first class, and sold his mansion in Beverly Hills to move to an attractive but modest trailer park in Malibu, where he knows his neighbors and relishes the close community. He joined the Pepperdine faculty to share his passion with talented young filmmakers. And after realizing that a simpler life made him happier than he had ever been before, the filmmaker decided to explore his newfound peace in a deeply personal documentary film, I Am, which premiered at film festivals in Fall 2010 and went on general release this February.
"There's all kinds of evidence now that money and material wealth makes you happier when it buys you out of the burdens of homelessness and hunger, or when you need medicine or education, but beyond that it doesn't make you any happier," explains Shadyac. "I've taken care of those needs for myself, as anyone would want, but I just realized that beyond that there's no 'there' there."
I Am opens with the story of how a catastrophic, coma-inducing cycling accident in 2007 finally spurred him into active rebellion against his former isolated lifestyle hidden behind iron-gated mansions. "I think that when you face death, things like privacy don't matter as much," says Shadyac, who emphasizes that the idea for his change in lifestyle had been ruminating for a few years before the accident. "The accident didn't create a wisdom moment—I simply got knocked from my head to my heart and had the courage to talk about all the hypocrisy I'd woken up to in my life."
The trailer park is also where he has been finishing work on the documentary, spending months in his office, and editing the film for the festival circuit and wider release. The film goes on to explore the very questions that Shadyac is trying to answer in his own life: what's wrong with our world, and what can we do about it? The film follows his journey, with a crew of just four people, as he interviews religious leaders, historians, scientists, and philosophers—including luminaries such as Desmond Tutu and Noam Chomsky—about human connectedness, happiness, and the human spirit.
While examining the personal transformation within Shadyac, I Am is not a preachy film that condemns the lifestyles of its viewers so much as it is an exploration of how to regain some of the calm simplicity that modern society has lost through material gain and alienation from one another. The media has focused on the documentary as being a departure for the director, who is best known for his outlandish comedies and for helping to launch the movie career of actor Jim Carrey. But Shadyac sees parallels between the ideas behind his body of work and the healing aspect ofI Am, including the surprising reason why he got into comedy in the first place.
"My mother was in a wheelchair for most of my adult life—she slipped and fell one day and became a semi-quadriplegic," he recalls. With his mother in constant pain, he would sit with her at night and together they would watch The Tonight Show Starring Johnny Carson. "Something happened in me when I watched her watching Johnny Carson. I could see how his humor and perspective alleviated her pain, and how powerful and sacred that act was. Comedy became my medicine to help heal."
---
Even before his mother's accident, Shadyac was always something of a jokester while growing up in Falls Church, Virginia, with lifelong friend Harold Mintz, who recently moved to Los Angeles to become the media and public relations coordinator for Shadyac's production company Shady Acres. The two would write and tell jokes over the public address system at their high school, laying the groundwork for Shadyac's future in comedy writing.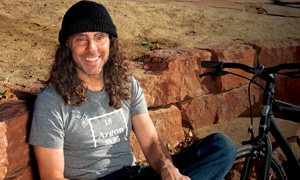 "I found early in life that there was a great energy when you made someone laugh. Joke writing is often about what we find absurd, and I saw a lot of absurdity in the way we walk in this world, the way we behave with each other, and the way adults quite often don't behave like adults."
The two films Shadyac personally wrote— Ace Ventura: Pet Detective (1994) andThe Nutty Professor (1996)—in particular are both somewhat absurdist, featuring characters who won't act their age as well as some of the most memorable and bold scenes in comedy from recent years. The best comedy, he says, involves risk and the confidence that an idea that was funny when conceived will still be funny to a fresh audience. "You have one immediate reaction in writing, which is your own. So you trust that gut-level reaction, which has to carry you through a lot of overexposure to that joke."
He recalls the first time he screened Ace Ventura to an audience, who in 1994 were not yet familiar with Jim Carrey's brand of comedy. Carrey plays the title character, a private detective specializing in cases that involve animals. "When I first saw Jim, I thought he was doing stuff that was so new it was scary. There was fear when I showedAce Ventura to an audience because we thought maybe we were ending our careers. There was also fear when we made the choice to play that character so over the top, but we moved through it because we thought there was something really fun there."
Shadyac's instincts were right and the film grossed $107 million worldwide. The film's success gave him the chance to take further risks with comedy, including tackling race and obesity in The Nutty Professor, irresponsible parenting inLiar Liar, and God and religion inBruce Almighty.
"I don't consider anything I've done to be overtly religious," he stresses, adding that the mainstream community embraced the story of Jim Carrey's bad luck-stricken Bruce—who inherits God's omnipotent power after accusing the Almighty of not doing a very good job—as a humorous parable about the foibles and potential of humankind. "The idea that a film about God has to have religious characters who are perfect people is way off base."
The literal character of God, as played by Morgan Freeman, made another appearance in the sequel Evan Almighty, released in 2007, which earned over $173 million worldwide and was the last big-budget film Shadyac made before his accident. The contrasts between bringing to life scripted, big-budget films and making a small-budget, personal documentary were vast and liberating, Shadyac says.
"The joy and lightness of it was beautiful," he affirms. "With a four-person crew, we could stop anywhere to capture a shot immediately. That was really nice, fun, and freeing."
The smaller scale of filming I Am also helped to cement the changes within Shadyac's lifestyle. "I've changed so my work will change and the way I do my business. I used to acquiesce to the system and say, 'I'm the most valuable person on set because I'm the director.' I no longer support that kind of behavior—I want to be part of a crew, one of a team."
Taking his students' talents seriously, he recently lent a producer's hand to the documentary Finding Kind, which was filmed by two recent Pepperdine graduates, Lauren Parsekian ('09) and Molly Stroud ('09), about their journey across America to share their message of kindness and sisterhood with school-age girls. Their journey was inspired by a passion for their message, and that's the key component of Shadyac's classes at Pepperdine. "I challenge my students to live as the authors of their own lives," he says. "There is power in waking up to who you are and in knowing that you are unique."
---
Shadyac knew his unique calling was to be a movie director from the moment he first called "action!" on the set of his debut self-directed student film at the UCLA film school, where he earned his master's degree in film in 1989 following a stint working as the youngest ever joke writer for comedian Bob Hope. He remembers the not-so-glamorous moment: squatting under a sink in a men's restroom, filming a man at a urinal. "In that unlikely moment, I had a knowing."

From late night Johnny Carson, to a restroom epiphany, and a monumental head injury, the biggest game-changing moments of Shadyac's life have been unglamorous events that inspired him to take risks to follow his heart. When he is finished promoting I Am, he will go back to directing scripted films—albeit, with smaller crews.

He also currently has a talk show in the works to continue the conversation started in his documentary and to answer the question "Who are you?" with the open-ended response, "I am…" Shadyac himself is no longer the wealthy director who owns a mansion, but is a fortunate member of a tight-knit community with an interesting job and enough money to live and help others live. "No one really owns anything anyway, and we find that out when we die," he concludes. "The only things we really own are our choices, our decisions, and who we are.
---
Filmmaking at Pepperdine
Through its MFA for Screen and Television Writing program and Institute for Entertainment, Media, and Sports (IEMS), Pepperdine prepares students to become cultural leaders in entertainment, exploring issues of storytelling and creativity for the (un)common good.
The two programs consistently bring top filmmakers like Shadyac to Pepperdine for short and long-term learning opportunities. New to the faculty this year is Emmy Award-winning director Joseph Sargent, who was named the EMC's first Distinguished Filmmaker-in-Residence.