The 39th Annual School of Law Dinner Salutes the Right Honourable Beverly McLachlin
Pepperdine Magazine is the feature magazine for Pepperdine University and its growing community of alumni, students, faculty, staff, and friends.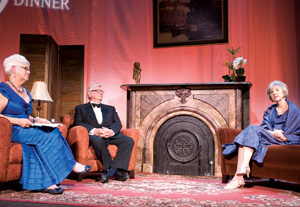 The 39th Annual School of Law Dinner welcomed more than 600 guests into the ballroom of the Beverly Wilshire Hotel on February 18 for a unique gathering that saluted The Right Honourable Beverley McLachlin, chief justice of Canada.
McLachlin received one of Pepperdine's most prestigious awards, the Robert H. Jackson Award, which recognizes individuals who personify outstanding public service when upholding the rule of law.
In a fireside chat with School of Law dean Deanell Reece Tacha and Pepperdine justice-in-residence the Honourable Allen Linden, McLachlin addressed the differences between American and Canadian judicial systems, and the relationship between the two countries as strong allies. She also spoke to advice she would give to law students, noting her recommendation of "thinking of themselves as a vital service provider."
The School of Law also recognized Judge Robert H. Henry, former chief judge of the United States Court of Appeals, 10th Circuit, and current president of Oklahoma City University, with the Vincent S. Dalsimer Dean's Award.
Earlier in the day, Chief Justice McLachlin, Judge Henry, and Dean Tacha, presided over the 38th Annual Vincent S. Dalsimer Moot Court Competition's final round. Pepperdine students Karissa Hurst and Amie Vague, on behalf of the petitioner, and Ardy Pirnia and Andrew Quist, on behalf of the respondent, argued a petty theft case involving a homeless military veteran. Dalsimer competition chair, Kelline Linton, authored the case.
Chief Justice McLachlin continued her involvement with the School of the Law in the week that followed as a guest lecturer in three classes. She also participated in an open forum, making herself available to the Pepperdine community, as well as the public.