Against the Current
A 49-year-old Seaver kinesiology student proves that she can swim with the best of them.
Navigating a failing economy, caring for an ailing ex-spouse, and raising two teenage girls are not common concerns for most college students. Their resumes might not boast titles such as "fashion model," "securities investment consultant," "Pilates instructor," and "small business owner." And they usually do not speak of their 20s in past tense.
"When students ask me for directions thinking I'm faculty, then I know I'm a little different," laughs Phyllis Reffo, a 49-year-old Seaver College kinesiology junior who, just three years ago, resolved to start afresh and go back to school with a new career goal.
In 2008 Reffo preempted the booming Internet retail uprising by shutting down her brick-and-mortar clothing boutique in Malibu before the proverbial bubble burst. She was ready to try a new business model—one that would weather economic volatility and integrate her passion for the fitness arts.
"I decided that I needed to create some stability for myself and noticed that the health services were doing well," says Reffo, who made plans to open a physical therapy studio. "It looked like a really good business model to me," she continues, describing a serene space where physical therapists would utilize Pilates in their rehabilitation sessions and patients could continue training after their treatment was complete.
At the time Reffo was nursing an incapacitated leg and kept a regular fitness routine of swimming between classes in the Santa Monica College lap pool to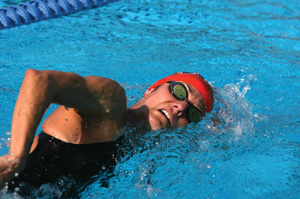 maintain her health. But it wasn't until her kinesiology professor, also the school's swimming and diving coach, picked her out of the pool that she considered taking up swimming as a sport.
"He saw me working out in the afternoon during my break, so he invited me to a team practice to see if I was coachable," Reffo remembers. About to undergo a knee replacement surgery, she was hesitant to compete. "I had never gone off the blocks before," she says. "Even catapulting myself off of a block a couple feet high was intimidating."
Reffo kept swimming, practicing with the team and pressing hard to improve her speed and technique. Her four thousand yards a day quickly doubled and then she was able to compete the next semester. "I swam something like 66 miles in one month," she estimates, humbly admitting, "I was new at this sport and everything was a new experience for me. 'I conquered this today,' 'I did that...'"
After transferring to Pepperdine in the fall of 2011, Reffo was invited to join the Waves women's swim team, which she saw as an opportunity to improve her stroke, technique, and overall swimming skills. "If I'm going to do something, I always want to strive to do better, not stay in one place," she contends. "Otherwise why do it?"
Reffo's dogged perseverance was what reinforced her place on the team, notes coach Nick Rodionoff, who still can't believe how she balances her challenging responsibilities. "When you look at what she's doing and how she's doing it—raising two teenage girls is enough, but doing that with the major she's got. It's pretty amazing ..." he trails off. "I didn't think there were enough hours in the day to do that kind of stuff!"
Commitments aside, it's Reffo's athleticism and fitness that make her a player who can compete alongside teammates half her age. "If you have a good attitude and can physically survive the workouts, that's all that we require," Rodionoff observes. "But that's asking a lot."
Throughout it all, Reffo also finds time to nurture relationships with her fellow students and athletes. "I feel the same when I'm doing the same tasks they are and we're conversing and not focusing on my age," she admits. Her teammates also value her more mature perspective on life and consider her a consultant.
"Phyllis is in the water and locker room with them, so she has an inside track," says Rodionoff, who credits Reffo with being a good role model and ardent listener. "They will share with her things that they wouldn't with me and that's good, because she has experiences that they learn can from."
Statistically, it takes a 20-year-old 24 hours to recover from a workout. It takes a 30-year-old 48 hours. Nearing 50, Reffo competes at a high level at an unusual age. "Everyday is difficult—it's an effort—especially when you get older, to have your mind be elastic in order to absorb all this information and to have my body respond to the training," she admits. "Every time I get in the water, I think, 'Am I crazy?' But everyday above ground and upright is a good day."