A Heros Story for All to Hear
Students in Professor Andrea Siegel's class bring graphic novel Daredevil alive on audiobook for blind Arabic-speakers.
Heroes of literature have existed throughout history to offer hope of triumph over adversity—from the ancient Greek heroes whose stories were passed down orally to the superpowered heroes of modern comic book tales.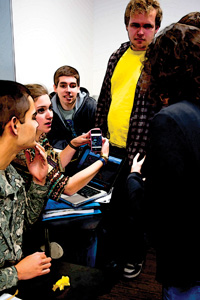 These graphic novel heroes rise above tragic circumstance to find their power, like popular character Michael Matthew Murdock, who loses his sight and instead fights for justice with his other, heightened senses. So when Marvel Comics recently released Daredevil No. 1 as an audiobook for blind fans of the series, they opened the story to the very people who might appreciate it the most.
When Andrea Siegel, visiting assistant professor with Pepperdine's Glazer Institute for Jewish Studies, heard about the audiobook, she envisioned how to take that opportunity even further. She was transported to her own childhood, when she watched her father cope with lost vision due to macular degeneration. The memories, combined with her new teaching post at Pepperdine, sparked the perfect opportunity to craft a service-learning project for students in her upper-level English class.
"I grew up with disability in my family and knowing how important audiobooks are to people who are blind," Siegel comments. "I wanted to start a project that would get students dealing with that reality on the ground."
Combining her specialty areas of Israeli-Arab politics and literature, Siegel wondered if there might be a market for Arabic and Hebrew audiobook translations of the Daredevil No. 1 graphic novel. Marvel Comics approved the idea and Siegel reached out to partner with Al- Manarah, a nonprofit organization for the Arab blind in Nazareth, Israel. Since September 2011, Siegel and her students have worked with the organization to research, create, and market an Arabic translation of the Daredevil No. 1 audiobook for distribution to the blind in Israel.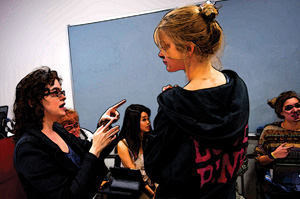 Divided into research and task teams to tackle different parts of the project, Siegel has tried to help students utilize the skills gained from their chosen majors by matching them with corresponding teams, including public relations, production, and web teams. So far, the teams have researched the history and popularity of comic books in the Arab world, scripted an audio version of the story to be translated in Arabic, and begun casting a team of Arabicspeaking actors to record the script in Los Angeles. They have also started developing a website to promote the project, and the education team is creating a lesson plan about stereotypes of the blind for Al-Manarah to use with the audiobook.
"One of the difficult things about that is that the project is geared towards raising education about being blind, so how do you create a website that is blindfriendly?" poses sophomore John Davis, the spring semester coordinator. "We are working on a way to get the website to read itself or having a text only page for the blind."
Davis, a business and economics double major taking a minor in Asian studies, signed up to the class knowing that it would be a challenging but rewarding semester of learning effective crosscultural outreach and very literal communication. "My freshman seminar was in religion and understanding the conflict in the Middle East from a communications standpoint: how does a language barrier, a lack of understanding, provide for such a conflict?" Fall semester coordinator Alex Booker, a double political science and sociology major, has continued working on the project in a volunteer capacity since completing the class, working with Davis to keep up with the teams and keep the project moving at a clip.
"As I kept doing it, I saw the importance of the project, how it will help people, how I am building connections and making a difference," explains Booker. "If I can say that one person outside of this project team has become more aware about visually disabled people then that is what I would love to get out of this."
Just months into the project, the team has already made some significant gains, including securing prominent Arabic actor Sayed Badreya (Lost, Iron Man, The Insider) as a volunteer script and casting consultant and successfully conducting a national search for a translator who would understand the demands of the cross-cultural, trans-technological service project.
"She is an amazing woman from Tunisia, a practicing Muslim, and finishing her master's degree in new media," says Siegel of project translator
Khouloud Khammassi. "She has a particular interest in translation of alternative genres and she's done an incredible job."
Siegel notes that the finished products will be used by Al-Manarah as outreach tools to educate Israelis about issues of living with blindness in the Middle East, and will be available for download on their website.
"It's important for us not to be from Malibu telling Al-Manarah how to fulfill the needs of blind Arabs," she explains. "I wanted to give our students an example of building partnerships to effect change in a way that sticks. We have partnered with them and offered it for them to do with as they see fit to use in their own communities and build on it as they want."
The next phase of the project is to complete the first recording in Arabic before the summer, completing, for now, the project's commitment to making life a little more enjoyable for strangers on the other side of the world.
"This is really all for the benefit of the disabled people in the Arab communities of Israel," agrees Eun Seo "Nadine" Jang, the public relations team manager, who, like her fellow classmates Booker and Davis, will be sad to wave goodbye to Siegel and their project at the end of the spring semester. "What I ultimately hope for is that these people are appreciated, recognized, and loved."