Pepperdine Remembers Life Regents Robert Jackson and Rosemary Raitt
Pepperdine Magazine is the feature magazine for Pepperdine University and its growing community of alumni, students, faculty, staff, and friends.
Pepperdine was saddened recently to lose two longtime members of the University community: Life Regents Robert Jackson and Rosemary Kraemer Lokey Raitt.
---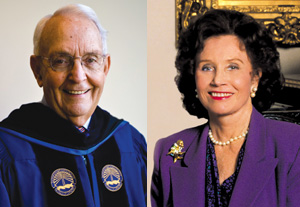 Robert Jackson
Robert Jackson was a 25-year member of the Board of Regents.
Andrew K. Benton, president of Pepperdine University and a close friend of Jackson, said of him, "Bob was one of those larger than life figures who personified what is meant by the term, 'servant leadership.' He was a great friend to our University and his legacy and stewardship here will be remembered for a long time to come."
Added Pepperdine University's director of church relations, Jerry Rushford, "Bob was a very enthusiastic supporter of Pepperdine's annual Bible Lectures and regularly attended the event on campus. We will all miss him very much."
Jackson was elected to the Board of Regents in June 1986. He was elected to Life Regent status in June 2009. He was a member of the Advancement and Public Affairs Committee, Investment Committee, Religious Standards Committee (where he served as vice chair), and Buildings and Grounds Committee.
Jackson retired as president of the Ford Motor Land Development Corporation in 1997, a position he had held since 1985. He joined Ford in 1957 and served in financial management positions with the Glass Division, Engine Division, Finance Staff, and International Automotive Operations. Jackson was assistant controller for North American Automotive Operations, Ford's largest operating unit before being named executive vice president of Ford Land in 1977.
A member of Woodmont Hills Church of Christ in Nashville, Jackson served as a member on a number of councils, institutes and boards, including the Henry Ford Health System, the Urban Land Institute, the Industrial Development Research Council, the Metropolitan Realty Corporation, and Michigan Christian College (now Rochester College).
Jackson, a native of Nashville, Tenn., earned his BA in economics from the University of the South in 1954, and studied at the University of the Philippines on a Fulbright Scholarship for one year before receiving his MBA from the Harvard Business School in 1957.
He is survived by his wife Jane, four children, and 11 grandchildren.
---
Rosemary Kraemer Lokey Raitt
Raitt, a 29-year member of the Board of Regents, "was one of the University's staunchest and most consistent supporters," says President Benton. "She was more than a supporter—she was an active and constant contributor to the University community. From her establishment of scholarships, to serving on our Board of Regents and our Center for the Arts Guild, to directly working with our students, Rosemary distinguished herself as a person who actively sought to involve herself in the life of the University, with the aim of making a real and immediate difference."
Marnie Duke Mitze, chief of staff and former managing director of the Center for the Arts at Pepperdine, noted that "Rosemary and her late husband, John, were a vital part of our arts center and the life of our university. Hundreds of young musicians have benefited from the opportunity to perform in the exquisite Raitt Recital Hall, and many more students have benefited from the generosity of the Rosemary Lokey Raitt endowed scholarship and the John and Rosemary Raitt music theatre scholarship. Rosemary was the first person to establish a scholarship at the University's Malibu campus."
Rosemary Kraemer Lokey Raitt was a director of two family partnerships that worked together for two centuries in Southern California. A descendant of Antonio Yorba, a member of the Portola expedition from Spain in 1769, Raitt observed the rapid growth and development of the Golden State from her family's Orange County rancho.
In addition to serving on the Pepperdine University Board of Regents, the Pepperdine University Associates, and the Center for the Arts Guild, she was a director of the Crippled Children's Society of Los Angeles, a member of the Costume Council of the Los Angeles Art Museum, the Craft and Folk Art Museum, the National Arts Association, the Diadames (supporting the Mirman School of Talented Children), Le Dames De Champagne of Los Angeles, and the American Academy of Achievement.
Raitt attended Scripps College, Claremont, and the University of Southern California, where she majored in geology. She was married to Hulsey S. Lokey and following Lokey's death, married John Raitt, renowned performer and Broadway legend, who passed away in 2005. She pursued the study of horticulture, mineralogy, Folk Art, Oriental art, and was involved in the creation of a national design for handicapped housing.
Raitt is survived by her daughter, Sally Lokey, step-children David and Bonnie Raitt, Dorothy Mahieu Johnson, and several grandchildren.